Session Information
Session Type: Poster Session C
Session Time: 9:00AM-11:00AM
Background/Purpose: Myositis-specific antibodies (MSA) are thought to be highly specific in patients with idiopathic inflammatory myopathies.[1] However, in clinical practice these antibodies are frequently found in the absence of autoimmune myopathy which may lead at times to unnecessary interventions and treatments. We sought to determine the frequency of final clinical diagnoses, including autoimmune myopathy, in patients tested positive for one or more MSA.
Methods: We conducted a retrospective chart review on patients with documentation of MSA testing from November 1, 2007 to December 31, 2019 in our academic center.
Data extracted included clinical variables (myalgias, muscle weakness, interstitial lung disease (ILD) and history of malignancy within 3 years of positive antibody test) and laboratory tests including anti-nuclear antibodies and creatine kinase. Electromyographic testing and skeletal muscle biopsy studies were reviewed. Patients with a neuromuscular or autoimmune rheumatologic diagnosis were identified. A neuromuscular specialist determined the presence or absence of an autoimmune myopathy based on CK level, weakness, EMG and muscle biopsy findings when available. Frequency of associated clinical diagnoses in patients with positive MSA were calculated. In addition, we reviewed the frequency of certain clinical diagnoses specifically with anti-synthetase antibodies.
Results: We identified 47 subjects with positive MSA. Thirty-three (70%) were females. Thirty-four (72%) were Caucasian. Only 16 out of 47 subjects (34%) with positive MSA had an autoimmune myopathy. Among subjects with positive MSA but no autoimmune myopathy (n=31), 26 (83.8%) had ILD and/or a rheumatologic diagnosis and 5 (16.1%) had neither. In patients with autoimmune myopathy (n=16), there was an overlap with ILD and/or rheumatologic diagnosis in 5 patients (31.25%). Of all subjects with positive MSA (n=47), 31 (65.9%) had a rheumatologic diagnosis and/or ILD. Five (10.6%) did not have a rheumatologic diagnosis, autoimmune myopathy or ILD. Anti-synthetase antibodies were found in 19 subjects. These antibodies were associated with autoimmune myopathy in 7 subjects (36.8%). Anti-synthetase syndrome was diagnosed in only 5 (26.3%) with positive anti-synthetase antibodies while a rheumatologic diagnosis was present in 12 (63.1%). Among patients with positive anti-synthetase antibodies and autoimmune myopathy (n=7), perimysial pathology on muscle biopsy was found in 4 (57.1%).
Conclusion: Despite the reported specificity of MSA for the diagnosis of autoimmune myopathy, we observed that most MSA positive subjects in our cohort did not have this diagnosis. We also found that rheumatologic diagnoses and ILD were frequently found in patients with positive MSA with or without autoimmune myopathy. Similarly, anti-synthetase antibodies did not necessarily indicate the presence of anti-synthetase syndrome or autoimmune myopathy.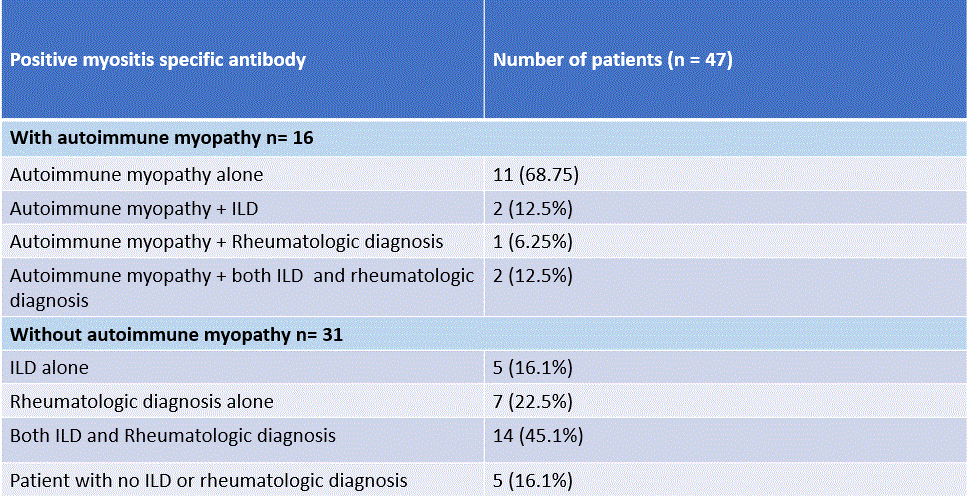 Positive myositis-specific antibodies in comparison to clinical diagnoses
---
Disclosure: S. El Chami, None; C. Williams, None; G. Noaiseh, None; A. Bath, None; D. Jabari, None.
To cite this abstract in AMA style:
El Chami S, Williams C, Noaiseh G, Bath A, Jabari D. The Diagnostic Value and Clinical Significance of Myositis-Specific Antibodies in Patients Suspected to Have Autoimmune Myopathies and/or Autoimmune Rheumatic Diseases [abstract].
Arthritis Rheumatol.
2020; 72 (suppl 10). https://acrabstracts.org/abstract/the-diagnostic-value-and-clinical-significance-of-myositis-specific-antibodies-in-patients-suspected-to-have-autoimmune-myopathies-and-or-autoimmune-rheumatic-diseases/. Accessed October 26, 2021.
« Back to ACR Convergence 2020
ACR Meeting Abstracts - https://acrabstracts.org/abstract/the-diagnostic-value-and-clinical-significance-of-myositis-specific-antibodies-in-patients-suspected-to-have-autoimmune-myopathies-and-or-autoimmune-rheumatic-diseases/