Session Information
Session Type: Poster Session B
Session Time: 9:00AM-11:00AM
Background/Purpose: Healthcare teams were forced to rethink the way they practiced medicine during the COVID-19 pandemic. Many teams transitioned from conducting in-person visits to virtual telemedicine visits with limited knowledge, experience with, or infrastructure for telemedicine. PR-COIN, a quality improvement collaborative of 20 North American pediatric rheumatology centers, set out to capture the experience of the rapid adoption of telemedicine, understand its usage and acceptability, and gather opinions on its continued use.
Methods: A REDCap® survey was sent to a representative from each PR-COIN site to collect data about their experience with telemedicine and its use during COVID-19. Quantitative data were analyzed using descriptive statistics and qualitative data were thematically analyzed.
Results: 19/20 of the PR-COIN sites responded to the survey. All sites transitioned from in-person to virtual telemedicine visits during the COVID-19 state of emergency (Figure 1). Most centers reported using both videoconferencing system and telephone to conduct their telemedicine visits (Table 1). All centers reported seeing both new consultations and follow up patients over telemedicine.
13/19 (68%) reported at least 50% of their providers consistently used pediatric Gait Arms Legs and Spine (PGALS) to document musculoskeletal exams in patients with juvenile idiopathic arthritis (JIA). Items that were not well-documented during telemedicine visits included: weight, height, disease activity, and treatment targets. 11/19 (58%) centers reported collecting patient global assessment, pain intensity and morning stiffness during the telemedicine visits. Two sites indicated they did not collect any patient reported outcome measures (PROMs), while three indicated they collected more complex PROMs.
7/19 (37%) centers reported performing research-related activity during telemedicine visits. 2/7 (29%) reported the ability to consent patients over telemedicine and 6/7 (86%) reported performing follow-up visits for observational studies.
All responding PR-COIN centers agreed that telemedicine visits were able to meet provider needs and the providers from all but one center believed that telemedicine visits were able to meet patient needs. Reasons to justify an in-person visit included presence of active disease, worsening of condition, and parent request/desire.
Identified benefits of telemedicine visits included convenience, no travel, and continuity of care for families who were hesitant to have an in-person visit. Identified challenges with telemedicine visits included limited ability to perform physical exams, difficulty assessing disease activity, and access to technology.
All centers supported the continued use of telemedicine after the pandemic. Centers indicated that they would be willing to see both new [15/19 (79%)] and follow up [14/19 (74%)] patients over telemedicine.
Conclusion: Healthcare providers have recognized the potential of incorporating telemedicine into their routine practice to serve a portion of their patients. PR-COIN plans on identifying best practices and creating tools to address existing barriers.
Figure 1. Use of Telemedicine Over Time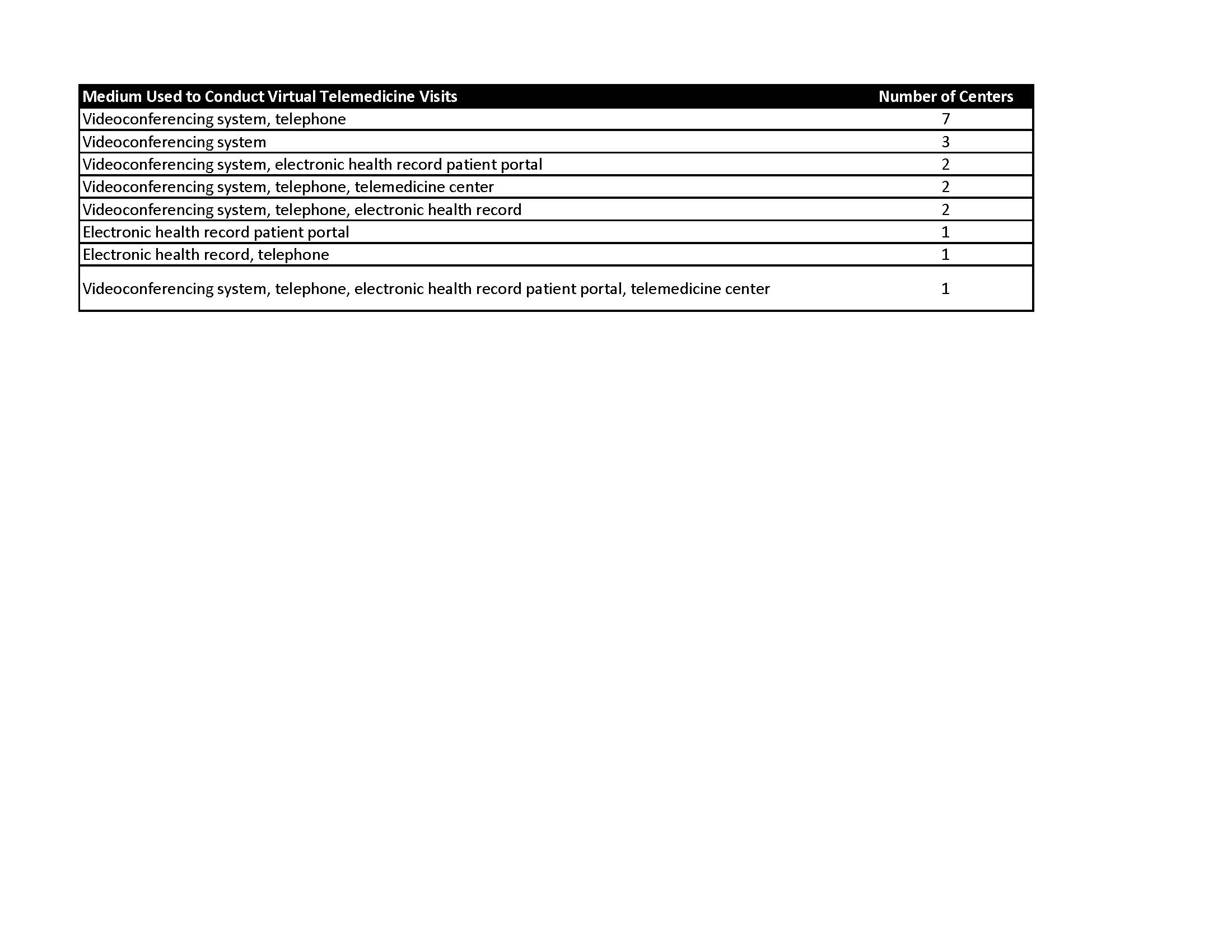 Table 1. Mediums Used to Conduct Virtual Telemedicine Visits
---
Disclosure: Y. Goh, None; N. Pan, None; J. Harris, None; A. Warmin, None; J. Taylor, None; S. Vora, None; F. Barbar-Smiley, None; J. Burnham, None; T. Lee, None; C. Yildirim-Toruner, None; K. Wiegand, None; E. Morgan, None.
To cite this abstract in AMA style:
Goh Y, Pan N, Harris J, Warmin A, Taylor J, Vora S, Barbar-Smiley F, Burnham J, Lee T, Yildirim-Toruner C, Wiegand K, Morgan E. Telemedicine in Pediatric Rheumatology During COVID-19: The PR-COIN Experience [abstract].
Arthritis Rheumatol.
2020; 72 (suppl 10). https://acrabstracts.org/abstract/telemedicine-in-pediatric-rheumatology-during-covid-19-the-pr-coin-experience/. Accessed July 4, 2022.
« Back to ACR Convergence 2020
ACR Meeting Abstracts - https://acrabstracts.org/abstract/telemedicine-in-pediatric-rheumatology-during-covid-19-the-pr-coin-experience/