Session Information
Session Type: Poster Session B
Session Time: 9:00AM-11:00AM
Background/Purpose: Limited data about the use of biosimilar are available in children with Juvenile Idiopathic Arthritis (JIA). To evaluate the long-term efficacy and safety of switching from the etanercept (ETA) and adalimumab (ADA) originators to their biosimilars, in children with JIA.
Methods: Medical charts of JIA children who switched from ETA or ADA originators to the biosimilars were retrospectively evaluated. Efficacy of anti-TNF therapy was evaluated at last follow-up during the originator therapy and at 3, 6 and 12 months following the switch to biosimilar, assessing number of inflamed joints, CRP, ESR, Juvenile Arthritis Disease Activity Score (JADAS 10), Visual Analog Scale (VAS) and Childhood Health Assessment Questionnaire (CHAQ). Occurrence of adverse event (AE) during treatment was evaluated. Continuous variables were reported as median value and interquartile range (IQR) and compared using the Wilcoxon test for paired data, and csquare analysis.
Results: 43 children (31 Female, median age at onset 65 months (IQR 31-125) received originator ETA (n=14) or ADA (n=29), as first-line anti-TNF treatment for refractory JIA. Due to healthcare politics, patients have been switched to the biosimilar: Benepali®(n=13), Erelzi® (n=1) for ETA; Imraldi® (n=24), Amgevita® (n=5) for ADA, after 40.5 months (IQR 19.1-73.8) duration of originator treatment. At time of switch, 10/14 patients on ETA and 19/29 on ADA were on complete disease remission. No significance difference of entered parameters has been found at 3, 6 and 12 months thereafter the switch. Nine patients discontinued biosimilars, due to disease remission (5), to family willing (2), to occurrence of burning at injection site (2, on Benepali). The number of  patients who experienced an AE was not different in different frame follow-up when comparing exposure to the originator and that to biosimilar, respectively: during 0-3 months, 15/42 (35.7%) vs 7/37 (18.9%), c2: 2.76; during 3-6 months, 16/40 (40.0%) vs 17/31 (54.8%), c2: 1.54; during 6-12 months, 15/39 (38.5%) vs 11/24 (45.8%), c2: 0.33 . Most frequent AEs were upper respiratory tract infections (31) and injection site reactions (7).
Conclusion: Data from this small, retrospective inception cohort, showed similar efficacy and safety of the originator and a type of ETA and ADA biosimilars in JIA.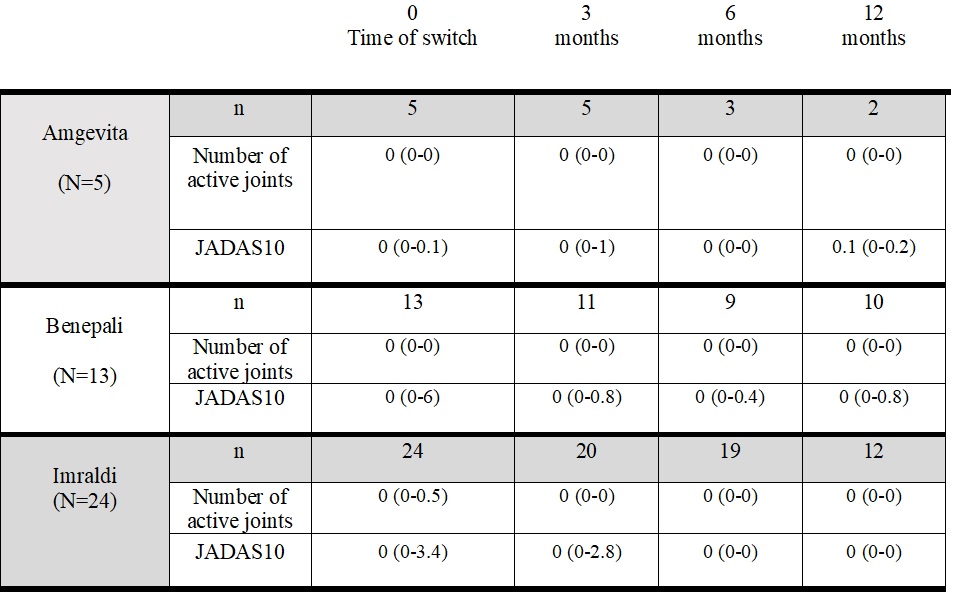 ---
Disclosure: I. Maccora, None; G. Simonini, None; A. Bettiol, None; I. Pagnini, None; N. Lombardi, None; V. Maniscalco, None; G. Crescioli, None; E. Marrani, None; R. Bonaiuti, None; M. Mastrolia, None; C. Ravaldi, None; A. Vannacci, None.
To cite this abstract in AMA style:
Maccora I, Simonini G, Bettiol A, Pagnini I, Lombardi N, Maniscalco V, Crescioli G, Marrani E, Bonaiuti R, Mastrolia M, Ravaldi C, Vannacci A. Switching from Reference to Biosimilars Does Not Reduce Efficacy and Safety in Juvenile Idiopathic Arthritis [abstract].
Arthritis Rheumatol.
2020; 72 (suppl 10). https://acrabstracts.org/abstract/switching-from-reference-to-biosimilars-does-not-reduce-efficacy-and-safety-in-juvenile-idiopathic-arthritis/. Accessed April 16, 2021.
« Back to ACR Convergence 2020
ACR Meeting Abstracts - https://acrabstracts.org/abstract/switching-from-reference-to-biosimilars-does-not-reduce-efficacy-and-safety-in-juvenile-idiopathic-arthritis/