Session Information
Session Type: Poster Session A
Session Time: 9:00AM-11:00AM
Background/Purpose: SLE is a chronic autoimmune disease in which periods of quiescence are interspersed with acute flares of disease activity that produce much of the associated tissue and organ damage. Current literature suggests that flares can be induced by multiple environmental triggers and are mediated by pro-inflammatory and ANA-producing immune cell subsets; however, the specific immune response that characterizes acute flare as opposed to disease quiescence in the disease course of an individual with SLE is largely unknown.
Methods: Healthy controls (n=16) and acute flare (n=47) or inactive (n=25) SLE patients were recruited. All SLE patients were diagnosed based on the 1997 ACR criteria. For acute flare, patients had to be within 1 month of flare onset (clinical SLEDAI-2K >0 requiring a change in therapy); inactive patients had to be ≥1 year without flare (clinical SLEDAI-2K=0) and on ≤10mg prednisone. Freshly isolated PBMCs were stained for various immune cell subsets and examined by flow cytometry. Z-scores were calculated for the proportions of immune cell subsets from HC, flare and inactive patients. A heat map displaying immune cell subsets was generated using the ComplexHeatmap package in R (v3.6.1). For comparisons between groups, statistical significance was determined using Kruskal-Wallis non-parametric tests.
Results: While HC mostly clustered together on the heat map, flare patients stratified into four predominant clusters and inactive patients were admixed with both HC and flare groups. Looking at flare patients alone, cluster 1 had significantly elevated plasma cells (CD19loCD27hiCD38+CD138+; 1 vs 2: p=0.0025), T follicular helper (Tfh) cells (CD4+CD45RA–PD-1hiCXCR5hi; 1 vs 2: p=0.0154) and Tfh17 cells (CD4+CD45RA–PD-1hiCXCR5hiCCR6+CXCR3–; 1 vs 2: p=0.0037), as well as trends to increased T peripheral helper (Tph; CD4+CD45RA–PD-1hiCXCR5–) and regulatory T cells (Treg; CD4+CD45RA–CD25+CD127–). Cluster 2 had similar or decreased proportions of immune subsets compared to the other groups, with the exception of expanded double negative B cells (IgD–CD27–CD19+; 2 vs 1: p=0.0013, 2 vs 3: p=0.0010). In contrast, clusters 3 and 4 exhibited a more innate phenotype, with significant elevations in CD16hi (CD14hiCD16hiCD3–CD19–CD20–; 3 vs 2: p=0.0099) and non-classical monocytes (CD14intCD16+CD3–CD19–CD20–; 3 vs 2: p=0.0090), or in mDCs (CD14–HLA+CD123–CD11c+CD3–CD19–CD20–; 4 vs 1: p=0.0006, 4 vs 3: p=0.0348) and NK cells (CD16+CD56+CD14–CD3–CD20–CD19–; 4 vs 3: p=0.0196), respectively. While there was no difference between the clusters with regard to age, dsDNA, complement or SLEDAI-2K score, patients in cluster 1 trended towards a longer disease duration and were more likely to have nephritis.
Conclusion: Our findings suggest that significant variations in the immune mechanisms that promote flare may exist between patients, with some patients demonstrating a more adaptive immune response in flare while others have a more innate immune response.  Thus, effective treatment of SLE flare may require a more targeted approach tailored to the specific flare mechanism in each patient.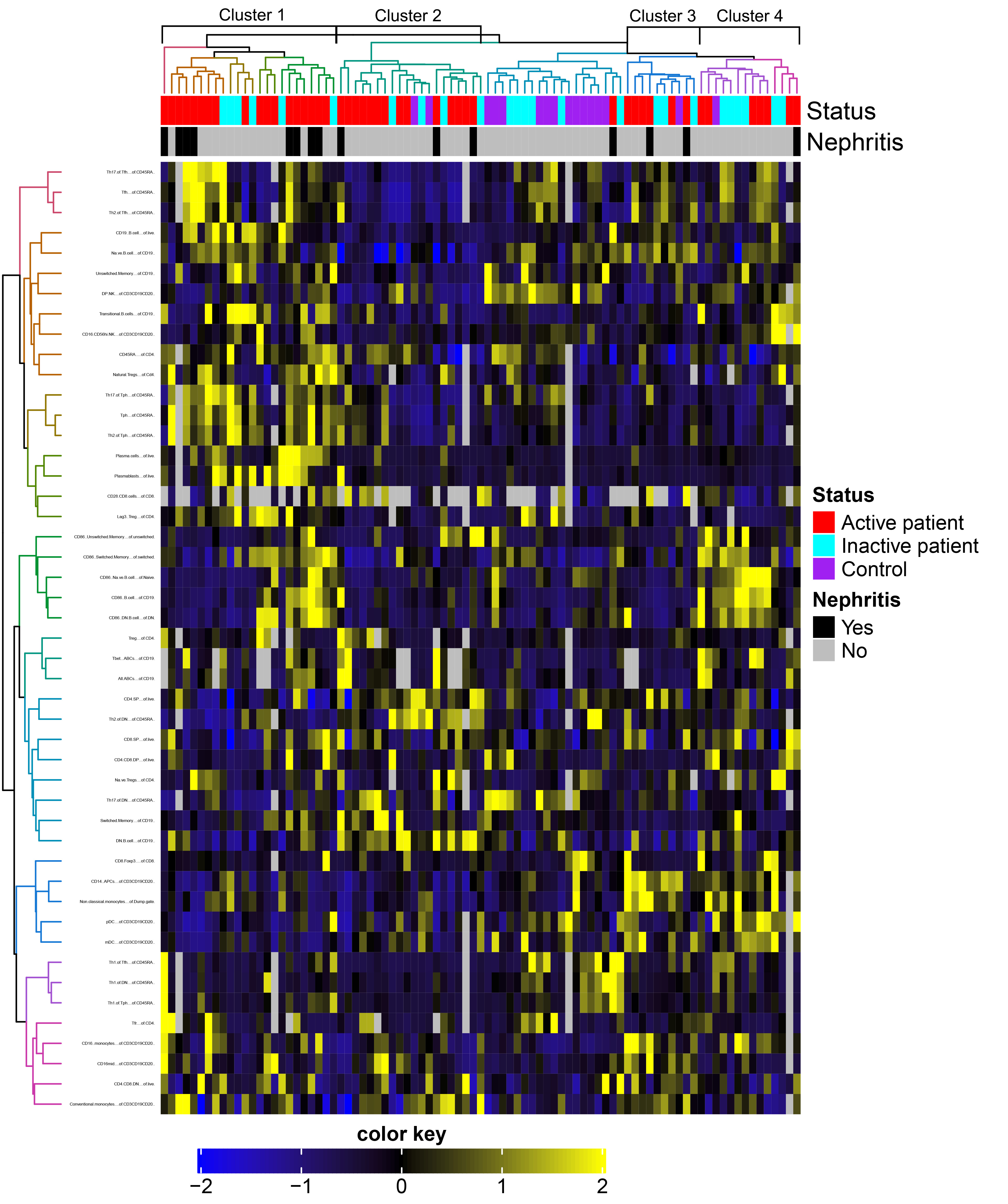 Figure 1. Heat map depicting the clustering of Z-scores for immune cell populations from healthy controls, acute flare and inactive SLE patients.
Figure 2. Plasma cells (left axis) and Tfh cells (right axis) are significantly elevated in cluster 1 of flare patients as compared with cluster 2.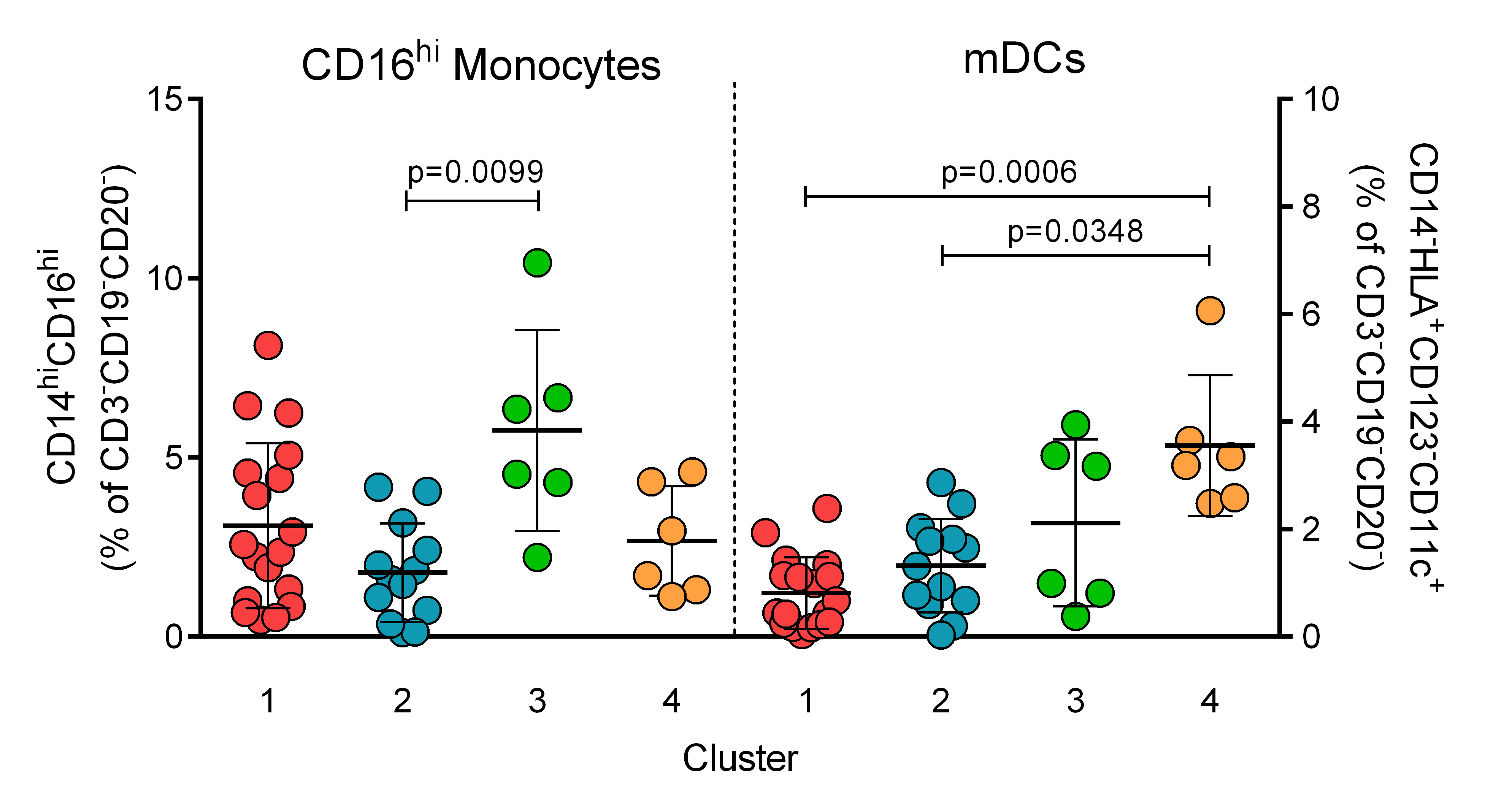 Figure 3. CD16hi monocytes (left axis) are significantly higher in cluster 3 of flare patients compared with cluster 2, while mDCs (right axis) are significantly higher in cluster 4 than in clusters 1 and 2.
---
Disclosure: K. Manion, None; C. Munoz-Grajales, None; M. Kim, None; K. Goliad, None; D. Bonilla, None; D. Gladman, AbbVie, 2, 5, Amgen, 2, 5, Janssen, 2, 5, Novartis, 2, 5, Pfizer, 2, 5, UCB, 2, 5, Bristol-Myers Squibb, 5, Gilead, 5, Galapagos, 5, Celgene, 2, 5, Eli Lilly, 2, 5; M. Urowitz, None; Z. Touma, None; J. Wither, None.
To cite this abstract in AMA style:
Manion K, Munoz-Grajales C, Kim M, Goliad K, Bonilla D, Gladman D, Urowitz M, Touma Z, Wither J. SLE Patients Stratify into Distinct Clusters Based on Their Peripheral Blood Immunologic Phenotype During Acute Flare [abstract].
Arthritis Rheumatol.
2020; 72 (suppl 10). https://acrabstracts.org/abstract/sle-patients-stratify-into-distinct-clusters-based-on-their-peripheral-blood-immunologic-phenotype-during-acute-flare/. Accessed March 27, 2023.
« Back to ACR Convergence 2020
ACR Meeting Abstracts - https://acrabstracts.org/abstract/sle-patients-stratify-into-distinct-clusters-based-on-their-peripheral-blood-immunologic-phenotype-during-acute-flare/