Session Information
Session Type: Abstract Session
Session Time: 9:00AM-10:30AM
Background/Purpose: Skeletal myopathy in systemic sclerosis (SSc) is poorly understood. The etiology of myopathy in SSc is heterogeneous and can result from an inflammation, disuse, malnutrition, or other neuromuscular diseases. The purpose of this study was to determine the clinical phenotype and risk of mortality of SSc patients with and without a myopathy.
Methods: To understand the clinical impact of skeletal myopathy in SSc, we utilized a large prospective scleroderma cohort to identify patients with and without myopathy. Key clinical variables included SSc disease subtype, age of SSc onset, disease duration, right ventricular systolic pressure on echocardiogram, pulmonary function tests, ejection fraction (EF) on echocardiogram, and Medsger severity scores. The presence of myopathy was defined as any physician reported history of myositis, or a patient having elevated creatine kinase, myopathic findings on electromyography, muscle edema on magnetic resonance imaging (MRI), or myopathic findings on muscle biopsy. Commercially available scleroderma specific autoantibodies were also obtained.
Clinical characteristics were compared between patients with and without myopathy using student's t-tests and Fischer's exact test as appropriate. Cox proportional hazards analyzes were performed to determine the relationship between myopathy and survival. All statistical analyses were performed using Stata, version 17; all statistical tests were 2-sided, and a p-value < 0.05 was considered statistically significant.
Results: 678 (17%) of 3,923 patients in the SSc cohort had a skeletal myopathy. When compared to those without a myopathy, those with myopathy were more commonly of the diffuse subtype (60.5% vs 32.5%, p < 0.0001), African-American (30.4% vs 13.9%, p< 0.0001), and with shorter disease duration at first visit (4.52 + 6.2 years vs 6.5 + 8.0 years, p< 0.00001). Patients with a myopathy also had more severe cardiopulmonary disease (see Table1).
Of the 678 patients with a myopathy, 213 (31%) had completed an EMG of which 92(43%) had an irritable myopathy. 170 of 678 (25%) patients had completed muscle MRI of which 130(76.5%) demonstrated muscle edema. 167 of 678 (24.6%) had undergone a muscle biopsy; inflammation (41.3%) was the most prevalent individual histologic feature followed by necrosis (36.9%), and fibrosis (30.7%).
Myopathy was associated with an increased risk of mortality in univariate Cox regression analyses (HR 1.59 [1.40-1.81],p=< 0.0001) (Figure 1). Older age at SSc onset, diffuse subtype, and more severe lung disease was also associated with increased risk of death. In multivariate Cox proportional regression analyses, myopathy had an independent risk of death even after controlling for other confounders (adjusted HR 1.69 [1.44-1.99], p=< 0.0001).
Conclusion: Skeletal myopathy in SSc is associated with higher overall disease burden and risk for mortality. Further studies are needed to determine whether specific myopathic features such as histologic diagnosis also contribute to poor outcomes.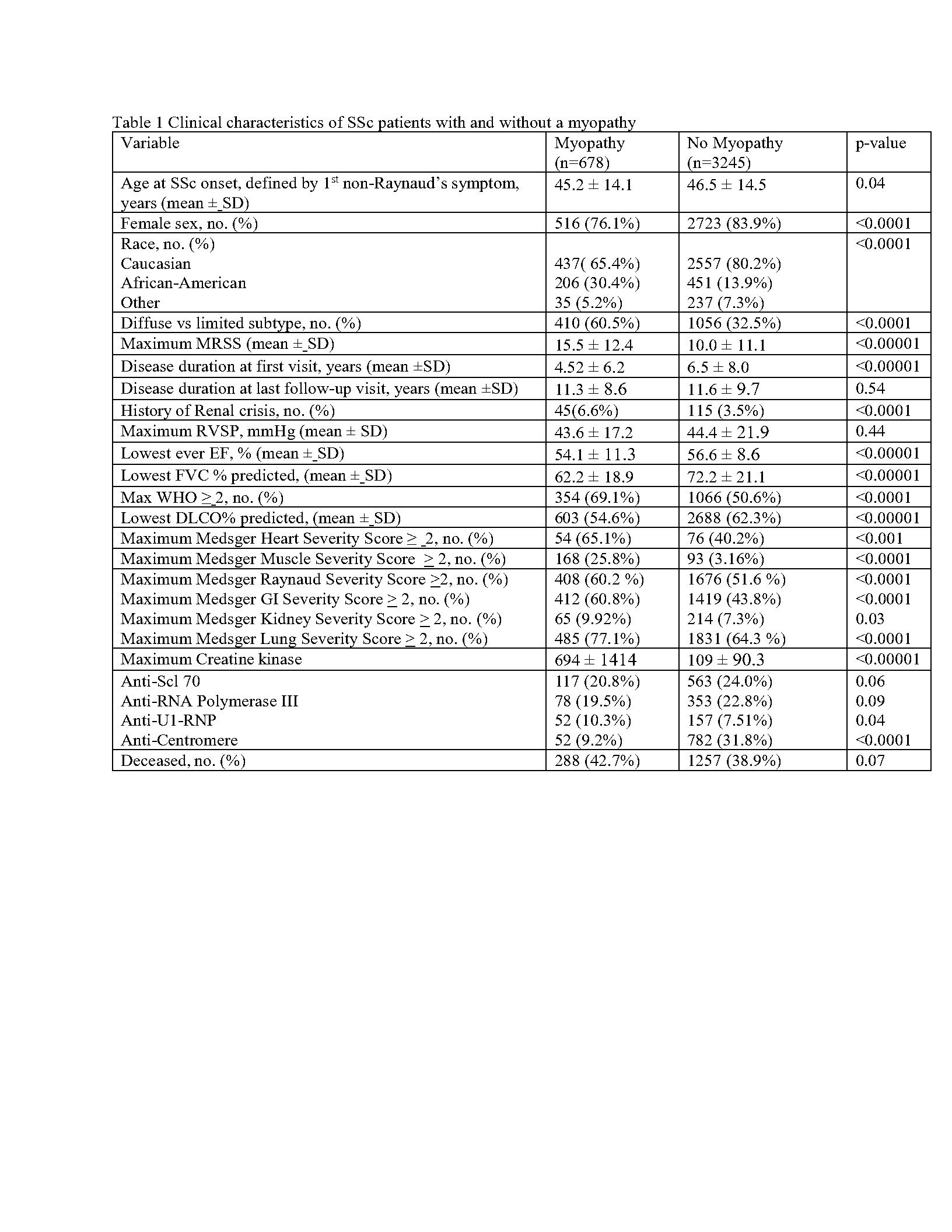 ---
Disclosures: J. Paik, Pfizer Inc, Kezar Inc, Roivant, Argenx, Alexion Inc; C. Connolly, None; F. Wigley, None; L. Hummers, Boehringer-Ingelheim, Corbus Pharmaceuticals, Cumberland Pharmaceuticals, Kadmon Corporation, Medpace, CSL Behring, Mitsubishi Tanabe, Horizon Pharmaceuticals.
To cite this abstract in AMA style:
Paik J, Connolly C, Wigley F, Hummers L. Skeletal Myopathy in Systemic Sclerosis Associates with Higher Disease Burden and Mortality [abstract].
Arthritis Rheumatol.
2022; 74 (suppl 9). https://acrabstracts.org/abstract/skeletal-myopathy-in-systemic-sclerosis-associates-with-higher-disease-burden-and-mortality/. Accessed November 29, 2022.
« Back to ACR Convergence 2022
ACR Meeting Abstracts - https://acrabstracts.org/abstract/skeletal-myopathy-in-systemic-sclerosis-associates-with-higher-disease-burden-and-mortality/