Session Information
Session Type: Poster Session D
Session Time: 8:30AM-10:30AM
Background/Purpose: COVID-19 can lead to severe and life-threatening complications, which is particularly unnerving for patients with autoimmune disease (AID) on immunosuppressive therapy. Telemedicine has enabled these patients to receive healthcare while socially distant. We describe preliminary data regarding the capacity of telemedicine to meet the healthcare needs of patients with AID who are immunosuppressed.
Methods: This cross-sectional survey included immunosuppressed young adults with AID and parents of immunosuppressed children with AID. The validated Local Inventory of Needs and Knowledge (LINK) survey with a 5-point Likert scale (completely true to completely untrue) was used to assess met and unmet medical and non-medical needs. LINK was modified to address the impact of the pandemic on access to medical care, experience with telemedicine, and health-related behaviors in immunosuppressed AID patients. Consistent with LINK's intention, responses were dichotomized at the extremes, either completely true (5) versus all other responses, or not at all true (1) versus all other responses, depending upon the stem's framing. See figure 1 for a sample of a LINK survey question.
Results: The first 29 respondents were 17 young adults and 12 parents. Patient (7-24 years old) diagnoses included: lupus (n=7), multiple sclerosis (n=6), juvenile arthritis (n=2), uveitis (n=2), vasculitis (n=2), minimal change disease (n=2), neuromyelitis (n=2), nephrotic syndrome (n=1), Henoch-Schonlein purpura (n=1), dermatomyositis (n=1), focal segmental glomerular sclerosis (n=1), post renal transplant (n=1), and systemic sclerosis (n=1).
Within this sample, 24% worried about going to a doctor's office/hospital due to immunosuppressed status. Fear of getting COVID-19 prevented 17% from seeking in-person medical care (Fig 2). Almost all (97%) had access to Wi-Fi, 71% felt comfortable with the idea of seeing a doctor using telemedicine and 59% found it to be a convenient form of healthcare delivery. Many (69%) felt telemedicine was "easy to use" and 59% reported that telemedicine minimized "pandemic-associated stress." Most (72%) believed telemedicine saved time. While 68% of patients were comfortable with in-person appointments, 48% of patients felt "more comfortable with telemedicine appointments during the pandemic." Only 55% thought "all of [their] important healthcare needs were met (Fig 2)." Patients also reported non-medical issues such as difficulties with access to adequate food and housing (data analysis is underway). Responses from young adults and parents were similar.
Conclusion: In this sample of immunosuppressed patients with AID and their parents, a majority identified telemedicine as a convenient and effective alternative to in-person appointments during the pandemic. While respondents expressed satisfaction with telemedicine services that were delivered, nearly half (45%) reported that they remained with unmet needs, suggesting that satisfaction alone is insufficient to assess the adequacy of telemedicine in this population. Data collection is ongoing to understand the unmet needs and drawbacks of telemedicine.
Sample of LINK survey question and response set (only 1 question out of several questions has been included)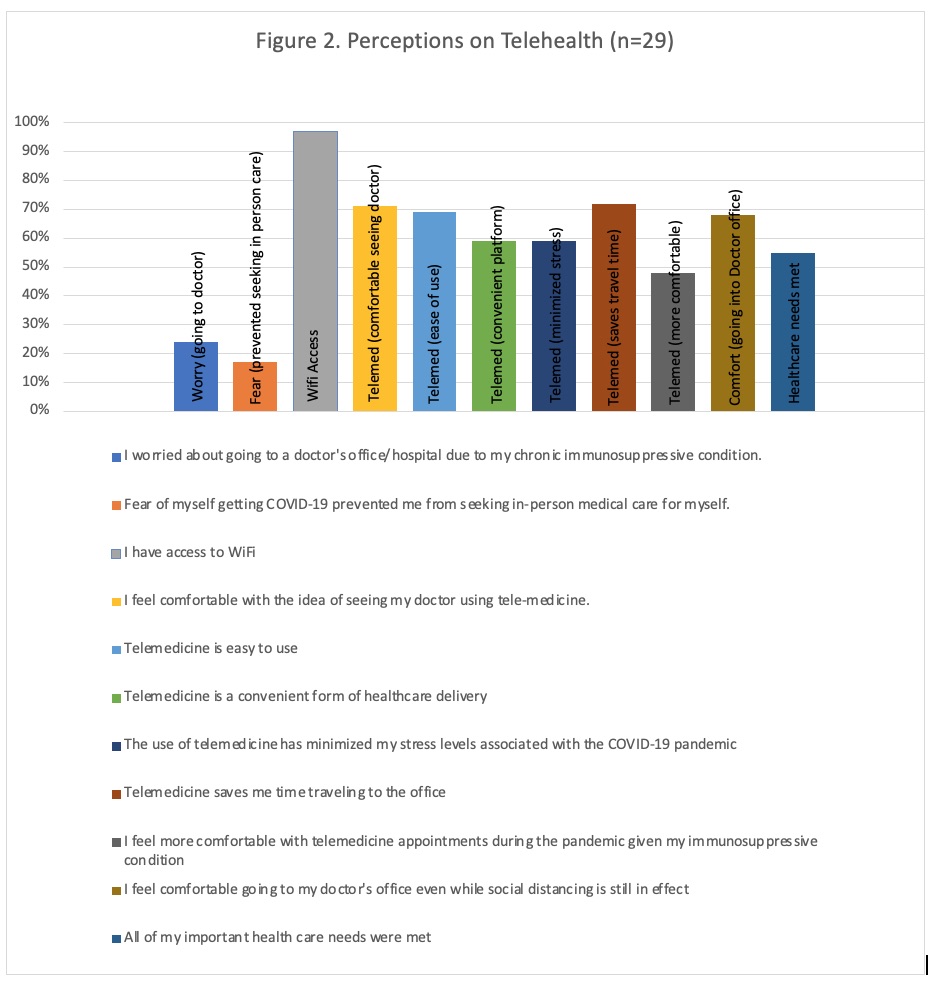 Perceptions on Telehealth based on the LINK survey responses (n=29)
---
Disclosures: L. Moorthy, Bristol Myer Squibb, 5; L. Freidenrich, None; L. Mikesell, None; S. Fadem, None; V. Bhise, None; R. Brodsky, None; E. Cahill, None; J. Carlson, None; Y. Hao, None; D. Horton, Danisco USA Inc., 5; V. Hsu, None; E. Rodriguez, None; C. Salazar, None; C. Salvant, None; L. Kleinman, None.
To cite this abstract in AMA style:
Moorthy L, Freidenrich L, Mikesell L, Fadem S, Bhise V, Brodsky R, Cahill E, Carlson J, Hao Y, Horton D, Hsu V, Rodriguez E, Salazar C, Salvant C, Kleinman L. Satisfaction with Telemedicine in Immunosuppressed Children and Young Adults with Autoimmune Disease During the COVID 19 Pandemic: Are Their Needs Really Met? Preliminary Data from a Single Institution [abstract].
Arthritis Rheumatol.
2021; 73 (suppl 9). https://acrabstracts.org/abstract/satisfaction-with-telemedicine-in-immunosuppressed-children-and-young-adults-with-autoimmune-disease-during-the-covid-19-pandemic-are-their-needs-really-met-preliminary-data-from-a-single-institutio/. Accessed February 1, 2023.
« Back to ACR Convergence 2021
ACR Meeting Abstracts - https://acrabstracts.org/abstract/satisfaction-with-telemedicine-in-immunosuppressed-children-and-young-adults-with-autoimmune-disease-during-the-covid-19-pandemic-are-their-needs-really-met-preliminary-data-from-a-single-institutio/