Session Information
Session Type: Poster Session B
Session Time: 8:30AM-10:30AM
Background/Purpose: The RAPP quality improvement project is a voluntary consortium of practicing rheumatologists founded in 2013 by Timothy Harrington MD, MACR. The primary focus is to provide accurate, on-time disease activity assessments and necessary treatments for an entire RA population consistent with T2T recommendations. We identified a bottleneck at available physician appointments as a major impediment. To address this bottleneck, RAPP practices utilized principles of chronic disease management (POPMED) such as team care with advanced practice providers and medical assistants gathering pertinent clinical, lab and imaging data 1-2 weeks prior to the actual clinical visit with the Rheumatologist. We now report our experience with RA disease activity outcomes, timeliness of care and Rheumatologist productivity over 6 years in 4 RAPP practices that have implemented both T2T care and POPMED principles.
Methods: The 4 Rheumatology practices included in this analysis represent a spectrum of community-based, physician-owned Rheumatology providers including two large ( >250 MDs) multispecialty groups, a 4 Rheumatologist practice and a solo practice. Timeliness of care was judged by fulfilling ACR/EULAR guidelines of assessments every 3 months for high or moderate disease activity (HDA) patients and 3-6 months for low or controlled disease activity (LDA) patients. RAPP practices also chose to use one or more composite disease activity profile from a panel (Rapid-3, CDAI, SJC, TJC, MD Global) . All or part of these were obtained by team members at each visit prior to the Rheumatologist seeing the patient. Only MBDA (Vectra) testing was utilized in all 4 practices at prescribed intervals.
Results: Over 6 years the 4 practices in total decreased the number of Rheumatologists from 11 to 10 while increasing the number of team members from 54 to 76. The added positions included 8 NP/PAs, 4 MAs and an assortment of other support staff. Total annual new patient visits increased 54% from 4165 to 6424(Image1).There was a 66% increase in the RA patient panel from 2673 (range 428 to 824) to 4428 (690-1307). MBDA scores demonstrated that initially 35% of RA patients had HDA and 42% were evaluated on time (Image 2). 6 years later only 16% of RA patients had HDA with 56% evaluated on time. A concomitant increase in RA patients with LDA from 24 to 46% was noted with on time evaluations increasing from 55% to 68%.
Conclusion: Creation of patient care teams and re-designing the patient visit into two components allowed almost 1800 additional patients with RA to access Rheumatology care despite an actual decrease in the number of Rheumatologists in the 4 practices. Associated with improved access, the number of RA patients with HDA declined dramatically (35% to 16%) and LDA increased (24 to 46%) as the timeliness of their visits improved. We conclude that Dr Harrington's vision of using T2T care and POPMED principles to improve quality and access to care for patients with RA has proven true.
Finally, the dramatic improvements in Rheumatologist productivity associated with implementing team care suggests the RAPP project can be a model to mitigate the shortage of Rheumatologists both now and projected in the future.
RA Panel and New Patients.jpeg"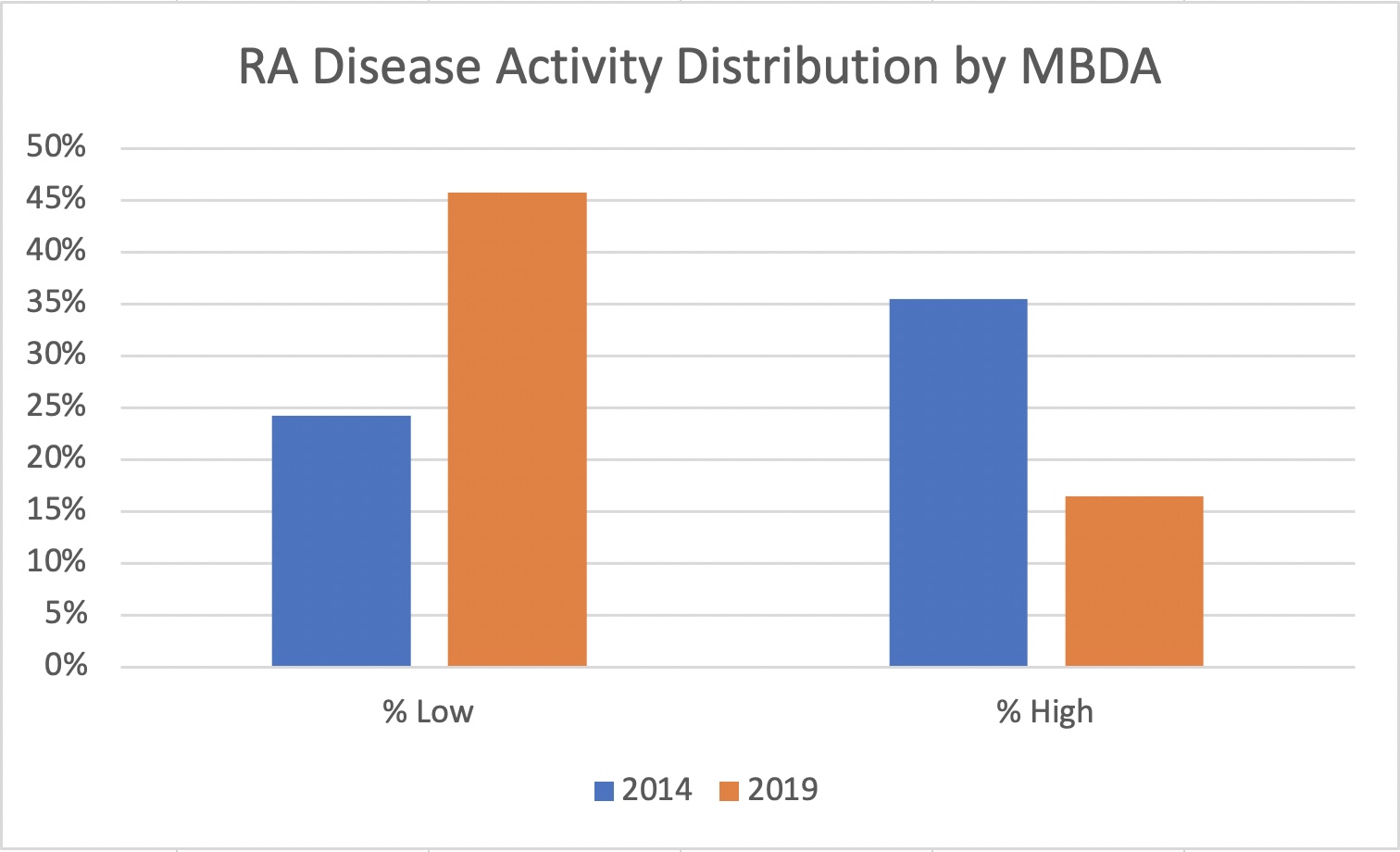 RA Disease Activity Distribution by MDMA.jpeg"
---
Disclosures: W. Arnold, Setpoint medical, 2; E. Arnold, Myriad, 6, SetPoint, 2; D. Sikes, Myriad, 2, Abbvie, 6; G. Crump, Myriad, 1, 6, AbbVie, 2, 6, Novartis, 1, 2, 6, UCB, 2, 6, Horizon, 1, 6, Amgen, 6, Exagen, 1; K. Thomas, None; a. johnson, None.
To cite this abstract in AMA style:
Arnold W, Arnold E, Sikes D, Crump G, Thomas K, johnson a. Rheumatoid Arthritis Practice Performance (RAPP) Project at 6 Years: Population Medicine (POPMED) Principles and Treat to Target (T2T) Care Yield Dramatic Improvements in Both Outcomes and Access for RA Patients and Productivity for Rheumatologists [abstract].
Arthritis Rheumatol.
2021; 73 (suppl 9). https://acrabstracts.org/abstract/rheumatoid-arthritis-practice-performance-rapp-project-at-6-years-population-medicine-popmed-principles-and-treat-to-target-t2t-care-yield-dramatic-improvements-in-both-outcomes-and-access-for/. Accessed May 29, 2023.
« Back to ACR Convergence 2021
ACR Meeting Abstracts - https://acrabstracts.org/abstract/rheumatoid-arthritis-practice-performance-rapp-project-at-6-years-population-medicine-popmed-principles-and-treat-to-target-t2t-care-yield-dramatic-improvements-in-both-outcomes-and-access-for/