Session Information
Session Type: ACR Concurrent Abstract Session
Session Time: 4:30PM-6:00PM
Background/Purpose:
CD40 ligand (CD40L) regulates interactions
between T cells, B cells, and antigen presenting cells. Considerable evidence suggests
CD40L blockade might provide an effective treatment for systemic autoimmune disorders.
In previous studies, some evidence of
efficacy was seen using monoclonal antibodies (hu5c8) to CD40L; however, the program
was halted due to thromboembolic events, possibly mediated by Fc interaction
with platelet Fc gamma RIIA receptor. DZP (formerly CDP7657) is a PEGylated anti-CD40L
Fab' fragment with no Fc.
Methods:
This 32-week randomized, double-blind, multicenter
study (NCT01764594) evaluated the efficacy of repeat IV administration of DZP in
patients with SLE with a SELENA SLEDAI score ≥4. Patients were documented
as positive for anti-dsDNA antibodies or antinuclear antibodies and, if taking
immunomodulatory therapies, were on a stable dose throughout the study. Patients
with active severe glomerulonephritis or renal flare in the last 6 months,
or history of thromboembolism within a year were excluded from the study.
After screening (up to 4 weeks), patients (n=24)
were randomized 2:1 to DZP (loading dose 30 mg/kg then 5 doses of 15 mg/kg
every 2 weeks) or placebo (PBO), stratified by presence or absence of
antiphospholipid antibodies. Patients were subsequently followed for 18 weeks.
The primary objective was to evaluate DZP safety
and tolerability; disease activity measures were exploratory variables. Two
composite measurements for SLE disease activity: BILAG-based Composite Lupus
Assessment (BICLA) and Systemic Lupus Responder Index (SRI-4) were analyzed
separately. These responses were determined on a subset of patients with ≥1
BILAG A or B (BICLA) or SLEDAI ≥6 (SRI-4) at baseline.
Results:
DZP and PBO groups had similar demography
and SLE disease status at baseline.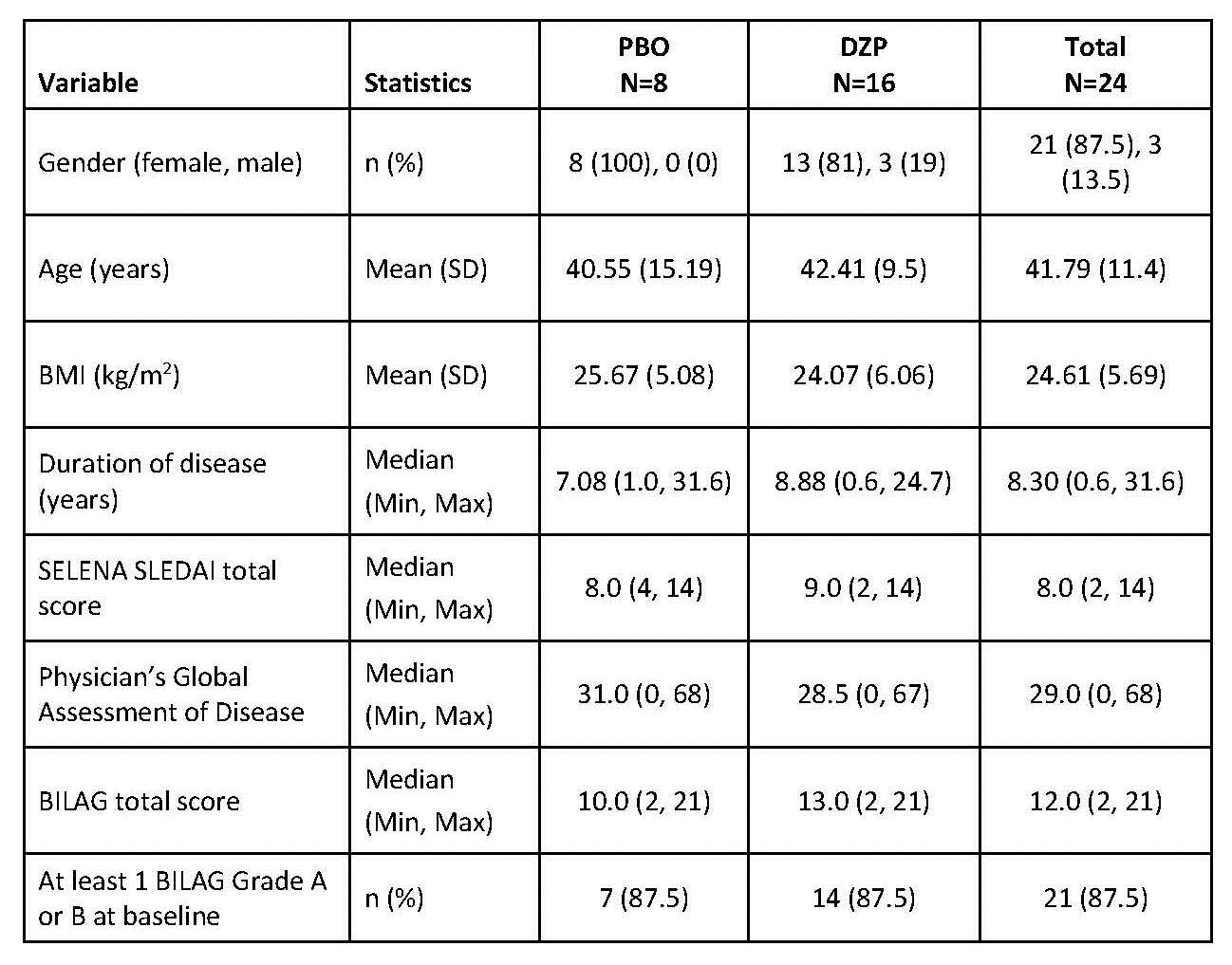 There were no serious treatment emergent
adverse events (TEAEs) and no deaths occurred. There were no thromboembolic
events and no laboratory findings suggestive of such. Nasopharyngitis was the
most common TEAE, reported for 6 patients in the DZP group and none in the PBO group.
The majority of TEAEs observed were mild or moderate in intensity, transient,
and resolved without intervention. There was 1 withdrawal due to a TEAE of
infection in the DZP group.
Preliminary evidence of clinical activity
was seen in the DZP group.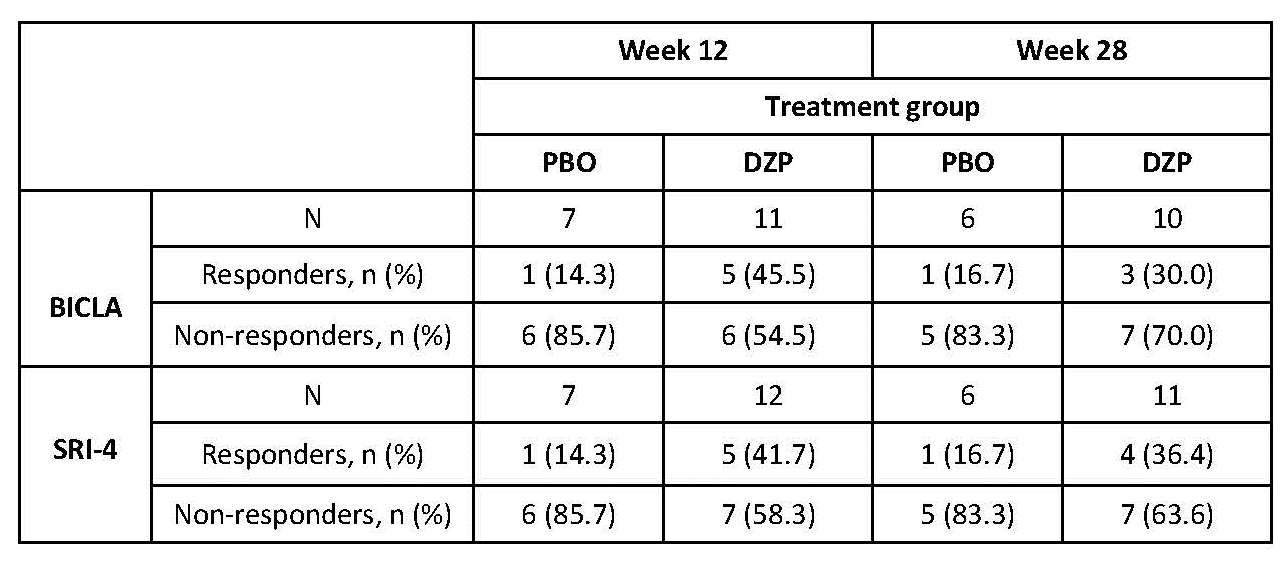 Conclusion:
Multiple administrations of DZP over 12 weeks
in patients with mild to moderate SLE were well tolerated and the safety
profile supports further development. Exploratory analyses show greater
improvement in clinical measures of disease activity in the DZP group vs PBO.
---
Disclosure: C. Chamberlain, UCB Pharma, 3; M. Urowitz, member of the DZP Data and Safety Monitoring Committee, 6,The Systemic Lupus International Collaborating Clinics has received research funds from UCB (epratuzumab), 2; J. Soranson, UCB Pharma, 3; M. Watling, UCB Pharma, 3; P. Colman, UCB Pharma, 3; O. Harari, UCB Pharma, 3; T. Dorner, Deutsche Forschungsgemeinschaft, Johnson & Johnson, Sanofi, and UCB, 2,Eli Lilly, Roche/Chugai, Sanofi, and UCB, 5,Eli Lilly, Pfizer, Roche, and UCB, 8; F. Hiepe, Deutsche Forschungsgemeinschaft and IMI (PRECISESADS), 2,Eli Lilly, Sanofi, and UCB, 5,GSK and Pfizer, 8.
To cite this abstract in AMA style:
Chamberlain C, Urowitz M, Soranson J, Watling M, Colman P, Harari O, Dorner T, Hiepe F. Repeated Administration of Dapirolizumab Pegol (DZP) Appears Safe and Well Tolerated in Patients with Systemic Lupus Erythematosus (SLE) and Is Accompanied By an Improvement in Disease Activity: Results from a Phase 1 Study [abstract].
Arthritis Rheumatol.
2015; 67 (suppl 10). https://acrabstracts.org/abstract/repeated-administration-of-dapirolizumab-pegol-dzp-appears-safe-and-well-tolerated-in-patients-with-systemic-lupus-erythematosus-sle-and-is-accompanied-by-an-improvement-in-disease-activity-resul/. Accessed October 20, 2020.
« Back to 2015 ACR/ARHP Annual Meeting
ACR Meeting Abstracts - https://acrabstracts.org/abstract/repeated-administration-of-dapirolizumab-pegol-dzp-appears-safe-and-well-tolerated-in-patients-with-systemic-lupus-erythematosus-sle-and-is-accompanied-by-an-improvement-in-disease-activity-resul/