Session Information
Session Type: Poster Session B
Session Time: 9:00AM-10:30AM
Background/Purpose: We employed urine proteomics to define the molecular signatures associated with the histological features quantified by the NIH activity and chronicity indices.
Methods: Glomerular and interstitial lesions in lupus nephritis were quantified (scored 0-3) based on the revised 2018 International Society of Nephrology/Renal Pathology Society (ISN/RPS) classification for lupus nephritis and the modified NIH scoring system by a central renal pathologist (JH). Urinary proteins (1200 biomarkers, RayBiotech Kiloplex) were quantified in urine samples collected on the day of (73%) or within 3 weeks of (27%) the diagnostic kidney biopsy. Proteomic signatures of each lesion were defined based on Spearman correlations of each urine protein with each pathologic lesion.
Results: Ninety-one biopsies were included: 32 (35%) with pure proliferative LN, 33 (36%) with pure membranous LN, and 26 (29%) with mixed LN. The 5 most correlated urinary proteins and each pathologic feature are summarized in Figure 1. Most lesions in the activity or chronicity indices shared a similar signature within their respective index. In contrast, fibrous crescents displayed an inflammatory signature (CD73, MMP9, MIP1b, and IL-8) despite being part of the NIH chronicity index. Hierarchical clustering based on proteomic signatures revealed that fibrous crescents were more similar to activity-related lesions (Figure 2). Interstitial inflammation (activity) was correlated with biomarkers associated with both active and chronic lesions.
Conclusion: Although fibrous crescents are considered inactive lesions that follow crescentic glomerulonephritis, urine proteomics revealed inflammatory activity associated with fibrous crescents. Several cell types such macrophages, fibroblasts, neutrophils, lymphocytes, and epithelial cells are critical in the formation of crescents. Higher levels of CD73, IL-8 and MMP9 indicate the presence of an inflammatory response involved in glomerular remodeling after extra-capillary proliferation that have an important role in kidney damage. The presence of fibrous crescents in kidney biopsies may indicate ongoing potentially treatable inflammation. Interstitial inflammation, which is linked to worse clinical outcomes, showed a distinct proteomic signature combining both activity and chronicity. A better understanding of the pathophysiology of processes including fibrous crescents and interstitial inflammation is needed to tailor treatment of these pathways leading to chronic damage.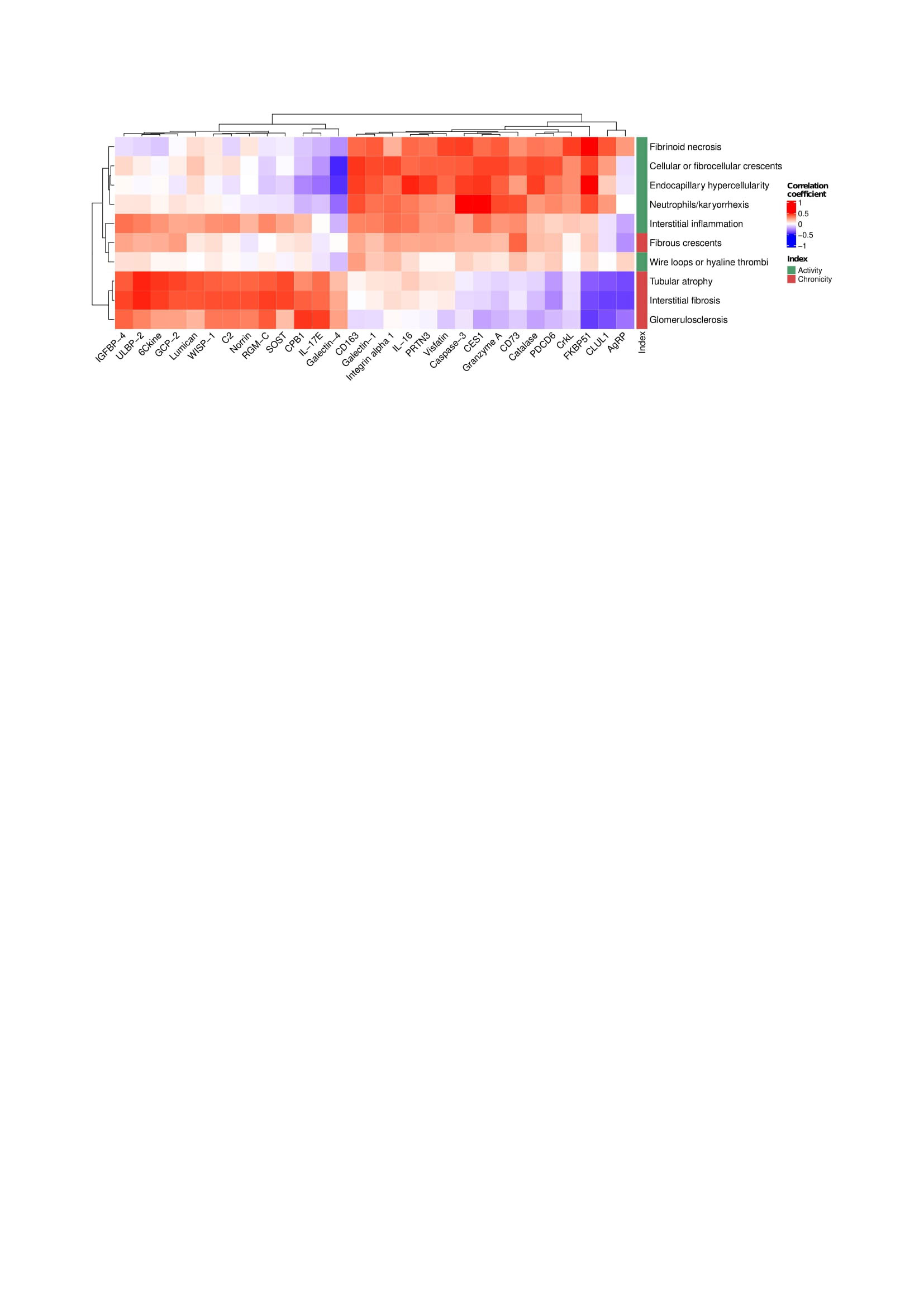 ---
Disclosures: A. Celia, None; J. Hodgin, None; A. Rosenberg, None; L. Magder, None; J. Buyon, Equillium, GlaxoSmithKlein(GSK), L and M Healthcare Communications, Janssen, Boomcom, Merck/MSD; B. Diamond, None; J. James, Bristol-Myers Squibb(BMS), AstraZeneca, Novartis, Progentec Biosciences; W. Apruzzese, None; P. Fenaroli, None; D. Fine, None; J. Monroy-Trujillo, None; M. Atta, Kira, Horizon, Bristol-Myers Squibb(BMS), REATA, Morphosys AG, Sentien; P. izmirly, None; M. Belmont, None; A. Davidson, None; D. Goldman, None; t. (AMP) RA/SLE, None; M. Petri, Exagen, AstraZeneca, Alexion, Amgen, AnaptysBio, Argenx, Aurinia, Biogen, Caribou Biosciences, CVS Health, EMD Serono, Eli Lilly, Emergent Biosolutions, GlaxoSmithKline (GSK), IQVIA, Janssen, Kira Pharmaceuticals, MedShr, Sanofi, SinoMab, Thermofisher, BPR Scientific Advisory Committee; A. Fava, Sanofi.
To cite this abstract in AMA style:
Celia A, Hodgin J, Rosenberg A, Magder L, Buyon J, Diamond B, James J, Apruzzese W, Fenaroli P, Fine D, Monroy-Trujillo J, Atta M, izmirly P, Belmont M, Davidson A, Goldman D, (AMP) RA/SLE t, Petri M, Fava A. Proteomic Analysis of Histological Lesions Lupus Nephritis Identifies an Inflammatory Signature of Fibrous Crescents [abstract].
Arthritis Rheumatol.
2022; 74 (suppl 9). https://acrabstracts.org/abstract/proteomic-analysis-of-histological-lesions-lupus-nephritis-identifies-an-inflammatory-signature-of-fibrous-crescents/. Accessed .
« Back to ACR Convergence 2022
ACR Meeting Abstracts - https://acrabstracts.org/abstract/proteomic-analysis-of-histological-lesions-lupus-nephritis-identifies-an-inflammatory-signature-of-fibrous-crescents/