Session Information
Session Type: ACR Abstract Session
Session Time: 4:30PM-6:00PM
Background/Purpose: Rheumatoid arthritis (RA)-related autoantibodies are typically elevated prior to the onset of seropositive RA.  Screening for autoantibody (aAb) positive individuals is a means to assemble a cohort at  high risk for future RA for epidemiologic, mechanistic and interventional studies.  However, little is known about the stability of RA-related aAbs over time, and the likelihood of developing inflammatory arthritis (IA) in individuals without RA who screen aAb positive in a non-clinical setting. 
Methods: The Studies of the Etiologies of RA (SERA) prospectively follows subjects who are RA-free but are at increased risk for future RA because they are a first-degree relative of an RA proband (n=1780), or come from a cohort enriched for HLA-DR4 alleles (n=629). We screened for serum aAbs to CCP (CCP2 and/or CCP3.1), and RF IgA and IgM isotypes.  Positivity was based on cut-offs as defined by manufacturer's recommendations. Overall, 15% (368/2409) tested positive for at least one aAb during screening.  To evaluate outcomes of aAb+ subjects identified via screening, the cohort was limited to the 193 subjects that had at least one follow-up visit after their aAb+ visit. Seven subjects that were determined to have IA at screening were removed from the prospective analysis of aAb persistence and progression to IA, for a cohort of 186 aAb+ subjects (mean age: 47.7, SD 15.1). For the IA risk analyses, we explored combinations of aAb and high titer aAb, as defined by 2-times (2x) and 3-times (3x) the cutoff at the screening visit. 
Results: Of the 186 screened aAb+ subjects, 61.1% tested aAb+ again on their next visit.  During a median follow-up of 4.2 years (IQR: 2.2-7.3), 22/186 subjects (11.8%) developed IA, which was defined as having at least 1 joint with synovitis on exam, and of those subjects 16 were eventually classified as RA by 2010 ACR/EULAR criteria.  Risk of developing IA differed significantly by aAb+ status at screening (Figure). Adjusting for ever smoking status and education, subjects that screened positive for both CCP and RF isotypes had over a 5-fold increased risk of developing IA than those positive for RF isotypes alone (Table). Those with CCP+ at >2x the cutoff were at 3.5-fold increased risk of IA compared to those CCP+ using the normal cutoff.
Conclusion: These findings support the utility of screening for RA risk in a non-clinical setting, and provides information regarding the likelihood of both retesting positive and future IA/RA. Specifically, in individuals who screen aAb+, ~60% will re-test positive, and either the presence at screening of both CCP and RF isotypes using the normal cut-offs, or the presence of CCP at > 2x cutoff predicts who will develop IA, while a CCP 3x cutoff does not improve prediction.

Figure for abstract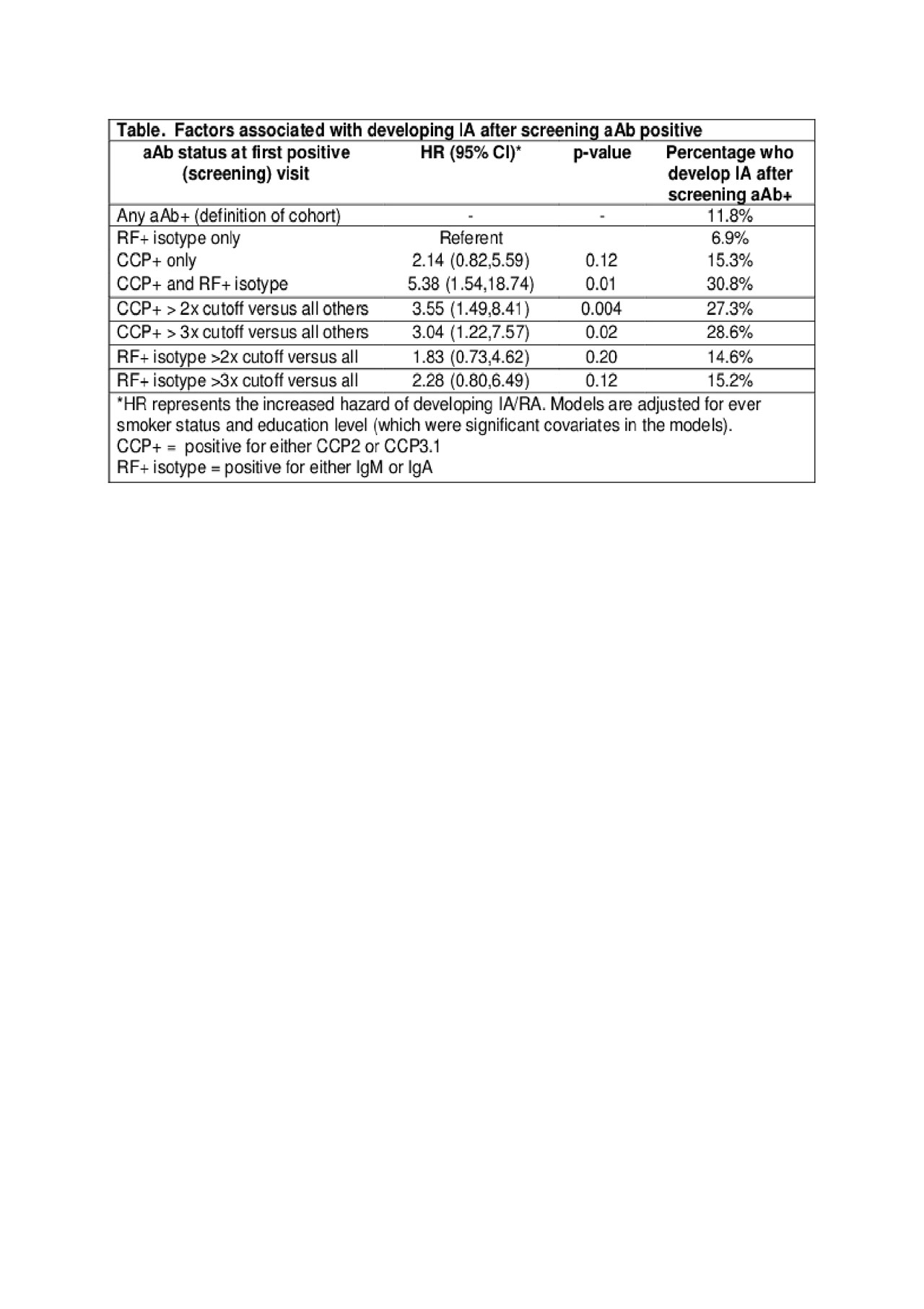 Table for abstract
---
Disclosure: J. Norris, BMS, 5, Celgene, 5, Janssen R&D, 2, Pfizer, 2; E. Bemis, None; M. Feser, None; M. Demoruelle, Pfizer, 2; J. Seifert, Janssen, 2; M. Weisman, AbbVie, 9, Boehringer Ingelheim, 9, Eli Lilly, 5, Lilly, 5, 9, Novartis, 5, Paul Hastings, 9, SetPoint Medical, 9, Takeda, 9, Tharpe & Howell LLP, 9, UCB, 5; J. Buckner, Bristol-Myers Squibb, 2, 5, Eli Lilly, 5, Janssen, 2, Novo Nordisk, 2, Pfizer, 2; P. Gregersen, None; T. Mikuls, BMS, 2, Horizon, 2; J. O'Dell, None; R. Keating, None; K. Deane, Bristol-Myers Squibb, 5, Inova, 9, Janssen, 2, 5, Janssen R&D, 2, Microdrop, 5, Pfizer, 2; V. Holers, AdMIRx, 1, 2, 4, 5, 6, Alexion, 7, BMS, 5, Bristol-Myers Squibb, 5, Celgene, 5, Janssen R&D, 2, 5, Pfizer, 2.
To cite this abstract in AMA style:
Norris J, Bemis E, Feser M, Demoruelle M, Seifert J, Weisman M, Buckner J, Gregersen P, Mikuls T, O'Dell J, Keating R, Deane K, Holers V. Progression to Inflammatory Arthritis After Screening Autoantibody Positive in a Non-Clinical Setting [abstract].
Arthritis Rheumatol.
2019; 71 (suppl 10). https://acrabstracts.org/abstract/progression-to-inflammatory-arthritis-after-screening-autoantibody-positive-in-a-non-clinical-setting/. Accessed December 2, 2022.
« Back to 2019 ACR/ARP Annual Meeting
ACR Meeting Abstracts - https://acrabstracts.org/abstract/progression-to-inflammatory-arthritis-after-screening-autoantibody-positive-in-a-non-clinical-setting/