Session Information
Session Type: Poster Session C
Session Time: 8:30AM-10:30AM
Background/Purpose: The onset of the COVID-19 pandemic disrupted the delivery of medical education to trainees, compelling educators to utilize virtual learning platforms. The purpose of this project is to assess the educational value, accessibility, and impact of podcast-based learning as a complementary learning tool for medical trainees rotating on an inpatient rheumatology service at a single academic institution.
Methods: From July 2020 to April 2021, medical trainees (physician assistant student, medical students, residents) rotating on an inpatient rheumatology consult service were given access to a podcast comprised of educational conversations between a fellow and an attending on various topics in Rheumatology, stored on a password protected server. All podcast episodes were less than 25 minutes in length. Access statistics from the server included "previews" (when a trainee listened to an episode directly on the server) and "downloads" (when a trainee downloaded an episode to a device). Participants were surveyed on prior podcast listening, engagement with the rheumatology podcast intervention, perceptions of the podcast's appropriateness of educational content, learning, enjoyment, accessibility, and direct impact on clinical care of rheumatic patients. Data were examined using descriptive statistics.
Results: Of the 41 trainees who received a survey, 20 (48.87%) responded, including 1 physician assistant student, 7 medical students, 5 interns, 3 second-year internal medicine residents, and 4 third-year residents. Prior to this study, 7/20 (35%) spent greater than two hours per week listening to podcasts on any topic and 2/20 (10%) did not listen to any podcasts. Regarding the rheumatology podcast intervention, all respondents reported listening to at least one podcast episode, 12/20 (60%) listened to at least half of the episodes, and 5/20 (25%) listened to all episodes. As shown in Table 1, more than half the respondents listened to episodes on systemic lupus erythematosus, myositis (part 1), and giant cell arteritis; these episodes also received the most "previews" and "downloads" from the podcast server. The preferred podcast episode length was between 10 and 30 minutes for 17/20 (85%) of respondents. As shown in Figure 1, respondents most often played the podcast while commuting to and from school or work (n = 13, 65%). As shown in Table 2, 19/20 (95%) respondents agreed or strongly agreed that the educational content of the podcast was appropriate for level of training, enjoyable and educational, and directly impacted their approach to evaluating, diagnosing, and treating patients with rheumatic disease. Although 14/20 (70%) agreed or strongly agreed that the podcast was easily accessible, 6/20 (30%) disagreed with this statement.
Conclusion: Medical education podcasts are emerging as a supplementary learning tool at all stages of training. Our study demonstrates that medical trainees voluntarily listened to our Rheumatology podcast and the majority of survey respondents found the podcast to be educational, enjoyable, and impactful for rheumatology patient care. Reported difficulty with playing the podcast on the server emphasizes the importance of accessibility in successful podcast learning.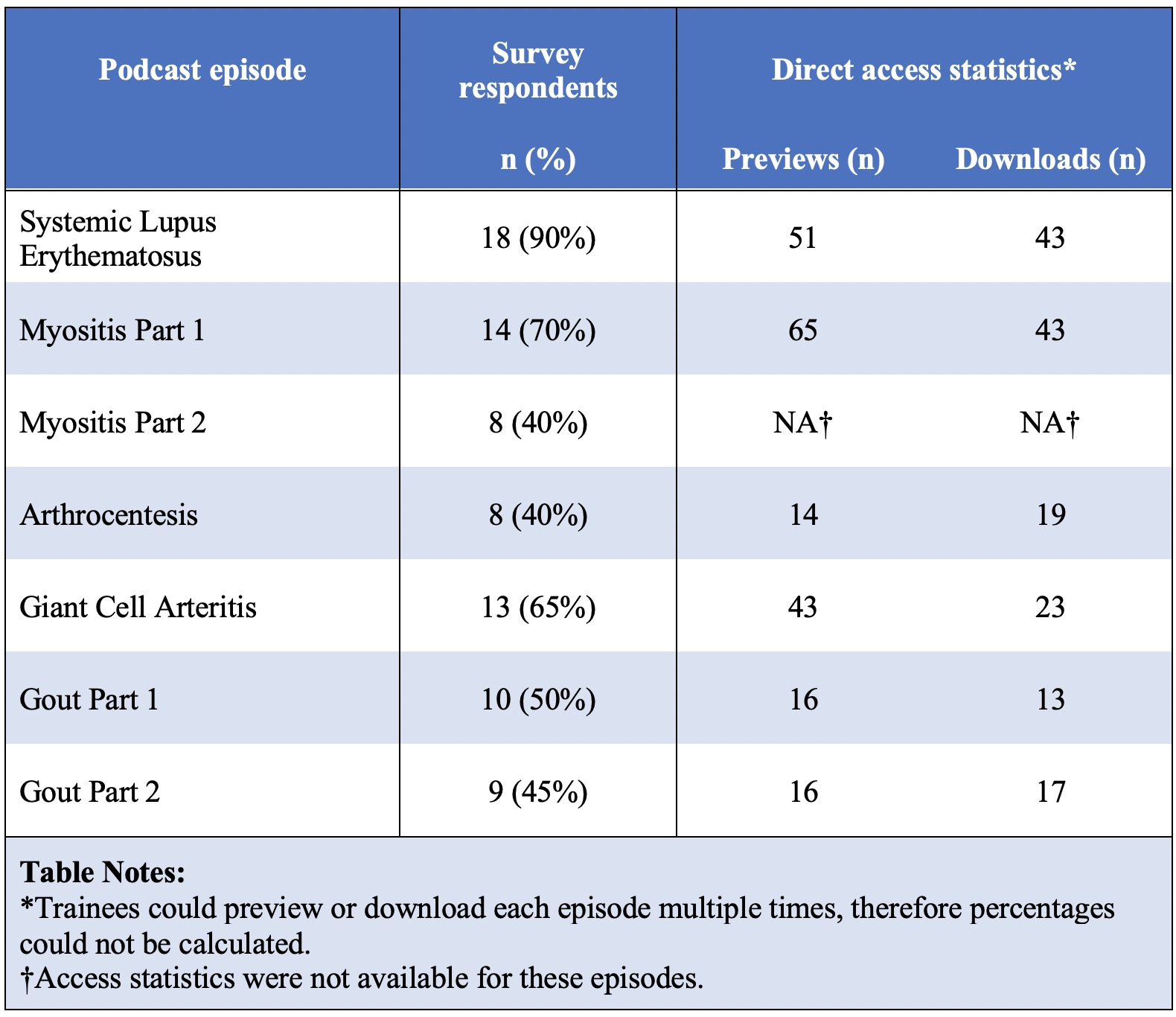 Table 1: Podcast episode engagement among survey respondents and direct access stats from the podcast server.
Figure 1: Number of survey respondents who reported listening to the podcast at particular times.
Table 2: Survey results among 20 respondents regarding podcast educational content, enjoyment, impact, and accessibility.
---
Disclosures: A. Udupa, None; S. Weinmann, None; D. Leverenz, Pfizer, 5.
To cite this abstract in AMA style:
Udupa A, Weinmann S, Leverenz D. Podcast-Based Learning, a Valuable Tool for Learning Rheumatology [abstract].
Arthritis Rheumatol.
2021; 73 (suppl 9). https://acrabstracts.org/abstract/podcast-based-learning-a-valuable-tool-for-learning-rheumatology/. Accessed January 30, 2023.
« Back to ACR Convergence 2021
ACR Meeting Abstracts - https://acrabstracts.org/abstract/podcast-based-learning-a-valuable-tool-for-learning-rheumatology/