Session Information
Session Type: Poster Session (Sunday)
Session Time: 9:00AM-11:00AM
Background/Purpose: Immunoglobulin G4-related disease (IgG4-RD) is an immune-mediated fibroinflammatory condition that may involve multiple organ systems. IgG4-RD can also lead to large vessel vasculitis and chronic periaortitis have been reported in patients with IgG4-RD. Furthermore, a Classification of IgG4-related periaortitis/periarteritis distribution was also reported. 
This study is aimed to compare demographic and clinical features of IgG4RD patients with periaortitis/periarteritis with patients without periaortitis/periarteritis patients. Also distribution of patients according to classification reported is analyzed.
Methods: A total of 66 patients fulfilling the Comprehensive Diagnostic Criteria for IgG4-RD and admitted our vasculitis center between 2014 and 2018 were included in the study. Periaortitis and coronary arteritis was defined as vessel wall thickness, wall enhancement and perivascular soft tissue thickening on CT or MR angiography. Type 1 aortitis was localized at the infra-renal artery portion of the abdominal aorta, Type 2 added continuation to medium sized arteries, Type 3 added seperate location at the ascending aorta, Type 4 affected medium-sized arteries only and Type 5 was other involvement. Demographic, clinical, laboratory and imaging features of IgG-RD patients with and without periaortitis were compared.
Results: Among 66 (F/M=32/34) patients, 29 had periaortitis (43.9%). Mean age and disease duration was 51.4 ± 13.5 and 2.6 ± 2.7 years, respectively. Demographic and clinical characteristics of patients were summarized in Table. Male sex, hypertension, elevated acute phase reactants at diagnosis, urinary/kidney involvement and coronary arteritis was more frequent in periaortitis (+) patients whereas salivary gland involvement was more frequently observed in patients without periaortitis (Table).Median number of involved organ systems was 2 (1-5) and 1 (1-4) in patients with and without periaortitis, respectively (p=0.02).There was no difference in terms of serum IgG4 levels between groups.
In our cohort the most common periaortitis type was Type 2 that localized at the infra-renal artery portion of the abdominal aorta and was seen in 15 patients (53%). Second most common type was Type 3 (18%) followed by Type 4 (13%), Type 1 (10%) and Type 5 (3%) respectively. Classification of IgG4-related periaortitis type was given in Figure. Of the 66 IgG4-RD patients 6 (9%) had coronary arteritis. All patients with coronary involvement also had periaortitis and IgG4-RD patients without periaortitis had no coronary involvement (21.4% vs. 0%, p=0.005). In Type 3 periaortitis patients coronary artery involvement was significantly higher than other types of periaortitis (80% vs 8%, p=0.003).
Conclusion: Periaortitis is frequent in our IgG4-RD cohort and seen more in patients with male sex, hypertension, increased acute phase reactants at diagnosis and urinary/kidney involvement. The most common periaortitis type was Type 2 as reported. Since coronary arteritis is a serious involvement, screening of patients with periaortitis, especially Type 3 for coronary involvement might be rational.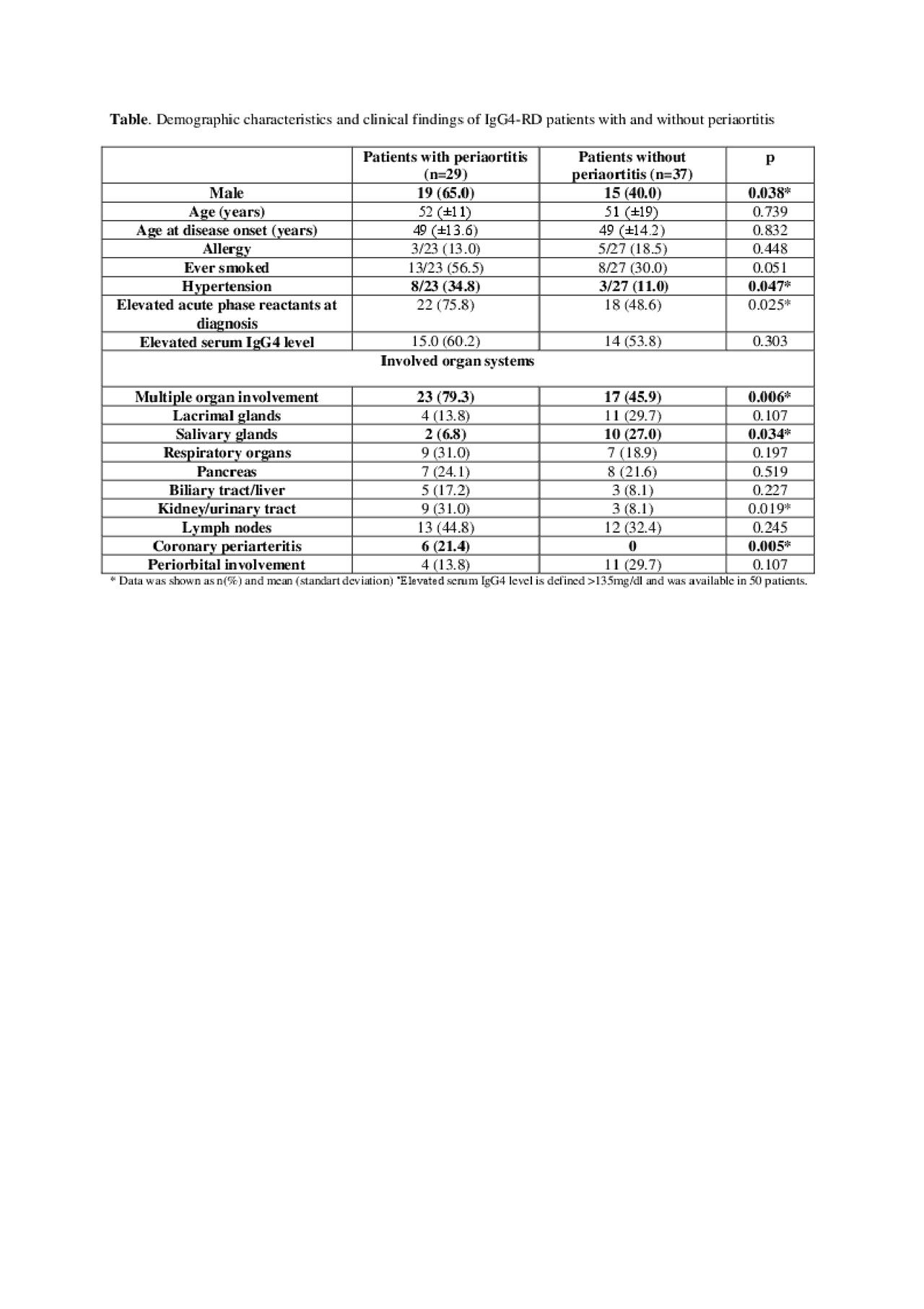 table

figure
---
Disclosure: G. Yardımcı, None; A. Sarı, None; A. Erden, None; E. Bolek, None; B. Farisoğulları, None; L. Kilic, None; B. Armagan, None; U. Kalyoncu, UCB, 5; T. Hazırolan, None; A. Ertenli, None; O. Karadag, None.
To cite this abstract in AMA style:
Yardımcı G, Sarı A, Erden A, Bolek E, Farisoğulları B, Kilic L, Armagan B, Kalyoncu U, Hazırolan T, Ertenli A, Karadag O. Periaortitis and Coronary Arteritis in IgG4-Related Disease: Eastern Mediterranean Experience [abstract].
Arthritis Rheumatol.
2019; 71 (suppl 10). https://acrabstracts.org/abstract/periaortitis-and-coronary-arteritis-in-igg4-related-disease-eastern-mediterranean-experience/. Accessed August 8, 2022.
« Back to 2019 ACR/ARP Annual Meeting
ACR Meeting Abstracts - https://acrabstracts.org/abstract/periaortitis-and-coronary-arteritis-in-igg4-related-disease-eastern-mediterranean-experience/