Session Information
Session Type: Poster Session A
Session Time: 1:00PM-3:00PM
Background/Purpose: The Berlin algorithm for the diagnosis of axial spondyloarthritis (axSpA) was developed more than 15 years ago (2004). Since then, new studies suggest that the diagnostic performance of some SpA features might not be as good as initially thought. We aimed at reviewing the evidence on the performance of clinical, laboratory and imaging SpA features in discriminating between a clinical diagnosis of axSpA and no axSpA.
Methods: Systematic literature review of cross-sectional, longitudinal and case-control studies (2004-2021) reporting data that could be used to evaluate ≥1 SpA feature. The population was defined as adults (≥16 years) with a suspicion or definite clinical diagnosis of axSpA. The diagnostic performance of each SpA feature was tested using the clinical diagnosis of axSpA as reference standard. Studies in which classification criteria were used to define axSpA were excluded. Sensitivity, specificity, positive and negative likelihood ratio (LR+ and LR-) were calculated. Risk of bias was assessed using the QUADAS 2 tool.
Results: Of 11,420 screened articles, 20 studies evaluating patients with axSpA fulfilled the inclusion criteria. Five of these studies (n=3,366 patients; axSpA prevalence range 41-78%) were at low risk of bias and evaluated the same SpA features (n=10/20) allowing across-feature comparisons (Table 1). Three of these 5 studies (n=2,204) also evaluated bone marrow edema (BME) on MRI of the sacroiliac joints (MRI-SIJ) and definite damage on pelvic radiographs (X-SIJ). A good balance between sensitivity and specificity was found for HLA-B27, BME on MRI-SIJ and damage on X-SIJ which resulted in high LR+ and low LR-. For instance, patients with axSpA where 2 to 7 times more likely to be HLA-B27+ than patients without axSpA (LR+ range 2-7). Similarly, patients with axSpA were less likely to be HLA-B27 negative than patients without axSpA (LR- range 0.4-0.6). Peripheral manifestations and extra-musculoskeletal manifestations (EMM) were highly specific for axSpA but much less sensitive than HLA-B27 and imaging findings. Among peripheral manifestations, dactylitis had the highest LR+ (2.8-16.7), but was uncommon in axSpA (sensitivity range 5-9%), meaning that no dactylitis is almost as likely in axSpA as in no axSpA (LR- range 0.9-1). Similarly poor LR- were found for the other peripheral features and EMM. The performance of IBP, good response to NSAIDs and family history was variable, but mostly poor, with LR+ and LR- close to 1.
Conclusion: The results for HLA-B27 and imaging findings are in agreement with the literature informing the Berlin algorithm and reflect good diagnostic performance for axSpA, even though circularity cannot be ruled out. New evidence confirms that peripheral features and EMM, when present, are suggestive of axSpA, but that their absence does not help in ruling out the diagnosis. The low diagnostic value of IBP, good response to NSAIDs and family history of SpA, compared to data previously informing the Berlin algorithm, deserve further consideration and may justify an adaptation of the algorithm.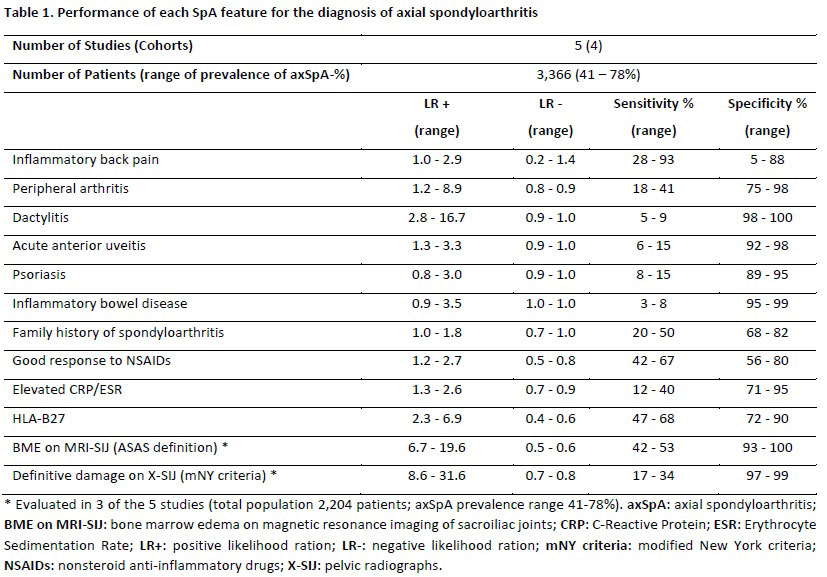 ---
Disclosures: A. Bento da Silva, None; H. Lourenço, None; S. Ramiro, AbbVie/Abbott, Eli Lilly, Galapagos, Merck/MSD, Novartis, Pfizer, UCB, Sanofi; L. Falzon, None; J. Branco, None; D. van der Heijde, AbbVie, Bayer, BMS, Cyxone, Eisai, Galapagos, Gilead, Glaxo-Smith-Kline, Janssen, Novartis, Pfizer, UCB, Imaging Rheumatology bv, Lilly; R. Landewé, Abbott, Amgen, AstraZeneca, BMS, GSK, Novartis, Merck, Pfizer, Schering-Plough, UCB Pharma; A. Sepriano, UCB, Novartis.
To cite this abstract in AMA style:
Bento da Silva A, Lourenço H, Ramiro S, Falzon L, Branco J, van der Heijde D, Landewé R, Sepriano A. Performance of Clinical, Laboratory and Imaging Features for the Diagnosis of Axial Spondyloarthritis – A Systematic Literature Review [abstract].
Arthritis Rheumatol.
2022; 74 (suppl 9). https://acrabstracts.org/abstract/performance-of-clinical-laboratory-and-imaging-features-for-the-diagnosis-of-axial-spondyloarthritis-a-systematic-literature-review/. Accessed .
« Back to ACR Convergence 2022
ACR Meeting Abstracts - https://acrabstracts.org/abstract/performance-of-clinical-laboratory-and-imaging-features-for-the-diagnosis-of-axial-spondyloarthritis-a-systematic-literature-review/