Session Information
Session Type: Abstract Session
Session Time: 4:30PM-6:00PM
Background/Purpose: Polymyalgia rheumatica (PMR) is a common inflammatory rheumatic disease in the elderly. The phase 3 SAPHYR trial (NCT03600818) assessed the efficacy and safety of sarilumab, a fully human monoclonal antibody directed against sIL-6Rα, for treatment of relapsing PMR. The primary endpoint, sustained remission at week (wk) 52, was met by sarilumab treatment with rapid glucocorticoid (GC) tapering and less total GC doses (p = 0.0193).1 This analysis assessed its effects on patient reported outcomes (PROs).
Methods: This phase 3 randomized placebo-controlled trial enrolled 118 patients of the intended 280 as the study was prematurely terminated due to protracted recruitment timelines exacerbated by the COVID-19 pandemic. Patients were randomized to receive either sarilumab with a GC tapering regimen over 14 wks (n = 60), or placebo with 52 wk GC taper (n = 58). PROs (Patient Global Assessment of disease activity [PtGA], pain visual analog scale [VAS], Health Assessment Questionnaire Disability Index [HAQ-DI], Functional Assessment of Chronic Illness Therapy–Fatigue [FACIT-F], Short Form Health Survey version 2 [SF-36 v2], and EuroQoL 5-Dimension 3-Level [EQ-5D-3L]) were assessed at baseline to wk 52. Between-group differences in least-squares mean (LSM) changes from baseline were assessed and proportions of patients reporting improvements ≥ minimal clinically important differences (MCID) and scores ≥ normative values compared between groups. All p-values were nominal.
Results: At wk 52, sarilumab treatment resulted in statistically significantly greater improvements from baseline than comparator arm in SF-36 Physical (PCS: p = 0.0172) and Mental (MCS: p = 0.0295) Component Summary scores and 5 of 8 domains (Table 1 & Figure 1). Sarilumab treatment also led to significantly greater improvements from baseline in EQ-5D-3L utility index score (p = 0.0336) and numerically greater improvements in EQ VAS, FACIT-F, HAQ-DI, PtGA, and pain scores (Table 1). Post-hoc analyses demonstrated that more patients treated with sarilumab reported improvements ≥ MCID in SF-36 PCS (p = 0.0161) score (Table 2), resulting in number needed to treat of 3.7. Numerically, there were more sarilumab responder patients across all PROs with exception of SF-36 mental health domain and Pain VAS (Table 2). Numerically more patients receiving sarilumab also reported scores ≥ US age/gender matched normative values in SF-36 MCS and 4 domains, HAQ-DI, and FACIT-F at week 52 (data not shown).
Conclusion: Consistent with the primary endpoint, PROs demonstrated clinically meaningful and robust improvements in health-related quality of life for relapsing PMR patients treated with sarilumab. Sarilumab has not been approved for the treatment of PMR in any jurisdiction.
Reference
1Dasgupta B: LB0006, ARD 2022; 81 Supp 1: p210-11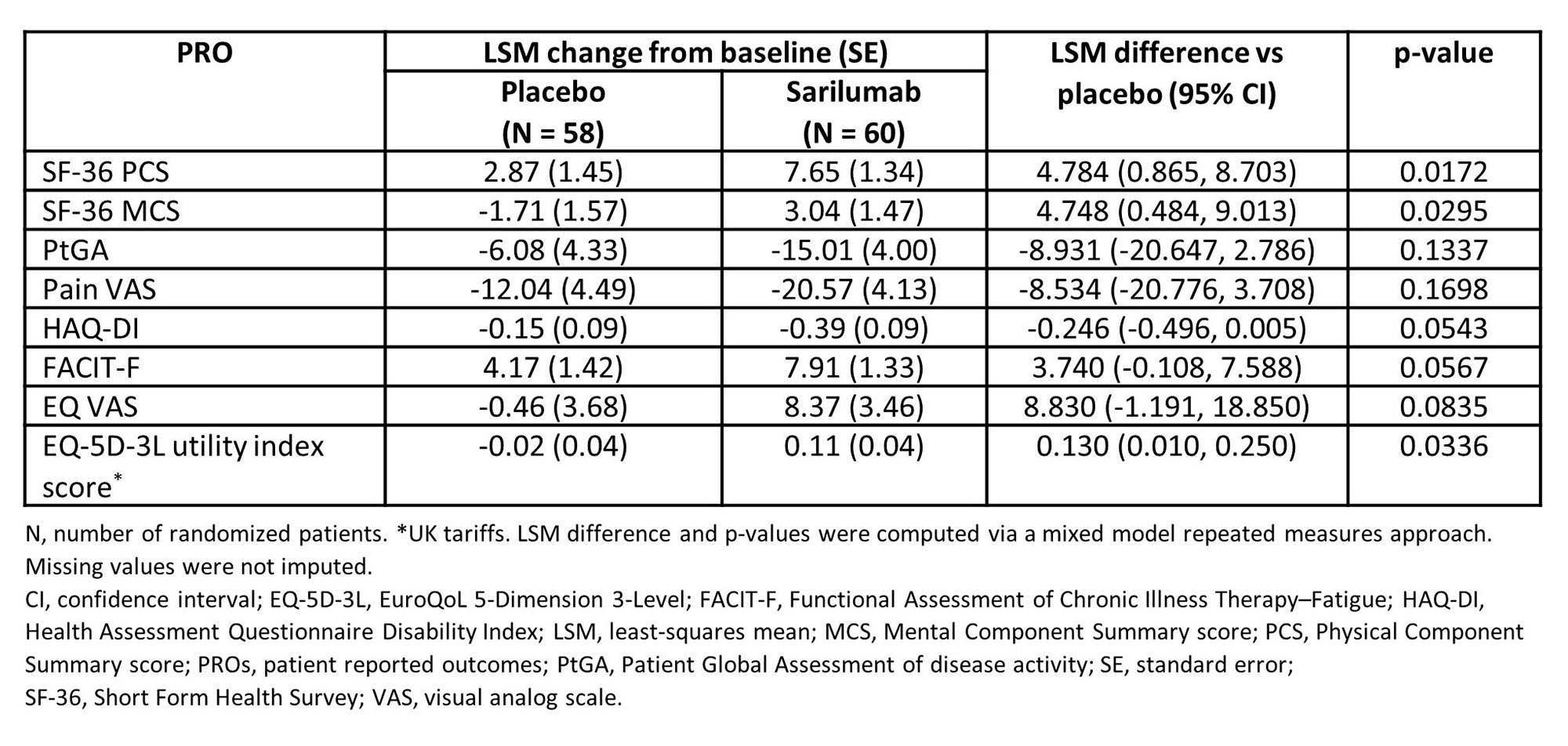 ---
Disclosures: V. Strand, AbbVie, Amgen, AstraZeneca, Bayer, Bristol-Myers Squibb(BMS), Boehringer-Ingelheim, Chemocentryx, Celltrion, Genentech/Roche, Gilead, GlaxoSmithKlein(GSK), Inmedix, Janssen, Kiniksa, Merck/MSD, Novartis, Pfizer, Regeneron Pharmaceuticals, Rheos, R-Pharma, Samsung, Sandoz, Sanofi, Scipher, Setpoint, Spherix, Aria, Bioventus, Blackrock, Equilium, Glenmark, Horizon, Kypha, Lilly, MiMedx, Sorrento, Tonix, Priovant; J. Sloane Lazar, Sanofi; M. Nivens, Regeneron; J. Chao, Regeneron; S. Fiore, Sanofi; A. Giannelou, Regeneron; L. Araujo, Sanofi; J. Msihid, Sanofi.
To cite this abstract in AMA style:
Strand V, Sloane Lazar J, Nivens M, Chao J, Fiore S, Giannelou A, Araujo L, Msihid J. Patient Reported Outcomes from a Randomized Phase 3 Trial of Sarilumab in Polymyalgia Rheumatica [abstract].
Arthritis Rheumatol.
2022; 74 (suppl 9). https://acrabstracts.org/abstract/patient-reported-outcomes-from-a-randomized-phase-3-trial-of-sarilumab-in-polymyalgia-rheumatica/. Accessed May 30, 2023.
« Back to ACR Convergence 2022
ACR Meeting Abstracts - https://acrabstracts.org/abstract/patient-reported-outcomes-from-a-randomized-phase-3-trial-of-sarilumab-in-polymyalgia-rheumatica/