Session Information
Session Type: Poster Session B
Session Time: 8:30AM-10:30AM
Background/Purpose: GP2015 is a biosimilar of etanercept (ETN). COMPACT is an ongoing, non-interventional study, evaluating the effectiveness, safety, and quality of life with GP2015 treatment in patients (pts) with rheumatoid arthritis (RA), axial spondyloarthritis (axSpA) or psoriatic arthritis (PsA) in real-world conditions.1 Herein we present the pt-reported outcomes (PROs) and safety data focusing on pts who were either in treatment with reference ETN or biosimilar ETN (initial ETN; iETN) other than GP2015 and switched to GP2015 or biologic-naïve pts who started GP2015 as a first biologic therapy.
Methods: Pts aged ≥18 years who initiated treatment with GP2015 were enrolled. They were categorized based on prior treatment status.1 PROs assessments through 12 months included 12-Item Short Form Survey (SF-12) score for mental/physical health and physical function as Health Assessment Questionnaire Disability Index (HAQ-DI) score. PROs and safety data are presented for switched pts (on clinical remission or low disease activity under treatment with iETN and switched to GP2015) and biologic-naïve pts (considered uncontrolled with conventional therapy and started with GP2015).
Results: A total of 1437 pts were recruited (analysis cut-off date: 16 Oct 2020), comprising 828 (57.6%) with RA as primary indication, 325 (22.6%) with axSpA, and 284 (19.8%) with PsA. There were 292, 159, and 116 switched pts; and 439, 124, and 134 biologic-naïve pts with RA, axSpA, and PsA, respectively. Comorbidities (switched and biologic-naïve pts) were more frequent in RA (70.2% and 65.8%), followed by PsA (58.6% and 59.7%) and axSpA (49.7% and 54.8%), respectively. After 12 months treatment with GP2015, we observed comparable HAQ-DI, SF-12 mental, and SF-12 physical scores between the switched and biologic-naïve pts (Figure 1 A-C). Incidences of adverse events (AEs) and serious AEs in pts with RA were 37.3% and 6.5% in switched, 43.7% and 7.3% in biologic-naïve; in pts with axSpA they were 25.8% and 3.1% in switched, 46.8% and 7.3% in biologic-naïve; and in pts with PsA they were 33.6% and 1.7% in switched, 43.3% and 6.0% in biologic-naïve. Injection-site pain was low across the groups (RA: 2.1% and 0.7% in switched and biologic-naïve pts; axSpA: 1.3% and 1.6% in switched and biologic-naïve pts; PsA: 0 and 0.7% in switched and biologic-naïve pts, respectively).
Conclusion: This analysis shows comparable PRO scores obtained after 12 months of observation in pts under treatment with iETN who switched to GP2015 and in pts who were biologic-naïve and started GP2015 as a first-line biologic therapy, without any new safety signals in real-world conditions.
Reference
1. Schmalzing M, et al. ACR 2019, Atlanta, GA, United States. Poster No. 553.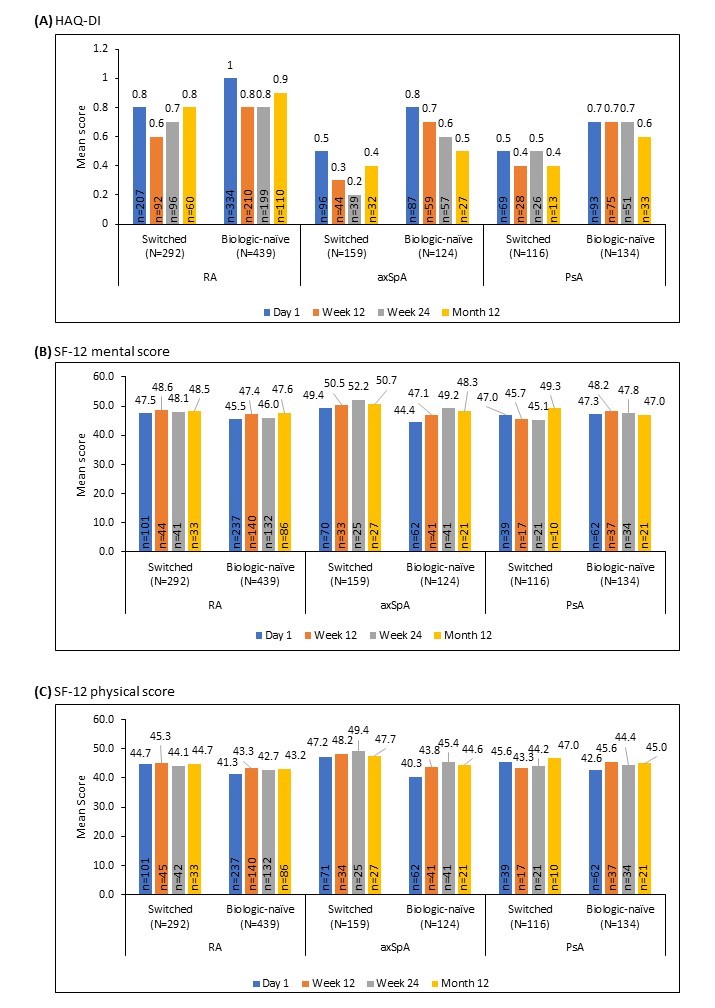 ---
Disclosures: A. Askari, None; M. Schmalzing, Hexal/Sandoz, 2, Amgen, 2, AbbVie, 2, 6, AstraZeneca, 2, 6, Boehringer/Ingelheim, 2, 5, Celgene, 5, Chugai/Roche, 2, 5, 6, EUSA-Pharma, 2, Gilead, 2, 6, Janssen-Cilag, 2, 6, Medac, 2, 5, Mylan, 5, Novartis, 2, 6, onkowissen.de, 2, UCB, 5; S. Jeka, MSD, 6, Teva, 6, UCB, 6, Abbvie, 2, 6, Celgene, 2, 6, Egis, 6, Eli Lilly, 2, 6, Gilead, 6, Medac, 6, Novartis, 2, 6, Pfizer, 2, 6, Roche, 2, 5, 6, Sandoz, 6; J. De Toro Santos, None; E. Collantes-Estevez, None; F. Furlan, Hexal AG, 3; S. Hachaichi, Hexal AG, 3; H. Kellner, AbbVie, 6, Biogen, 6, Celltrion, 6, Galapagos, 6, Hexal/Sandoz, 6, Medac, 6, MSD, 6, Novartis, 6, UCB, 6, Viatris, 6.
To cite this abstract in AMA style:
Askari A, Schmalzing M, Jeka S, De Toro Santos J, Collantes-Estevez E, Furlan F, Hachaichi S, Kellner H. Patient-reported Outcomes and Safety Measures in Patients with Rheumatic Diseases Who Switched from Reference or Other Biosimilar Etanercept to Biosimilar Etanercept GP2015 and in Biologic-naïve Patients Starting a Treatment with GP2015: 12-month Interim Analysis from a Real-world Study [abstract].
Arthritis Rheumatol.
2021; 73 (suppl 9). https://acrabstracts.org/abstract/patient-reported-outcomes-and-safety-measures-in-patients-with-rheumatic-diseases-who-switched-from-reference-or-other-biosimilar-etanercept-to-biosimilar-etanercept-gp2015-and-in-biologic-naive-patie/. Accessed March 27, 2023.
« Back to ACR Convergence 2021
ACR Meeting Abstracts - https://acrabstracts.org/abstract/patient-reported-outcomes-and-safety-measures-in-patients-with-rheumatic-diseases-who-switched-from-reference-or-other-biosimilar-etanercept-to-biosimilar-etanercept-gp2015-and-in-biologic-naive-patie/