Session Information
Session Type: ACR Concurrent Abstract Session
Session Time: 2:30PM-4:00PM
Background/Purpose: High interleukin-22 (IL-22) levels are detected in serum and synovial fluid of rheumatoid arthritis (RA) patients and have been shown to positively correlate with disease activity markers and more erosive disease. The role of IL-22 in autoimmunity and inflammation appears to be greatly contradictory, being both pro- and anti-inflammatory. Especially the anti-inflammatory properties of IL-22 are not well understood. The purpose of our study was to investigate the anti-inflammatory and immune-suppressive effect of IL-22 during experimental arthritis.
Methods: Collagen-induced arthritis was induced in DBA-1 mice by immunization and booster with bovine collagen type II (CII). After booster, but before arthritis onset, IL-22 was overexpressed either locally or systemically using an adenoviral construct (AdIL-22) or Luciferase as control (AdLuc). 1×107 plaque-forming units (PFU) of the adenoviruses were injected intra-articularly (i.a.) for local overexpression, or 3×108 PFU of adenoviruses were injected intravenously (i.v.) for systemic overexpression in immunized mice without clinical signs of CIA, and mice were sacrificed 10 days later. Macroscopic scoring and histological analysis was performed, and mRNA expression and protein production of various pro- and anti-inflammatory mediators was determined in synovial tissue, spleen, and serum.
Results: Local overexpression of IL-22 by injection of AdIL-22 in the knee joint of CII-immunized mice resulted in an unaltered arthritis incidence and severity as compared to the control virus AdLuc. Accordingly, no changes in mRNA expression or protein production were observed in mice locally overexpressing IL-22. In contrast, systemic overexpression of IL-22 potently reduced disease incidence and severity, which was also confirmed by histological analysis (See Figure 1). Mice overexpressing IL-22 systemically showed significantly lower mRNA levels of IFNγ and SOCS3, and protein levels of IFNγ, TNFα, MIP1α, and IL-10.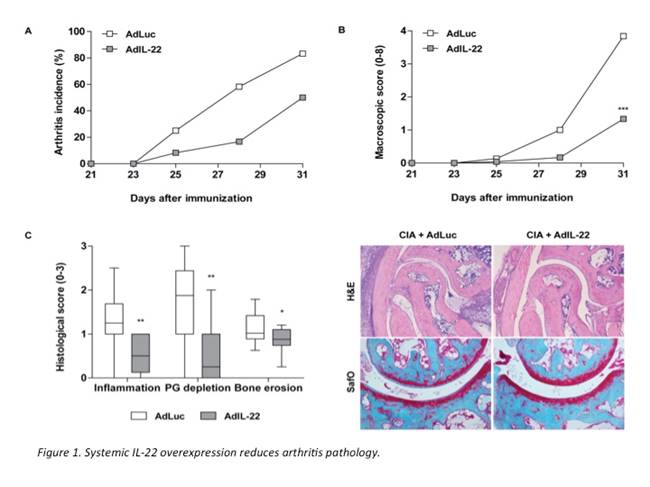 Conclusion: With this study, we revealed clear anti-inflammatory effects of IL-22 overexpression during collagen-induced arthritis, which are completely dependent on the systemic route of administration. Additionally, we were the first to show that this protective effect of IL-22 during experimental arthritis is likely orchestrated via up-regulation of the negative regulator SOCS3.
---
Disclosure: D. M. Roeleveld, None; M. M. Helsen, None; B. Walgreen, None; E. Vitters, None; F. A. J. van de Loo, None; P. L. van Lent, None; W. B. van den Berg, None; P. M. van der Kraan, None; M. I. Koenders, None.
To cite this abstract in AMA style:
Roeleveld DM, Helsen MM, Walgreen B, Vitters E, van de Loo FAJ, van Lent PL, van den Berg WB, van der Kraan PM, Koenders MI. Overexpression of Interleuk-22 Induces Expression of the Negative Immune-Regulator SOCS3 and Potently Reduces Collagen-Induced Arthritis in Mice [abstract].
Arthritis Rheumatol.
2017; 69 (suppl 10). https://acrabstracts.org/abstract/overexpression-of-interleuk-22-induces-expression-of-the-negative-immune-regulator-socs3-and-potently-reduces-collagen-induced-arthritis-in-mice/. Accessed September 24, 2021.
« Back to 2017 ACR/ARHP Annual Meeting
ACR Meeting Abstracts - https://acrabstracts.org/abstract/overexpression-of-interleuk-22-induces-expression-of-the-negative-immune-regulator-socs3-and-potently-reduces-collagen-induced-arthritis-in-mice/