Session Information
Session Type: Abstract Submissions (ACR)
Background/Purpose: Physical frailty represents a state of high vulnerability for adverse health outcomes including disability and mortality. Physical activity interventions to improve health have largely focused on increasing moderate activities and paid limited attention to sedentary behavior. While being physically active is related to less frailty, it is not clear if time spent in sedentary behavior is a separate risk factor from low activity for frailty onset.   If a distinct risk factor, the effectiveness of public health initiatives to reduce physical frailty and its sequelae may be improved by incorporating strategies to reduce sedentary behavior.  
Methods: We prospectively examined the relationship between accelerometer measured sedentary time with incident physical frailty. We studied 1570 Osteoarthritis Initiative participants aged 49 years or older at elevated risk for developing physical frailty due to knee osteoarthritis (KOA) or KOA risk factors.  Physical frailty ascertainment employed a validated definition based on objective assessments: low gait speed (<0.6 meters/second) or/and inability to perform one single chair stand without using arms. Hazard ratios for developing frailty during 2 years of follow-up were estimated from discrete survival methods controlled for time spent in moderate activities, socioeconomic (age, sex, race/ethnicity, marital status, income, education) and health factors (body mass index, chronic conditions, high depressive symptoms, radiographic knee OA, chronic knee symptoms, hip OA, chronic hip symptoms, general pain, smoking, alcohol), and waking hours.  
Results:  The incidence of frailty in this high risk group was 18.5 per 1,000 person-years. Greater sedentary time during waking hours was significantly related to subsequent frailty onset (unadjusted hazard ratio [HR] = 1.29 per sedentary hour, 95% confidence interval [CI]: 1.08, 1.54). Figure 1 demonstrates the strong relationship between sedentary time and incident frailty adjusting for age, gender, and BMI. Importantly, this relationship held (HR= 1.36 per sedentary hour, 95% CI: 1.04, 1.78) after controlling for moderate activity and other covariates. 
Conclusion:  These prospective data demonstrated a significant increased risk for the development of frailty per hour of sedentary time among adults with or at risk for knee OA.  Importantly, sedentary time was significantly related to frailty onset, independent of time spent in moderate activities. These findings support sedentary behavior as a separate risk factor for frailty, distinct from insufficient moderate activity. Interventions which promote reducing sedentary behaviors in addition to increasing physical activity may help to diminish frailty onset.
Figure. Adjusted physical frailty incident rate.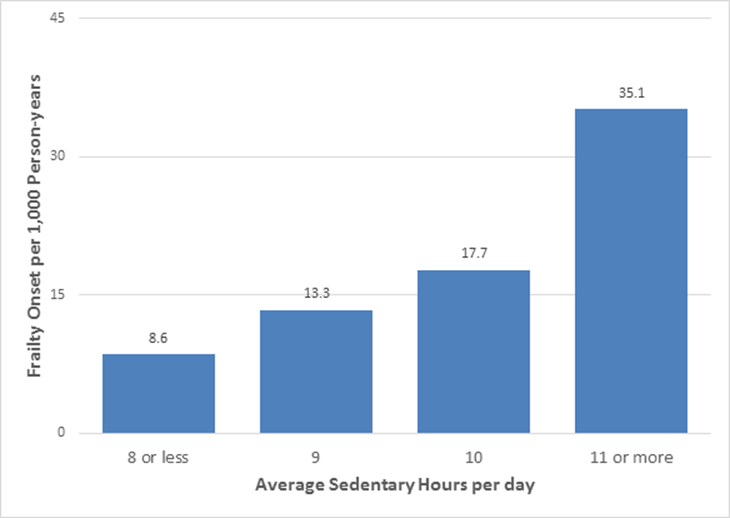 ---
Disclosure:
J. Song,
None;
L. A. Lindquist,
None;
R. W. Chang,
None;
P. A. Semanik,
None;
L. S. Ehrlich-Jones,
None;
J. Lee,
None;
M. W. Sohn,
None;
D. D. Dunlop,
None.
« Back to 2014 ACR/ARHP Annual Meeting
ACR Meeting Abstracts - https://acrabstracts.org/abstract/objectively-measured-sedentary-behavior-is-a-distinct-risk-factor-from-low-moderate-to-vigorous-activity-in-predicting-subsequent-frailty-evidence-from-osteoarthritis-initiative/