Session Information
Session Type: Poster Session D
Session Time: 9:00AM-11:00AM
Background/Purpose: Function of Nerve Growth Factor (NGF) in the nervous system and its regulatory role in pain is well defined. We have shown earlier that NGF levels are increased in synovial fluid (SF) from psoriatic arthritis (PsA) and rheumatoid arthritis (RA) patients (Raychaudhuri SP, eta al. Arthritis Rheum. 2011;63:3243-52) Here we are providing defined mechanism(s) through which NGF acts on human T cells, and provide a model which substantiates a key role of NGF in the pathogenesis of PsA
Methods: We investigated whether NGF and its high affinity receptor (TrkA) is upregulated at the disease site, the cellular source of NGF and the regulatory role of NGF in the inflammatory cascades of PsA. Untreated psoriatic arthritis (n=15) and osteoarthritis (OA, n=15) patients were recruited after proper IRB approval. PBMC/SFMC T cells and FLS were cultured as per our earlier studies (Raychaudhuri SP, eta al. Arthritis Rheum. 2011;63:3243-52; Saxena A, et al. Arthritis Rheum. 2011; 63:1465-6). We used ELISA, western blot and FACS analysis to determine NGF, TrkA and cellular phenotypes. Student t test and ANOVA were used for statistical analyses.
Results:
In unstimulated T lymphocytes low level expression of TrkA was detected; whereas physiologically activated CD3+ T lymphocytes showed distinct upregulation of TrkA. SF collected from PsA was enriched with HLA-DR+CD3+ TrkA+ T lymphocytes. NGF significantly stimulated the proliferation of T lymphocytes. We have further noticed NGF induced phosphorylation of mTOR and this could be the possible mechanism for the pro-survival effect of NGF on T lymphocytes. Finally we showed that T cell activation could be inhibited by TrkA inhibitors such as K252a (Fig 1).
FLSs from patients with PsA produced significantly higher levels (< .001) of NGF (200±22 pg/ml) compared to FLS of patients with OA (42±15 pg/ml). Furthermore, we observed that NGF significantly stimulated the proliferation of FLS derived from PsA synovial tissue
Conclusion: Our observations suggest: (i) NGF is produced by FLS at the disease site  in PsA (ii) NGF acts as a T cell growth factor, promotes survival of the pathologic effector T cells and thus, help to escape them from peripheral immuno-tolerance mechanisms. We show here enrichment of TrkA+ activated memory T cells in PsA and, we identified synovial cells (FLS) as the prime source for NGF. We propose that NGF as a T cell growth factor promotes survival of the pathologic effector T cells, contributes in sustaining the chronic inflammatory cascades of autoimmune diseases; and NGF/TrkA targeted therapies as a novel approach for PsA.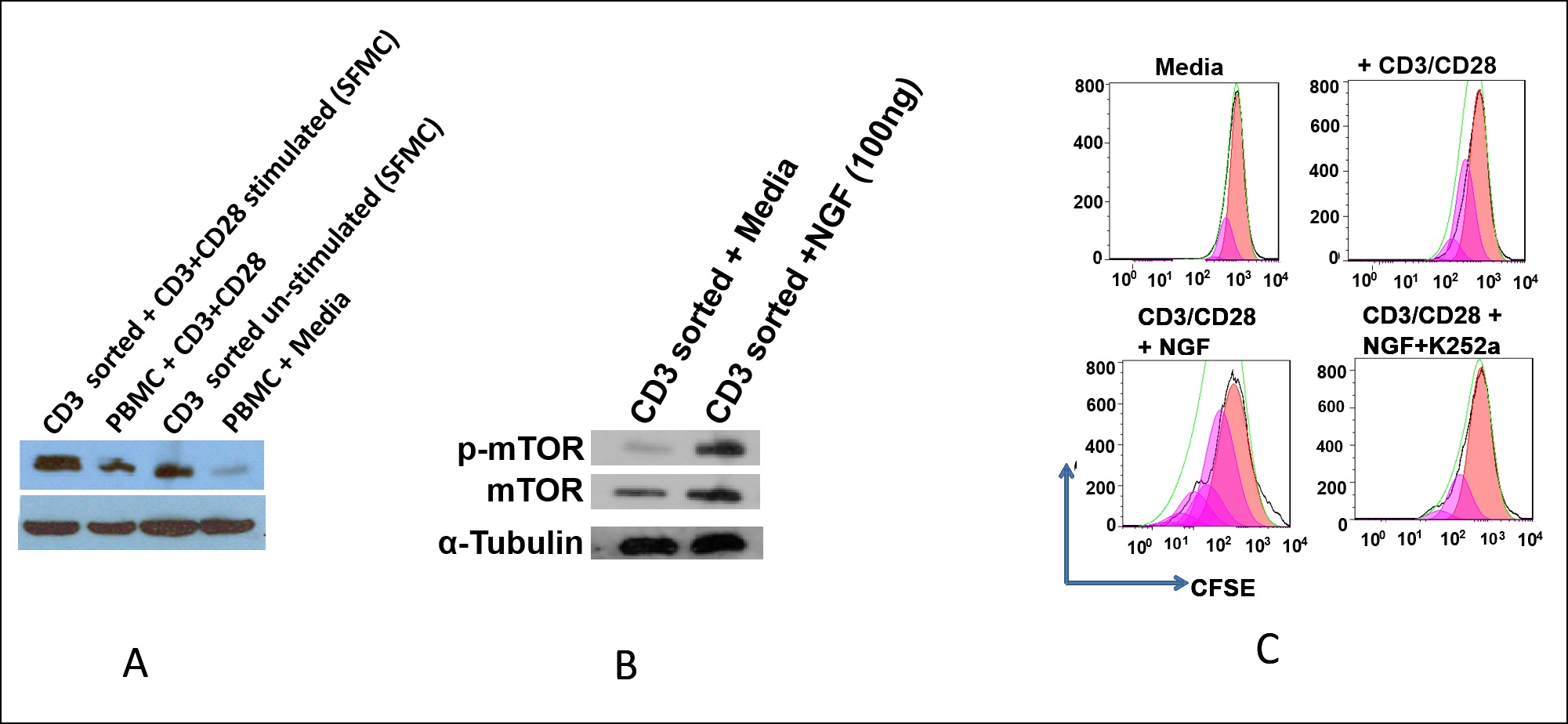 Figure 1. Here we are briefly providing our observations in the Fig 1 that in Psoriatic Arthritis (PsA) – (i) Synovial fluid (SFMC) T cells have higher levels of TrkA compared to the PBMC T cells (ii) NGF induces progrowth/survival mTOR kinase signaling in T cells (iii) NGF/TrkA regulates human T cell function such as T cell proliferation. A. Expression of TrKA on CD3/CD28 stimulated and unstimulated T cells derived from the synovial fluid (SFMC) and PBMC of a PsA patients. Western-blot assay was performed in 5 PsA patients. Expression of Trk-A was found to be significantly high in CD3/CD28 stimulated T cells (p < 0.05) compared to the unstimulated T cells. B. NGF regulates mTOR signalling kinases in T cells: Enriched T cells from peripheral blood mononuclear cells (PBMC) were cultured in serum free media for 24hrs and then exposed to NGF (100ng/ml) for 2 hrs. Cells stimulated with NGF were found to have increased p-mTOR in comparison to the unstimulated T cells. Data was obtained from n=5 individual set of experiments and was compared at significance level p=0.05. C. NGF induces significant proliferation of T cells. CD3+ T cells were magnetically sorted from peripheral blood followed by staining with CFSE. Then cells were seeded in CD3/CD28 precoated 24 well plates with respective treatment (NGF: 100 ng/ml; K252a: 100 ng/ml) and cultured for 5 days at 370C with 5% CO2. Cells were collected and data acquired in flow cytometer followed by analysis in FlowJo software. This is a representative profile of CFSE dilution assay of CD3+ T lymphocytes from one subject (n=10). NGF (100 ng/ml) induced T cell proliferation (as shown by more generation as well as more number of cells in each generation) than CD3/CD28 stimulated alone (p < 0.01). TrkA inhibitor, K252a (100 ng/ml) effectively inhibited the NGF induced T cell proliferation which in turn prove the relevance of NGF in T cell proliferation through its functional receptor TrkA.
---
Disclosure: S. Raychaudhuri, None; S. Raychaudhuri, None.
To cite this abstract in AMA style:
Raychaudhuri S, Raychaudhuri S. NGF/TrkA System Regulates Pain and the Pannus Formation: Targeting NGF-TrkA in Psoriatic Arthritis [abstract].
Arthritis Rheumatol.
2020; 72 (suppl 10). https://acrabstracts.org/abstract/ngf-trka-system-regulates-pain-and-the-pannus-formation-targeting-ngf-trka-in-psoriatic-arthritis/. Accessed December 1, 2022.
« Back to ACR Convergence 2020
ACR Meeting Abstracts - https://acrabstracts.org/abstract/ngf-trka-system-regulates-pain-and-the-pannus-formation-targeting-ngf-trka-in-psoriatic-arthritis/