Session Information
Session Type: ACR Poster Session B
Session Time: 9:00AM-11:00AM
Background/Purpose:
Alarmins, such as uric acid, released from dying cells activate inflammasomes
and mediate dead cell-induced inflammation (Ref.). Since it is remains unknown whether
or not local host immune factors contribute to the alarmin-related inflammatory
response, we focused on the roles of B cells and immunoglobulins in
Alarmin-related inflammation. The aim of this study is to test whether natural antibodies
have a role in acute cell death-induced inflammation in two different models, acetaminophen-induced
liver damage and dead cell-induced peritonitis.
Methods: First we
looked at neutrophil infiltration into acetaminophen-damaged livers in mice
genetically lacking B cells (μMT) and control wild-type (WT) C57BL/6 mice.
Dead EL4 cells, murine T lymphoma cell line, that had been heat-shocked and
frozen were injected intraperitoneally into μMT and controls, and the
recruitment of neutrophils and monocytes to peritoneal cavity was also quantified
by flow cytometry. Then, to see whether natural antibodies contribute to acute
inflammation in these two settings, acute inflammatory cell recruitment was
quantitated by flow cytometry in μMT mice given infusions of pooled normal
serum that was collected from untreated WT mice into their tail veins in advance
of commencing inflammation and compared to untreated control mice.
Results: B220+ cells as well as neutrophils and monocytes were recruited
into acetaminophen-damaged liver in WT mice, suggesting that multiple immune
cells might contribute to the inflammation. The numbers of neutrophils
and monocytes in damaged liver tissue were significantly reduced in μMT
mice compared to WT controls (μMT:2.6±1.9×105 ,7.2±3.9×104
, WT:2.4±1.4×106 ,1.0±0.8×106 (neutrophils, monocytes)),
and the inflammatory response was substantially restored by reconstitution of natural
antibody-containing normal serum without B cell co-transfer (figure 1). In
another inflammation model, peritoneal recruitment
of neutrophils and monocytes in response to injured EL4 cells was also markedly
decreased in μMT mice (μMT:2.9±0.4×105 ,9.6±5.5×104
, WT:5.7±3.1×105 ,2.4±1.5×105 (neutrophils, monocytes)),
and also the neutrophilic response was successfully
reversed by normal serum transfer to μMT to the WT level (figure 2).
Conclusion: Natural
antibodies participate in neutrophil recruitment in acute cell death-induced
inflammation. In contrast, B cells are also recruited to the inflammation site,
but they may be dispensable for acute neutrophil response.
Reference: Rock KL, Kataoka H, Lai JJ. Nat Rev Rheumatol 9 (1):13-23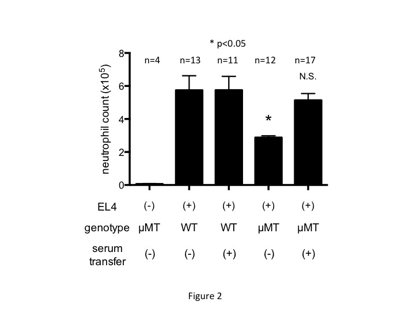 ---
Disclosure: H. Kataoka, None;
To cite this abstract in AMA style:
Kataoka H. Natural Antibodies, Not B Cells, Contribute to Acute Cell Death-Induced Inflammation [abstract].
Arthritis Rheumatol.
2015; 67 (suppl 10). https://acrabstracts.org/abstract/natural-antibodies-not-b-cells-contribute-to-acute-cell-death-induced-inflammation/. Accessed October 27, 2021.
« Back to 2015 ACR/ARHP Annual Meeting
ACR Meeting Abstracts - https://acrabstracts.org/abstract/natural-antibodies-not-b-cells-contribute-to-acute-cell-death-induced-inflammation/