Session Information
Session Type: ACR Poster Session B
Session Time: 9:00AM-11:00AM
Background/Purpose:
Three monocyte subsets have been described based on their CD14 and CD16 expression profiles. The subpopulation CD14+CD16+ being expanded in rheumatoid arthritis (RA) patient. Monocytes are one of the blood cellular populations expressing the most membrane TNF. TNF antagonist is the most popular biological drug in RA but after 20 years of use, we do not have any biomarker for predicting the response to this class of drug. Some studies suggested that serum soluble TNF and expression of TNF in the synovium could be predictive of response to anti-TNF but, curiously, possibly because of technical issues, no study addressed the level of expression of membrane TNF on blood monocytes and subtypes of monocytes in RA patients.Here, we assessed monocytes subsets and their mTNF expression in RA patients (treated or not with classical DMARds or biologics) or controls (healthy donor (HD), connective tissue disease (CTD) or spondylarthritis (SpA) patients)
Methods:
PBMCs were isolated and we first determined monocytes subpopulations and looked at expression of mTNF by flow cytometry. CD14 CD16 monocytes were isolated by negative selection, and culture in RPMI with or without anti-TNF (Etanercept, Adalimumab or Certolizumab) during 3 days at 10 µg/ml corresponding to a mean serum concentration in treated patients.
Results:
We have confirmed that the CD14+CD16+monocytes subset was expanded in RA patients. For the first time, we have demonstrated ex vivo that mTNF expression was significantly increased only in monocytes in RA patients. Furthermore, mTNF is significantly increased in the three populations of monocytes in RA patients (Fig1 A,B). Very interestingly, mTNF expression on monocytes correlated with the activity of the disease assessed by DAS28 CRP (Spearman r 0.48 p-value 0.05).
We wanted to look at ex vivo impact of anti-TNF on mTNF expression. We demonstrated that mTNF expression is equal between RA monocytes and RA anti-TNF treated monocytes in patients with a DAS28 ≤ 4 (Mean 7.42% RA versus 7.26% in RA treated). To go further, we have tested in vitro monocytes treatment by anti-TNF from healthy donors or RA patients, but unfortunately, we have found no impact of anti-TNF on mTNF expression (Fig1 C).
Conclusion:
Increased expression of mTNF on blood monocytes is a specific biomarker of RA not present in healthy controls or in patients with other inflammatory diseases like CTD or SpA. This increase in mTNF is linked to disease activity and is not influenced by the treatment in vivo or in vitro. Conversely to a recent publication (Ehrenstein et al) we did not observe an increase in monocytes mTNF with treatment with adalimumab. The possible link between the increased monocytes mTNF expression and macrophages abnormalities seen in RA, as well as the predictive value of monocytes mTNF expression for response to anti-TNF or to other treatments of RA remain to be evaluate.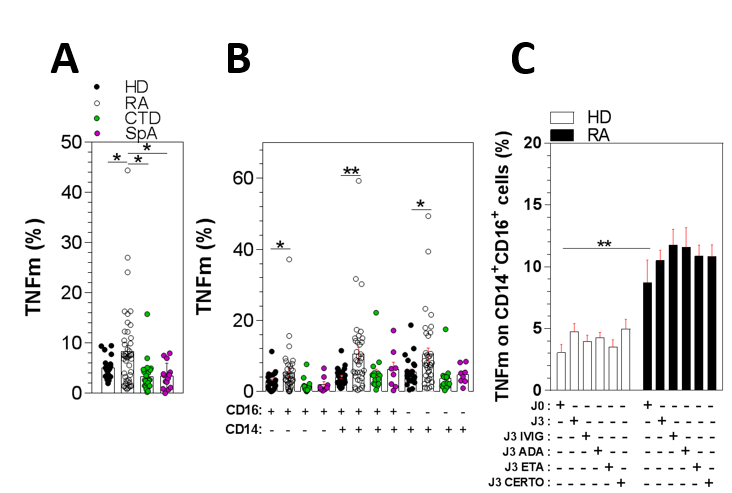 ---
Disclosure: A. Paoletti, None; J. Rohmer, None; J. Pascaud, None; B. Oumouly, None; E. Rivière, Arthritis Fondation PhD fellowship, 2; S. Bitoun, None; G. Nocturne, None; X. Mariette, None.
To cite this abstract in AMA style:
Paoletti A, Rohmer J, Pascaud J, Oumouly B, Rivière E, Bitoun S, Nocturne G, Mariette X. Monocytes Membrane TNF Expression and Anti-TNF Treatment in Rheumatoid Arthritis [abstract].
Arthritis Rheumatol.
2018; 70 (suppl 10). https://acrabstracts.org/abstract/monocytes-membrane-tnf-expression-and-anti-tnf-treatment-in-rheumatoid-arthritis/. Accessed July 12, 2020.
« Back to 2018 ACR/ARHP Annual Meeting
ACR Meeting Abstracts - https://acrabstracts.org/abstract/monocytes-membrane-tnf-expression-and-anti-tnf-treatment-in-rheumatoid-arthritis/