Session Information
Session Type: ACR Poster Session A
Session Time: 9:00AM-11:00AM
Background/Purpose: Atraumatic osteonecrosis (ON) results from reduced bone vascularity. Glucocorticoids (GC) are a major risk factor for ON, as GCs reduce vascular endothelial growth factor, vascular density, and bone mass [Mohan et al CTI 2017]. Mice treated with GCs and either PTH or LLP2A-Ale, a bone targeted therapy that directs mesenchymal stem cells to bone surfaces, showed significantly less GC-induced bone mass changes. The aim of this study was to determine if PTH or LLP2A-Ale co-treatment could prevent or reduce the severity of GC-induced ON.
Methods: Seven-week-old male BALB/c mice were randomized into placebo (PL), PL+GC (4 mg/L dexamethasone in drinking water), GC+250 µg/kg or GC+500 µg/kg LLP2A-Ale (subcutaneous (SC), 1X/2 wks), or GC+40 µg/kg PTH (hPTH(1-34), 5x/wk, SC) (n=8 for PL and 16 for all GC groups). Mice were sacrificed on Day 30 or Day 45. Both distal femurs (DF) from each mouse were decalcified, and coronal sections were made and stained with H&E. ON was identified in the DF epiphysis (DFE) using modified criteria [Yang et al., JOR, 2009] (presence of empty osteocyte lacunae, nuclear pyknosis, ghost osteocytes in bone trabeculae, bone marrow/stromal necrosis, > 30% fat in marrow, and fibrin thrombi in blood vessels). ON was diagnosed when three or more of the above features were seen, by three independent, blinded observers, with >80% agreement. Immunohistochemical staining for blood vessels was performed on the DFE using CD31 and endomucin antibodies.
Results: PL+GC mice had 15-20% lower body weight than PL (p<0.05). At Day 30, ON prevalence was 18%, 6%, 0% and 6%, respectively, in PL+GC, GC+LLP2A-Ale (250), GC+LLP2A-Ale (500) and GC+PTH groups. At Day 45, ON prevalence was 81%, 25%, 18% and 12%, respectively, in PL+GC, GC+LLP2A-Ale (250), GC+LLP2A-Ale (500), and GC+PTH. Blood vessels (anti-CD31/endomucin) appeared more intact in GC+LLP2A-Ale and GC+PTH groups than in PL+GC at both times (p<0.05). At Day 45, both GC+LLP2A-Ale and GC+PTH groups had 50% greater sinusoid density, and 50% lower adipocyte density at the DFE compared to PL+GC alone (p<0.05).
Conclusion: Co-treatment of murine GC-induced ON with PTH or LLP2A-Ale reduced the prevalence of ON after 45 days. Additional studies to ascertain the mechanism by which these agents prevent GC-induced ON are warranted.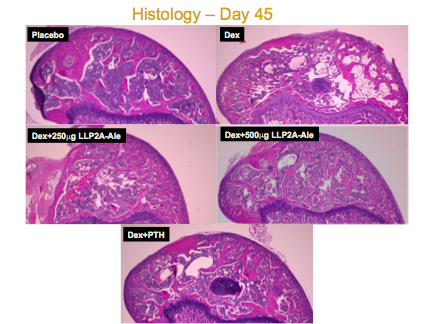 ---
Disclosure: A. Dubrovsky, None; W. Yao, LLP2A-Ale, 4; G. Mohan, None; M. J. Lim, None; Y. A. E. Lay, None; D. Kimmel, None; N. E. Lane, LLP2A-Ale, 4.
To cite this abstract in AMA style:
Dubrovsky A, Yao W, Mohan G, Lim MJ, Lay YAE, Kimmel D, Lane NE. Maintaining Angiogenesis Prevents Glucocorticoid Induced Osteonecrosis [abstract].
Arthritis Rheumatol.
2017; 69 (suppl 10). https://acrabstracts.org/abstract/maintaining-angiogenesis-prevents-glucocorticoid-induced-osteonecrosis/. Accessed July 4, 2022.
« Back to 2017 ACR/ARHP Annual Meeting
ACR Meeting Abstracts - https://acrabstracts.org/abstract/maintaining-angiogenesis-prevents-glucocorticoid-induced-osteonecrosis/