Session Information
Session Type: Poster Session C
Session Time: 9:00AM-11:00AM
Background/Purpose: There is a consistent relationship between cognition and depression and anxiety (affective symptoms) in lupus. Together, affective and cognitive symptoms represent among lupus' most common and disabling neuropsychiatric symptoms. Although the relationship between cognitive and affective symptoms is well established, less is known about i) which cognitive domains are most related to affective symptoms, and ii) the longitudinal relationship between cognitive and affective symptoms. The primary aim of this study is to examine the relationship between cognitive performance across domains and affective symptoms over time in lupus.
Methods: This is an analysis of data from a cohort of 301 lupus patients from the Toronto Lupus Clinic enrolled between Aug 2017 and Jan 2019. Cognition was measured using the ACR battery with tests representing manual dexterity, processing speed, language, memory and executive function. Raw scores were transformed to z-scores using age- and gender-adjusted normative data. Participants were classified as cognitively impaired if they received a z-score of less than or equal to 1.5 on two or more pre-defined domains. Depression and anxiety were measured using the Beck Depression Inventory-II (BDI-II) and Beck Anxiety Inventory (BAI). Participants were classified as having depression if they scored greater than 17 on the BDI-II and anxiety if they scored greater 18 on the BAI. Data was taken from baseline, 6 and 12 months. Data from all neuropsychological tests were entered into multiple factor analysis (MFA) across all three timepoints, for the purposes of item reduction and to explore relationships among cognitive domains and affective symptoms.
Results: Mean (SD) participant age was 41 (12), with 89% women. Mean (SD) disease duration at study entry was 14 (10.1) years. Anxiety and depression scores were stable across time (see Fig 1). Cognitive tests loaded onto two dimensions explaining 41.8% of the variance in neuropsychological performance. The first dimension (32.5%) consisted mainly of more complex cognitive tests and primarily explained the cognitive impairment status of participants. The second dimension (9.3%) was mainly explained by measures of simple information processing or motor speed. Affective symptoms were most strongly negatively related to verbal (r = -0.35) and visual memory domains (r = -0.32) (see Fig 2). The relationships were stable across all timepoints. Fig 3 demonstrates the distribution of participants with cognitive impairment, depression and anxiety. 38.2% of participants were categorized cognitively impaired at baseline, (36.2% were anxious and 33.2% were depressed). There is substantial overlap among these classifications (see quadrant II Fig 3 graphs), though there is a group of participants classified as having cognitive impairment without affective symptoms (quadrant III Fig 3).
Conclusion: Lupus patients exhibit a negative relationship between affective symptoms and cognition, particularly in the memory domains, that is highly stable across time. Future research should examine whether change in affective symptoms results in memory improvement, as well as potential mechanisms underlying this relationship.
Fig 1. Participants' scores on BAI and BDI-II across three timepoints (baseline, 6 months and 12 months). Mean (SD) baseline BAI scores were 16.6 (13) and mean (SD) baseline BDI-II scores were 15.3 (12.5).
Fig 2. Results of MFA showing representative neuropsychological tests at each timepoint in relation to the two cognitive dimensions. Axis x represents the first dimension explaining 32.5% of the variance in cognition and axis y represents the second dimension. Affective symptoms at each time point are shown as supplementary variables (six dark green, dotted arrows in quadrant II). The length of each arrow represents the strength of the relationship between the variable it represents and the cognitive dimensions. Variables whose representative arrows are close in proximity are more strongly related (e.g. depression and anxiety are highly correlated, and the cognitive tests are highly correlated to each other across timepoints). The closer to 180 degrees the angle between the arrows representing anxiety and depression and those representing the cognitive tests, the stronger the relationship between the variables they represent. For example, affective symptoms are most strongly related to HVLT-R delayed recall and RCFT delayed recall (verbal and visual memory). If the angle between two arrows is 90 degrees, the two variables are independent. Hence, anxiety and depression have no relationship with hand tapping and Stroop color scores (motor dexterity and simple information processing speed).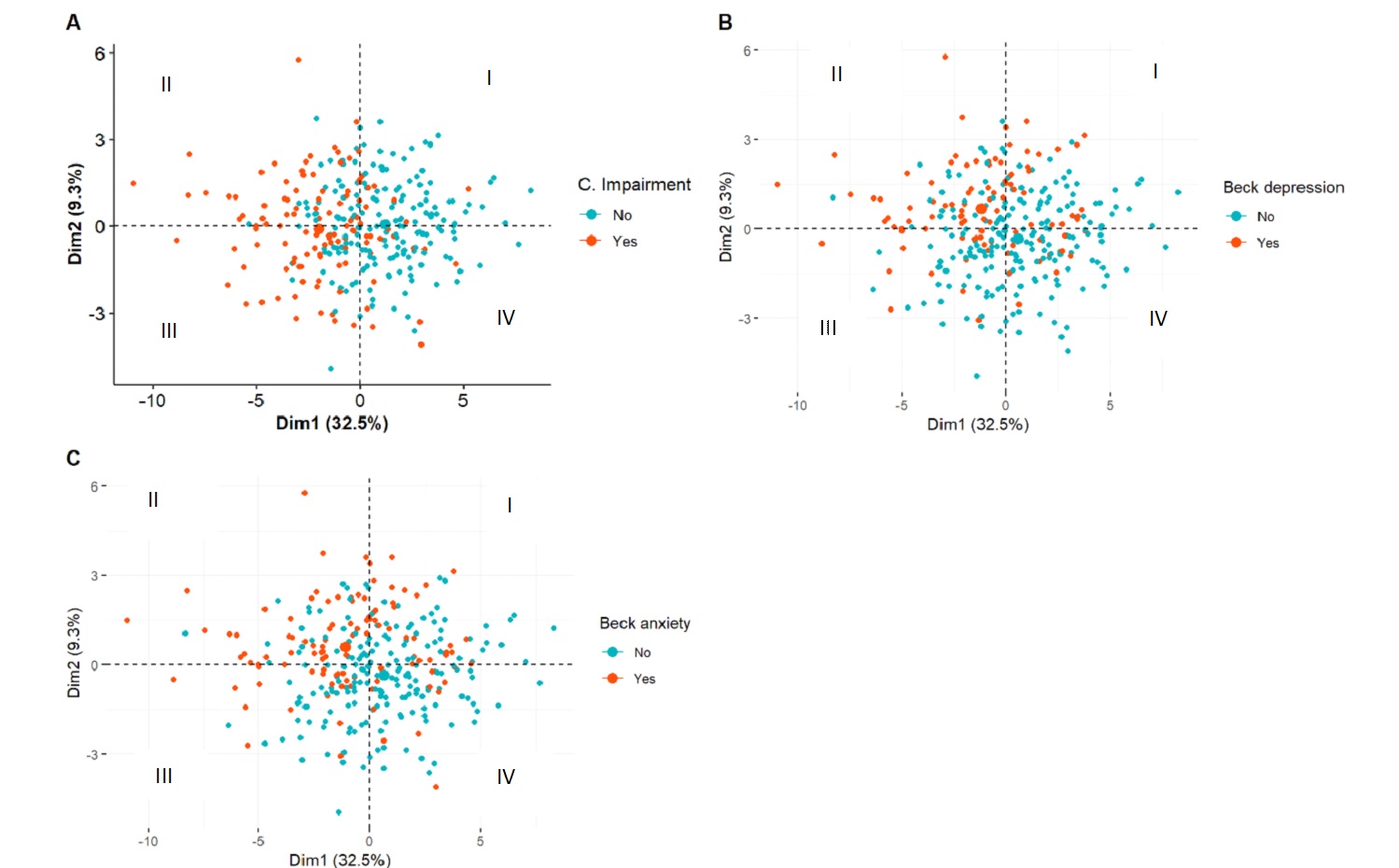 Figure 3. Axis x represents the first cognitive dimension (explaining 32.5% of the variance) and axis y represents the second dimension. Distribution of individual participants in the cohort classified by presence or absence of cognitive impairment (A), depression (B), or anxiety (C). There is substantial overlap in participants classified as having cognitive impairment, depression and anxiety. For example, many participants quadrant II of the graphs demonstrate cognitive impairment plus anxiety and depression. However, there is a subset of participants with cognitive impairment (shown in quadrant III of the graphs) who are classified as having cognitive impairment without anxiety and depression.
---
Disclosure: K. Bingham, None; J. Diaz-Martinez, None; M. Kakvan, None; R. Green, None; D. Beaton, None; L. Ruttan, None; C. Tartaglia, None; M. Fritzler, Inova Diagnostics Inc, 5, 8, Werfen International, 5, 8; M. Choi, None; J. Su, None; D. Bonilla, None; N. Anderson, None; J. Wither, None; P. Katz, None; Z. Touma, None.
To cite this abstract in AMA style:
Bingham K, Diaz-Martinez J, Kakvan M, Green R, Beaton D, Ruttan L, Tartaglia C, Fritzler M, Choi M, Su J, Bonilla D, Anderson N, Wither J, Katz P, Touma Z. Longitudinal Relationships Between Depression, Anxiety and Cognition in Lupus [abstract].
Arthritis Rheumatol.
2020; 72 (suppl 10). https://acrabstracts.org/abstract/longitudinal-relationships-between-depression-anxiety-and-cognition-in-lupus/. Accessed October 25, 2021.
« Back to ACR Convergence 2020
ACR Meeting Abstracts - https://acrabstracts.org/abstract/longitudinal-relationships-between-depression-anxiety-and-cognition-in-lupus/