Session Information
Session Type: Poster Session (Tuesday)
Session Time: 9:00AM-11:00AM
Background/Purpose: Childhood onset rheumatoid arthritis (CORA) describes patients with juvenile idiopathic arthritis (JIA) who are rheumatoid factor (RF) or anti-cyclic citrullinated antibody (ACPA) positive. Phenotypically, CORA parallels adult rheumatoid arthritis (RA). Weighted genetic variant testing suggests CORA is more similar to RA than other JIA subtypes. However, data describing outcomes of this population is limited. Here we describe long-term outcomes of a cohort of CORA patients from our single-center, academic, pediatric rheumatology practice.
Methods: The Intermountain States Database of Childhood Rheumatic Diseases (ISDCRD) is a longitudinal cohort study started at the University of Utah in 1997 which currently includes >700 patients with JIA. Clinical data collected includes date of diagnosis, pre-diagnosis symptom duration, ILAR subtype, and initial clinical presentation (joint count and laboratory studies). CORA subjects were identified in the ISDCRD. A detailed chart review was completed to describe the treatment course and outcomes from diagnosis until current date. Descriptive statistics were used. Study approval was obtained from our Institutional Review Board.
Results: The current cohort includes 51 patients enrolled between 1997 and 2018. Of these, 27 (52.9%) subjects remain in an IRB accessible electronic medical record (EMR). Subject demographic and disease characteristics are summarized in Table 1.  21 subjects were female (77.8%). 25 were White (92.6%). 4 (14.8%) identified as Hispanic. Median number of joints at diagnosis was 13 (range 1 – 44). Median age at diagnosis was 11.8 years (range 2.0-15.9). Median age at time of follow up was 24.6 years (range 10.3 to 35.2). 25 subjects (92.6%) were > 18 years old at the time of most recent follow up. 18 (66.7%) were confirmed polyarticular (≥ 5 active joints) at diagnosis. Of the 4 who were oligoarticular (≤ 4 active joints) at diagnosis, 3 of these extended to polyarticular disease. 15 have known erosive disease (57.7%). 20 (74.1%) were confirmed RF+ (2 positive values ≥ 3 months apart). 7 (25.9%) were confirmed ACPA+ (2 positive values ≥ 3 months apart) . 25 (92.6%) were ever RF+. 22 (81.5%) were ever ACPA+. 1 (3.7%) and 2 (7.4%) were never tested for RF or ACPA respectively. The current treatment of this cohort is described in Figure 1. 21 subjects (77.8%) currently require biologic therapy. 14 (51.9%) failed prior biologic therapies due to intolerance or insufficient response. 2 demonstrated no clinical disease or erosions on last follow up despite minimal treatment (hydroxychloroquine or non-steroidal medication); both were RF+ and ACPA+. Comorbidities included anxiety and depression (n = 4, 14.8%), interstitial lung disease (ILD) (n = 1, 3.7%), and joint surgery (n = 4, 14.8%).
Conclusion: This is one of the first studies to describe the long-term outcomes of a cohort of CORA patients. Phenotypically, CORA appears similar to adult RA (e.g. polyarticular presentation, high frequency of erosions, extra-articular disease, need for biologic therapy). In order to better understand the adult-outcomes of CORA we plan to expand this cohort to include data on patients not accessible through EMR review.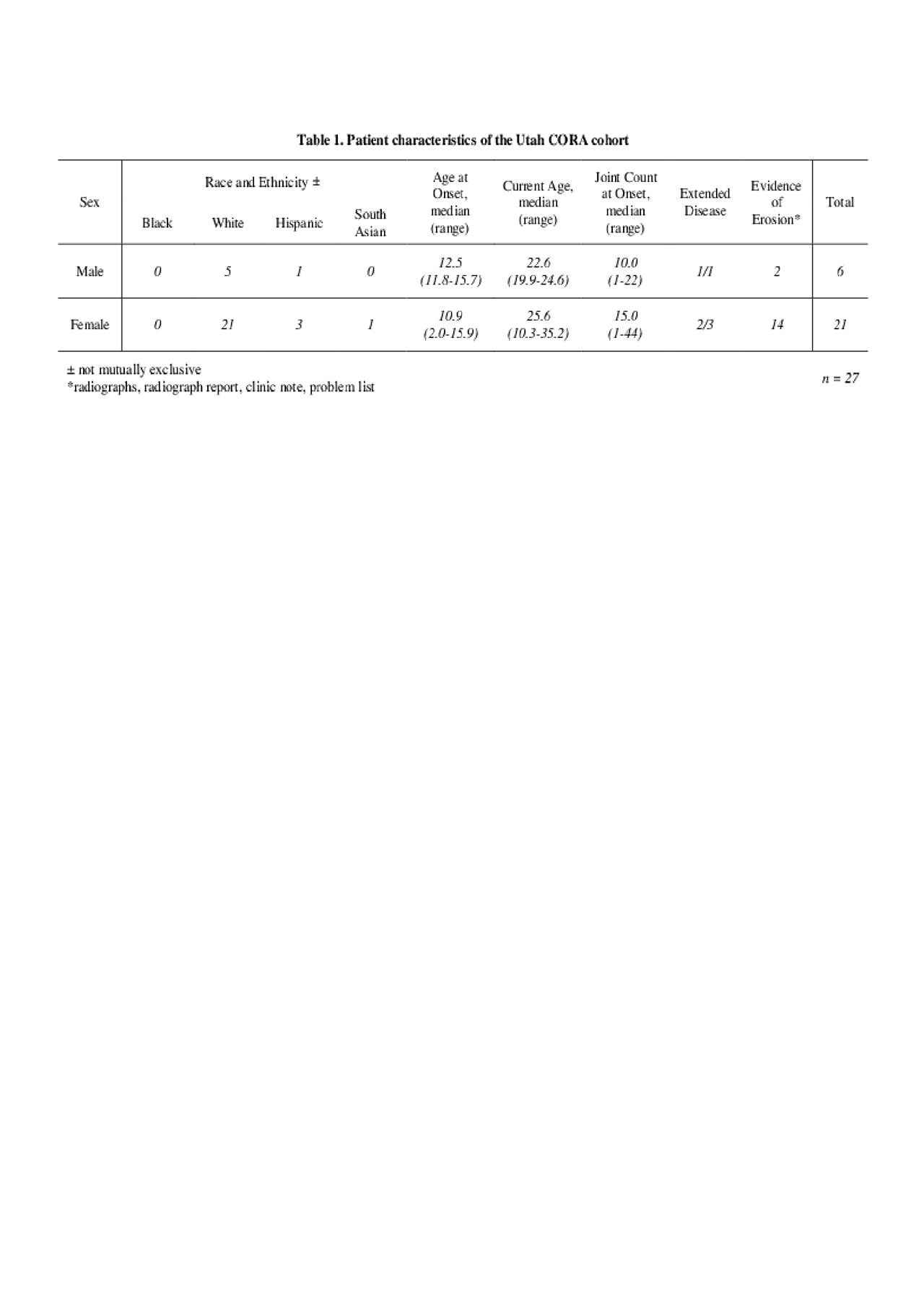 Table 1

Figure 1
---
Disclosure: R. Overbury, None; A. Hersh, None; C. Inman, None; S. Stern, None; K. James, None; J. Bohnsack, AbbVie, 2, Bristol-Myers Squibb, 2, Janssen, 2, Pfizer, 2, Roche, 2.
To cite this abstract in AMA style:
Overbury R, Hersh A, Inman C, Stern S, James K, Bohnsack J. Long Term Outcomes of Childhood Onset Rheumatoid Arthritis [abstract].
Arthritis Rheumatol.
2019; 71 (suppl 10). https://acrabstracts.org/abstract/long-term-outcomes-of-childhood-onset-rheumatoid-arthritis/. Accessed December 3, 2020.
« Back to 2019 ACR/ARP Annual Meeting
ACR Meeting Abstracts - https://acrabstracts.org/abstract/long-term-outcomes-of-childhood-onset-rheumatoid-arthritis/