Session Information
Session Type: Poster Session (Monday)
Session Time: 9:00AM-11:00AM
Background/Purpose: Dysfunction of lymphatic vessel contraction has been implicated in inflammatory arthritis progression and arthritic flare in murine models. Previous studies have demonstrated that tumor necrosis factor transgenic (TNF-Tg) mouse models of rheumatoid arthritis (RA) have notable ultrastructural damage to lymphatic smooth muscle cells (LSMCs).1 As inflammatory arthritis progresses, LSMC contractions initially increase in frequency and the lymph node expands followed by a complete loss of LSMC contractions and lymph node collapse in severe disease states.2 Effective treatment of inflammatory arthritis in TNF-Tg mice is associated with recovery of LSMCs and lymphatic vessel contractions.1 As this regenerative process is critical for joint homeostasis and RA remission, elusive information on LSMC progenitors is needed. To address this, we tested the hypothesis that LSMCs are derived from the same stem cell pathway as vascular smooth muscle cells (VSMCs), which includes early mesenchymal expression of Paired Related Homeobox 1 (Prrx1) and subsequently differentiated Neural-Glial Antigen 2 (NG2) cell markers.3,4,5
Bouta et al. 2017. Arthritis & Rheumatology. 69(6):1187-93.
Bouta et al. 2018. Nature Reviews Rheumatology. 14(2):94-106.
Armulik et al. 2011. Developmental Cell. 21(2):193-215
Kumar et al. 2017. Cell Reports. 19(9):1902-16
Tigges et al. 2013. Journal of Vascular Research. 50(2):134-44.
Methods: All animal studies were performed on IACUC approved protocols. We harvested the popliteal lymphatic vessels and saphenous vein from Prrx1-Cre and NG2-CreERT2 x Rosa26-Ai9 mice via micro-dissection of the sura. For the procedure, the mice were anesthetized, and 2% Evan's Blue dye was injected into their footpads to locate the lymphatic vessels. Induction of the NG2-CreERT2 was achieved with 0.1 mg/g of tamoxifen administered intraperitoneal on 4 consecutive days starting at post-natal day 10. All cohorts were sacrificed at post-natal day 20. To identify the lymphatic vessel, we used immunofluorescent staining for Prospero Homeobox Protein 1 (Prox1) – a lymphatic endothelial cell specific transcription factor. We visualized the LSMCs and VSMCs through immunofluorescent staining for Alpha-Smooth Muscle Actin (αSMA) to determine if Prrx1+ or NG2+ SMCs co-localized with αSMA via multicolor immunofluorescent microscopy.
Results: Our findings demonstrate that Prox1+/αSMA+ LSMCs are Prrx1 derived, but are NG2 negative. The LSMCs from NG2-CreERT2 x Rosa26-Ai9 mice were devoid of red fluorescence, while the LSMCs from Prrx1-Cre x Rosa26-Ai9 mice showed notable red fluorescence that co-localized with αSMA. Thus, LSMCs originate from an unknown progenitor cell pathway that is similar to, yet importantly unique from, that of the vascular system.
Conclusion: LSMCs are derived from Prrx1+ mesenchyme similar to VSMCs, but diverge before expression of NG2. They are also not derived from Paired Box Protein 7 (Pax7)+ satellite cells (data not shown). Future work elucidating the LSMC lineage could yield insights for targeted therapies for diseases with lymphatic involvement, such as inflammatory arthritis.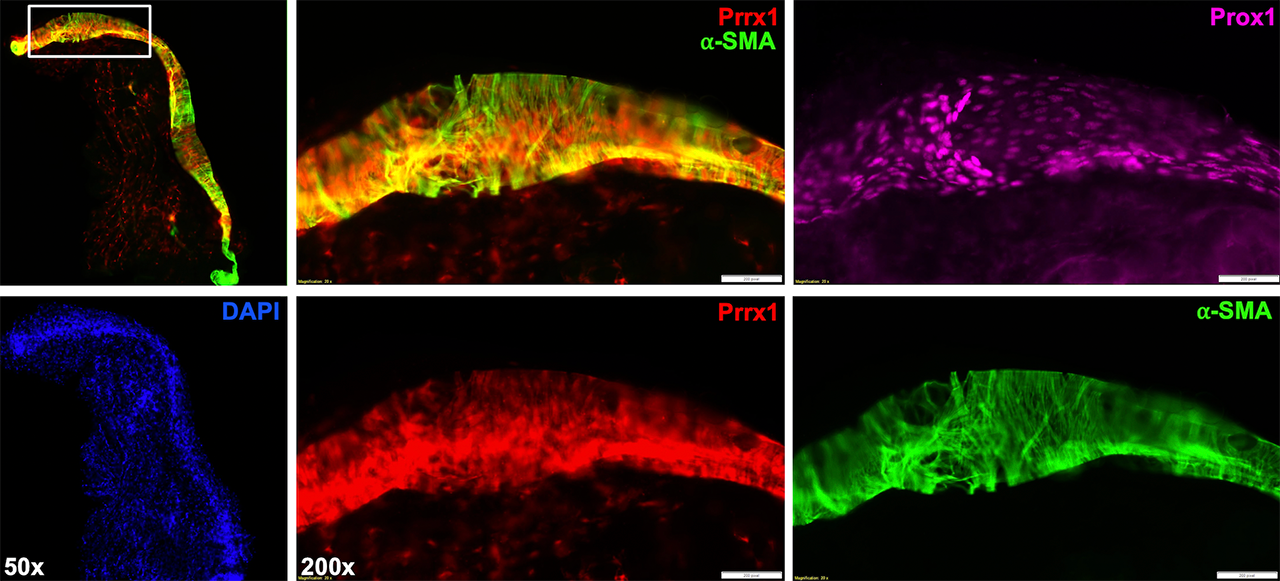 ---
Disclosure: H. Kenney, None; R. Bell, None; E. Schwarz, None.
To cite this abstract in AMA style:
Kenney H, Bell R, Schwarz E. Lineage Tracing of Murine Lymphatic Smooth Muscle Cells to Determine the Role of the Lymphatic System in Inflammatory Arthritis [abstract].
Arthritis Rheumatol.
2019; 71 (suppl 10). https://acrabstracts.org/abstract/lineage-tracing-of-murine-lymphatic-smooth-muscle-cells-to-determine-the-role-of-the-lymphatic-system-in-inflammatory-arthritis/. Accessed February 3, 2023.
« Back to 2019 ACR/ARP Annual Meeting
ACR Meeting Abstracts - https://acrabstracts.org/abstract/lineage-tracing-of-murine-lymphatic-smooth-muscle-cells-to-determine-the-role-of-the-lymphatic-system-in-inflammatory-arthritis/