Session Information
Session Type: Poster Session (Monday)
Session Time: 9:00AM-11:00AM
Background/Purpose: Increasing evidence suggests that inhalant exposures, such as tobacco smoke or silica, are implicated in the initiation of autoimmunity leading to rheumatoid arthritis (RA). To further study the relationship between inhalant lung injury and RA-related autoimmunity, a mouse model of collagen induced arthritis was subjected to inhalation of organic dust extract (ODE) and disease-specific autoantibody and T cell responses were measured.
Methods: Male C57BL/6 mice were injected with chicken collagen type II plus Freund's complete adjuvant (CIA) or saline on day 1 and 21.  ODE or saline was instilled by intranasal inhalation daily for 5 weeks. Groups are identified as: 1) Sham (saline injection + saline inhalation), 2) ODE, 3) CIA, and 4) ODE + CIA.  At 5 weeks, IgG antibody to malondialdehyde-acetaldehyde (MAA) and anti-citrullinated protein antibody (ACPA) were measured in serum. T-cell proliferation assays were performed by IFN-γ ELISPOT using human serum albumin (HSA) that was either MAA modified or citrullinated (CIT) as the stimulating antigen. 
Results: Serum IgG anti-MAA antibody concentrations were significantly increased (p< 0.0001) in ODE + CIA mice compared to all other groups Figure (A).  In contrast, ACPA concentrations were significantly lower (p< 0.0001) in CIA + ODE mice compared to CIA alone with the former group demonstrating autoantibody concentrations similar to sham and ODE mice (B).  T-cell proliferations against HSA-MAA were significantly increased in both CIA (p< 0.0001) and CIA + ODE (p< 0.01) mice compared to sham and ODE, yet neither of these differed significantly from each other (C). In contrast, T cell proliferations  were significantly decreased (p< 0.01) in the CIA + ODE group compared to CIA alone when HSA-CIT was used as the stimulating antigen (D).
Conclusion: Increased anti-MAA antibody and decreased ACPA concentrations in the ODE + CIA treated group compared to CIA alone suggests a shift in autoimmune response when arthritis prone mice are exposed to inhalant injury.  Although mechanisms underpinning these "shifts" require further investigation, an increase in proliferating T-cells to MAA and a simultaneous decrease to citrullinated antigen suggests that inhalant injury may reduce immune responses to disease-specific antigen (citrullinated antigen) at the expense of enhanced responses to a more ubiquitous autoantigen (MAA-modified antigen).  This novel animal model that incorporates CIA and inhalant injury, has the potential of providing much needed insight into the complex interplay between mucosal injury and autoimmunity that characterizes RA.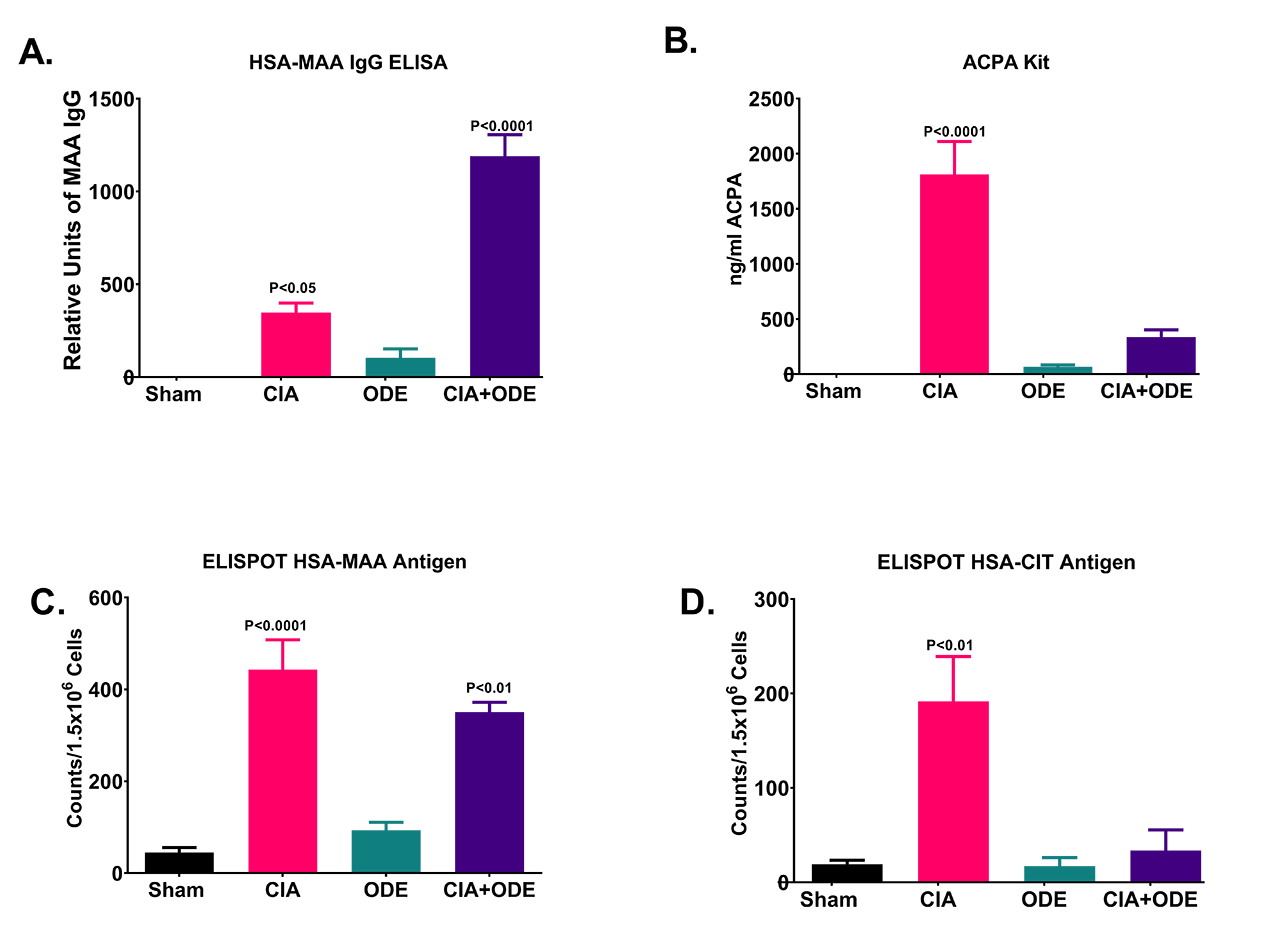 ---
Disclosure: M. Duryee, None; J. Poole, None; A. Nelson, None; K. Janike, None; K. Rentfro, None; L. Klassen, None; J. O'Dell, None; B. England, None; G. Thiele, None; T. Mikuls, BMS, 2, Horizon, 2.
To cite this abstract in AMA style:
Duryee M, Poole J, Nelson A, Janike K, Rentfro K, Klassen L, O'Dell J, England B, Thiele G, Mikuls T. Increased Antibody and T-cell Responses Following Treatment of Collagen-Induced Arthritis in C57Bl/6 Mice with Organic Dust Inhalants [abstract].
Arthritis Rheumatol.
2019; 71 (suppl 10). https://acrabstracts.org/abstract/increased-antibody-and-t-cell-responses-following-treatment-of-collagen-induced-arthritis-in-c57bl-6-mice-with-organic-dust-inhalants/. Accessed October 19, 2021.
« Back to 2019 ACR/ARP Annual Meeting
ACR Meeting Abstracts - https://acrabstracts.org/abstract/increased-antibody-and-t-cell-responses-following-treatment-of-collagen-induced-arthritis-in-c57bl-6-mice-with-organic-dust-inhalants/