Session Information
Session Type: Poster Session A
Session Time: 8:30AM-10:30AM
Background/Purpose: Juvenile idiopathic arthritis is a chronic disease that impacts patient's physical and mental health. Caregivers act as a bridge between physicians and patients, by ensuring good adherence to treatment and they also help in assessing the day-to-day life of the patient. The extra burden of caring for a child with JIA and seeing a child with disease can have a significant impact on the caregiver-child or caregiver-family member relations. Data on the impact of JIA on caregivers from South Asia is limited thus, we used a recently described questionnaire.
Methods: Caregivers of patients with JIA who visited the outpatient clinic of the Department of Clinical Immunology and Rheumatology of a tertiary care hospital in North India and consented to participate in the study were included. They were asked to fill out a questionnaire of 28 questions (CAREGIVERS questionnaire described by Torres-Made et al) regarding the emotional, social, financial, labor, family, and relations impact. Information about educational level and relationship to the patient was also collected. Data on disease activity, damage, and medications were collected from patient's hospital records.
Results: Caregivers of 99 patients with JIA were enrolled. 60 of them were fathers and 15 of them mothers, the rest included other relatives Among these 99 patients 59 had enthesitis-related arthritis, 26 had polyarticular JIA, 10 had systemic JIA and 4 had oligoarticular JIA. 40 patients had active disease while the rest were in remission. 12 children had joint damage (JADI score 1-10) and none had any extraarticular damage. 67 patients were on DMARDs, 11 were on NSAIDs alone and 9 were on no treatment. Only 5 patients were on biologicals or tofacitinib.
All of the caregivers had a significant impact on the emotional, social, economic, and labour domains, but spirituality and relations were less affected.
54% of caretakers expressed sadness at the time of diagnosis and 29% expressed denial. This changed to 36 percent showed concern, 24 percent showed sadness and 22 percent of them expressed relief. They were worried about the pain of the patient (34%), the restrictions on mobility (47%) and 10% concerned about the expenses of treatment, and 4% concerned about the medical appointments. They worried about the future of the child, 39% worried they will have major problems, and 25% worried that child will have some problems in the future. 85% had anxiety and 55 % were sad about sharing the news of child's disease, and 15% didn't want to share it with anyone. Their social life changed a lot for 24% and a little for 31% whereas for 43% it has not changed much. 32% of caretakers neglected their health and 14% became sick. The financial condition worsened for 61% and didn't change for 31%. 54% had to borrow money from others and 6% had to stop buying medicines for their child because of poverty. 28% received financial aids for the treatment.
This impact was equal across all the subtypes of JIA. There was no relationship with the disease activity, damage, or type of medications.
Conclusion: JIA has a significant emotional, social, labor and economic impact on caregivers. Strategies to cope with this impact need to be addressed in the clinic by social workers.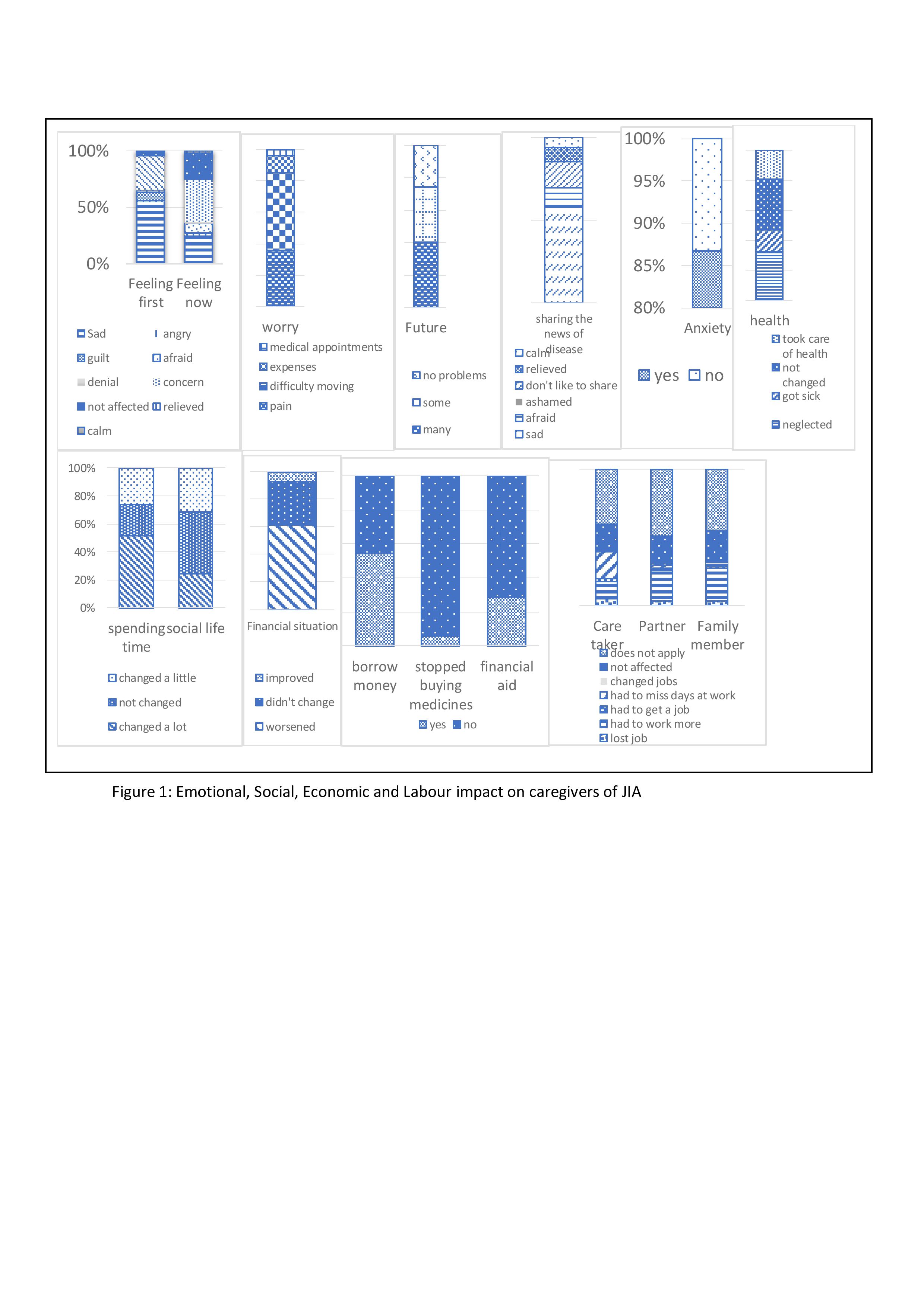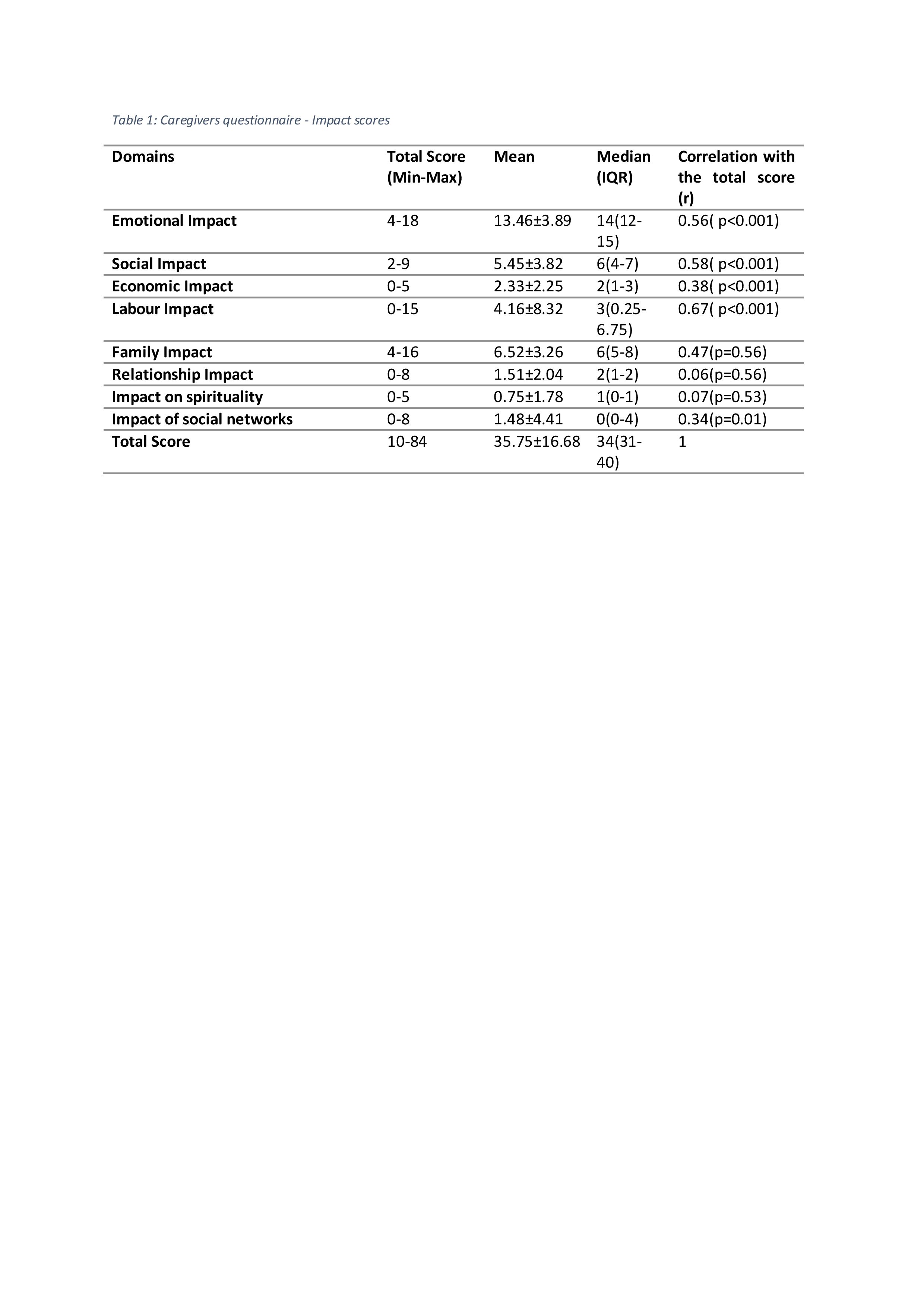 ---
Disclosures: N. Gowda, None; A. Samuel, None; A. Yadav, None; A. Aggarwal, None; A. Balakrishnan, None.
To cite this abstract in AMA style:
Gowda N, Samuel A, Yadav A, Aggarwal A, Balakrishnan A. Impact on Caregivers of Patients with Juvenile Idiopathic Arthritis: A Hospital-based Study from India [abstract].
Arthritis Rheumatol.
2021; 73 (suppl 9). https://acrabstracts.org/abstract/impact-on-caregivers-of-patients-with-juvenile-idiopathic-arthritis-a-hospital-based-study-from-india/. Accessed June 1, 2023.
« Back to ACR Convergence 2021
ACR Meeting Abstracts - https://acrabstracts.org/abstract/impact-on-caregivers-of-patients-with-juvenile-idiopathic-arthritis-a-hospital-based-study-from-india/