Session Information
Session Type: Poster Session (Sunday)
Session Time: 9:00AM-11:00AM
Background/Purpose: An important component of the immune tolerance is regulatory T cells (Tregs), which prevents autoimmunity and restrains inflammatory reactions. In Rheumatoid Arthritis (RA), there is a consensus among researchers that Tregs are enriched in the synovial fluid (SF) of individuals with RA. However, despite their synovial accumulation, the synovial inflammation continues in RA suggesting their inability to mediate suppression in the pathogenic site. Recently, our group has shown the enrichment of interleukin-9 (IL-9) producing helper T (Th9) cells in synovial fluid and its positive correlation with disease activity. Therefore, in this study we investigated whether IL-9 plays any role in dysfunctioning of synovial Tregs in RA.
Methods: Mononuclear cells were isolated from peripheral blood (PB) and synovial fluid (SF) of patients with active RA. In vitro stimulation of mononuclear cells was performed by engagement of anti-CD3 and anti-CD28 monoclonal antibodies. We performed IL-9 pathway blocking using a blocking antibody against IL-9 receptor alpha chain. Polychromatic flowcytometry was performed to evaluate the frequencies of IL-10, TGF-β, PD-1 and CTLA-4 positive Tregs (CD4+, CD25+ and FOXP3+).
Results: Treg cells mediate their suppressive function by various ways like contact dependent involving immune inhibitory molecules like programmed cell death protein 1 (PD-1) and contact independent involving suppressive cytokines like IL-10 and TGF-β.We observed that the frequency of CD4+ FoxP3+T cells was significantly higher in the Synovial Fluid (SF) compared to that of Peripheral Blood (PB) from patients. However, Tregs derived from SF are functionally impaired and thus fail to suppress the inflammation at the local site. We observed that in vitro stimulation of synovial T cells in presence of IL-9 receptor alpha chain blocking antibody, enhanced the frequency of IL-10 and TGF beta producing Tregs. Also, IL-9 blocking resulted in increase in frequency of PD-1 and CTLA4 expressing Tregs. These observations indicated that IL-9/IL-9 receptor pathway inhibits the suppressive function of synovial fluid derived Tregs. We next checked the effect of recombinant IL-9 on peripheral blood derived Tregs from healthy individuals. We observed that in vitro stimulation of mononuclear cells in presence of recombinant IL-9 results in reduced frequency of IL-10 and TGF beta producing Tregs, suggesting that IL-9 has negative impact on Tregs.
Conclusion: Our results indicate that IL-9 pathway blocking in RA may contribute in the resolution of inflammation by restoring the Treg function essential for immune tolerance.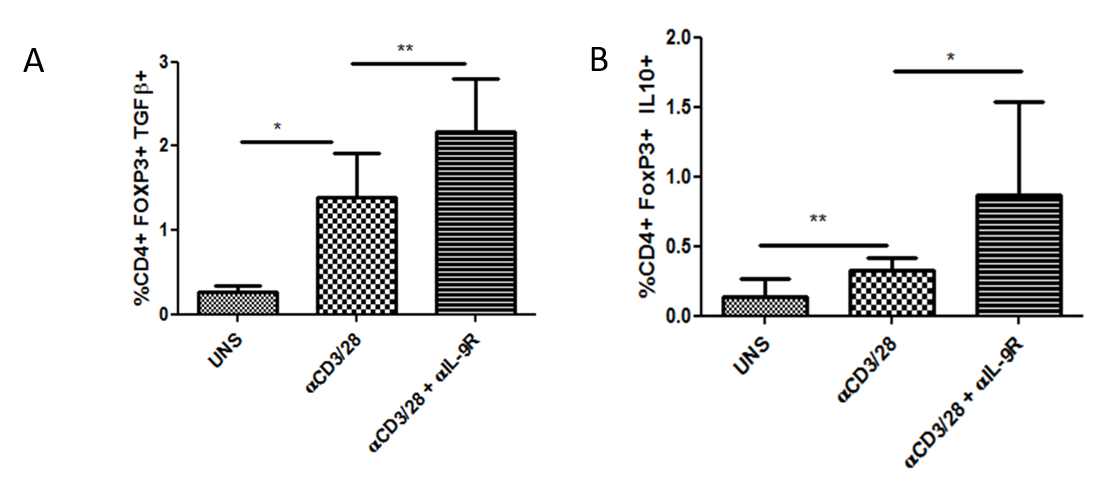 ---
Disclosure: S. Chakraborty, None; R. Gupta, None; R. Kumari, None; D. Mitra, None.
To cite this abstract in AMA style:
Chakraborty S, Gupta R, Kumari R, Mitra D. Impact of Interleukin-9 on the Immune Suppressive Functions of Regulatory T Cells in Rheumatoid Arthritis [abstract].
Arthritis Rheumatol.
2019; 71 (suppl 10). https://acrabstracts.org/abstract/impact-of-interleukin-9-on-the-immune-suppressive-functions-of-regulatory-t-cells-in-rheumatoid-arthritis/. Accessed May 26, 2022.
« Back to 2019 ACR/ARP Annual Meeting
ACR Meeting Abstracts - https://acrabstracts.org/abstract/impact-of-interleukin-9-on-the-immune-suppressive-functions-of-regulatory-t-cells-in-rheumatoid-arthritis/