Session Information
Session Type: ACR Poster Session C
Session Time: 9:00AM-11:00AM
Background/Purpose: Osteoarthritis (OA) of spine (facet joints, FJ) is one of the major causes of severe low back pain and disability worldwide. However, specific mechanisms associated with facet cartilage degeneration during FJ OA are largely unknown. For the first time, in this study we investigated the role of microRNAs (miRNAs) in the pathophysiology of facet cartilage degeneration during FJ OA.
Methods: Based on MRI and histopathology, we first established and validated a patient cohort (Group 1 patients [control group]: normal or mild facet cartilage degeneration and Group 2 patients [FJ OA group]: moderate to severe facet cartilage degeneration). Using this cohort, we screened 2,100 miRNAs using miRNA-array analysis and differentially regulated miRNAs were further tested by qPCR analysis. Human FJ OA chondrocytes were cultured and transfected with miRNA mimics/inhibitors (or control mimic/inhibitor) to determine the effect of miRNA enhancement/inhibition on the expression of catabolic/inflammatory/anabolic/apoptosis markers. Signaling pathways modulated by miRNAs were also identified using mirDIP/pathDIP. Furthermore, we injected the miR-181a-5p mimic into FJs of rats to see the effect in vivo.
Results: Out of 2,100 miRNAs, we specifically identified 2 miRNAs (miR-181a-5p and miR-4454) that were significantly up-regulated in FJ OA cartilage compared to control facet cartilage and exhibited significant correlation with MRI grading. Further, we treated FJ OA chondrocytes with miR-181a-5p or miR-4454 or control mimic/inhibitor and showed that treatment with both miR-181a-5p or miR-4454 mimic significantly elevated the expression of inflammatory/catabolic/apoptosis markers and reduced expression of type II collagen; inhibition of these two miRNAs was able to reverse these destructive effects in IL-1β treated cells. Our study further identified that IL-1β mediated activation of NF-κB signaling upregulated miR-181a-5p and miR-4454 expression to sustain NF-κB activation in part through zinc finger protein 440 siRNA (siZNF440)-mediated phosphorylation of Ser536 NF-κB-p65 and reduction of IκB expression, resulting in a positive feedback loop that can sustain NF-κB-p65 activity. Finally, by injecting miR-181a-5p mimic in rat FJs, we observed a FJ OA phenotype in facet cartilage associated with enhanced catabolic activity and chondrocyte apoptosis in vivo.
Conclusion: Using clinical, in vitro functional and in vivo studies, we for the first time have identified miR-181a-5p and miR-4454 as mediators of facet cartilage degeneration.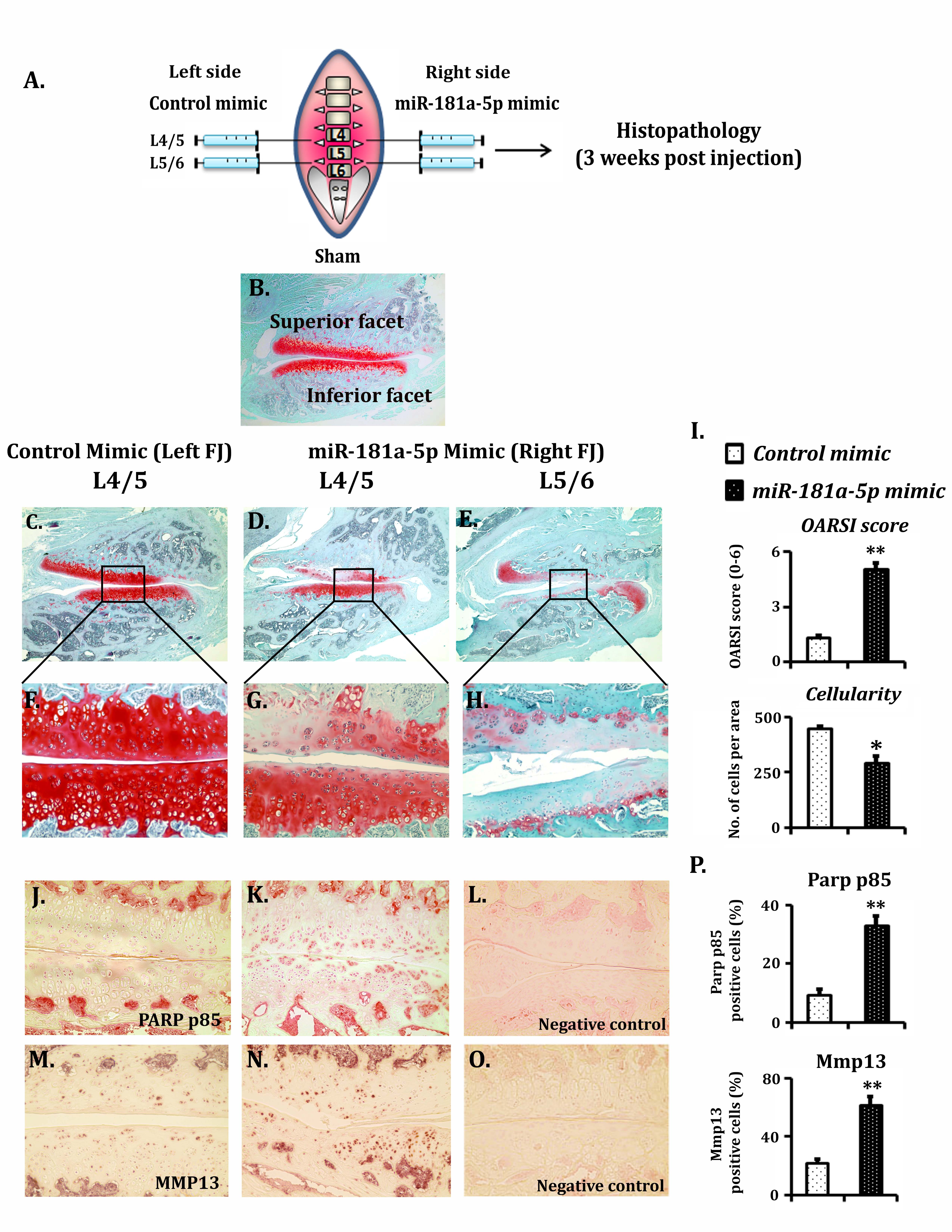 ---
Disclosure: A. Nakamura, None; Y. R. Rampersaud, None; A. Sharma, None; S. J. Lewis, None; B. Wu, None; P. Datta, None; K. Sundararajan, None; H. Endisha, None; E. Rossomacha, None; J. S. Rockel, None; I. Jurisica, None; M. kapoor, None.
To cite this abstract in AMA style:
Nakamura A, Rampersaud YR, Sharma A, Lewis SJ, Wu B, Datta P, Sundararajan K, Endisha H, Rossomacha E, Rockel JS, Jurisica I, kapoor M. Identification of microRNA-181a-5p and microRNA-4454 As Mediators of Facet Cartilage Degeneration [abstract].
Arthritis Rheumatol.
2016; 68 (suppl 10). https://acrabstracts.org/abstract/identification-of-microrna-181a-5p-and-microrna-4454-as-mediators-of-facet-cartilage-degeneration/. Accessed December 5, 2020.
« Back to 2016 ACR/ARHP Annual Meeting
ACR Meeting Abstracts - https://acrabstracts.org/abstract/identification-of-microrna-181a-5p-and-microrna-4454-as-mediators-of-facet-cartilage-degeneration/