Session Information
Session Type: Poster Session B
Session Time: 8:30AM-10:30AM
Background/Purpose: Gout and the metabolic (insulin resistance) syndrome frequently coexist. Intravenous insulin has been shown to raise serum urate (SU) levels in physiologic studies1 and a Mendelian Randomization study2 showed a causal role of fasting insulin on the risk of hyperuricemia and gout. However, it is unknown whether habitual hyperinsulinemic dietary intake confers gout risk, especially in women, a pertinent subgroup given the rising global burden of female gout,3 and higher prevalence of obesity and type II diabetes in female gout patients compared to males. We prospectively examined the relation between two distinct insulin-related dietary indices and risk of incident gout in two large cohorts of US women over 30 years.
Methods: We studied 170,699 women from the Nurses Health Study I (1986-2016) & II (1989-2017) free of gout at baseline. Dietary intake and covariates were ascertained by validated questionnaires every 2-4 years, along with new cases of physician-diagnosed gout every 2 years. Insulinemic potential of diet was evaluated using: 1) a food-based empirical dietary index for hyperinsulinemia (EDIH) score that was pre-defined based on circulating C-peptide levels,4 and reflects insulin resistance;5 and 2) dietary insulin index (DII), which reflects transient, postprandial insulin secretion.5 We assigned EDIH and DII scores for each woman, adjusted for total energy intake, and used Cox proportional hazard models to prospectively examine the relation between cumulative average scores and incident gout, adjusting for potential confounders.
Results: We ascertained 5,283 cases of incident gout over 4,317,270 person-years: 3,670 cases in the NHS and 1,613 in the NHS II. In pooled multivariable-adjusted (MV) analyses, women in highest EDIH quintile (i.e., higher insulin resistance) had 1.9-times (95% CI 1.7 to 2.1) greater gout risk, compared to the lowest (Table 1). This attenuated with further adjustment for BMI, a likely causal intermediate, but remained positive (MV HR 1.5, 95% CI 1.4 to 1.7). DII scores were inversely associated with gout risk (HR 0.74, 95% CI 0.68 to 0.80) (Table 1).
EDIH effects were similar across subgroups (Table 2) and cohorts, with HRs of 1.8 (1.7 to 2.1) in the NHS I (mean age of 50 years at baseline; 49% post-menopausal) and 2.1 (1.7 to 2.4) in the NHS II (mean age 36 years at baseline; 3.6% post-menopausal).
Conclusion: EDIH scores, reflecting chronic hyperinsulinemia (i.e., greater insulin resistance with reduced clearance), were positively associated with the risk of incident gout in these large prospective cohorts of US women, even beyond the pathway through adiposity. Conversely, higher DII scores, which reflect short-term, postprandial elevations in insulin levels (i.e., higher insulin sensitivity) conferred a lower risk. This corroborates human physiologic experiments1 and Mendelian Randomization studies2 showing insulin resistance can increase SU levels by decreasing renal excretion of urate and supports lowering insulinemic potential of diet as a strategy to reduce gout risk, especially in women.
1Facchini JAMA (1991); PMID 1820474
2McCormick Arthrit Rheum (2021); PMID 33982892
3Xia; Rheumatology (2020); PMID 31624843
4Tabung; PMID 27821188
5Lee; PMID 32618519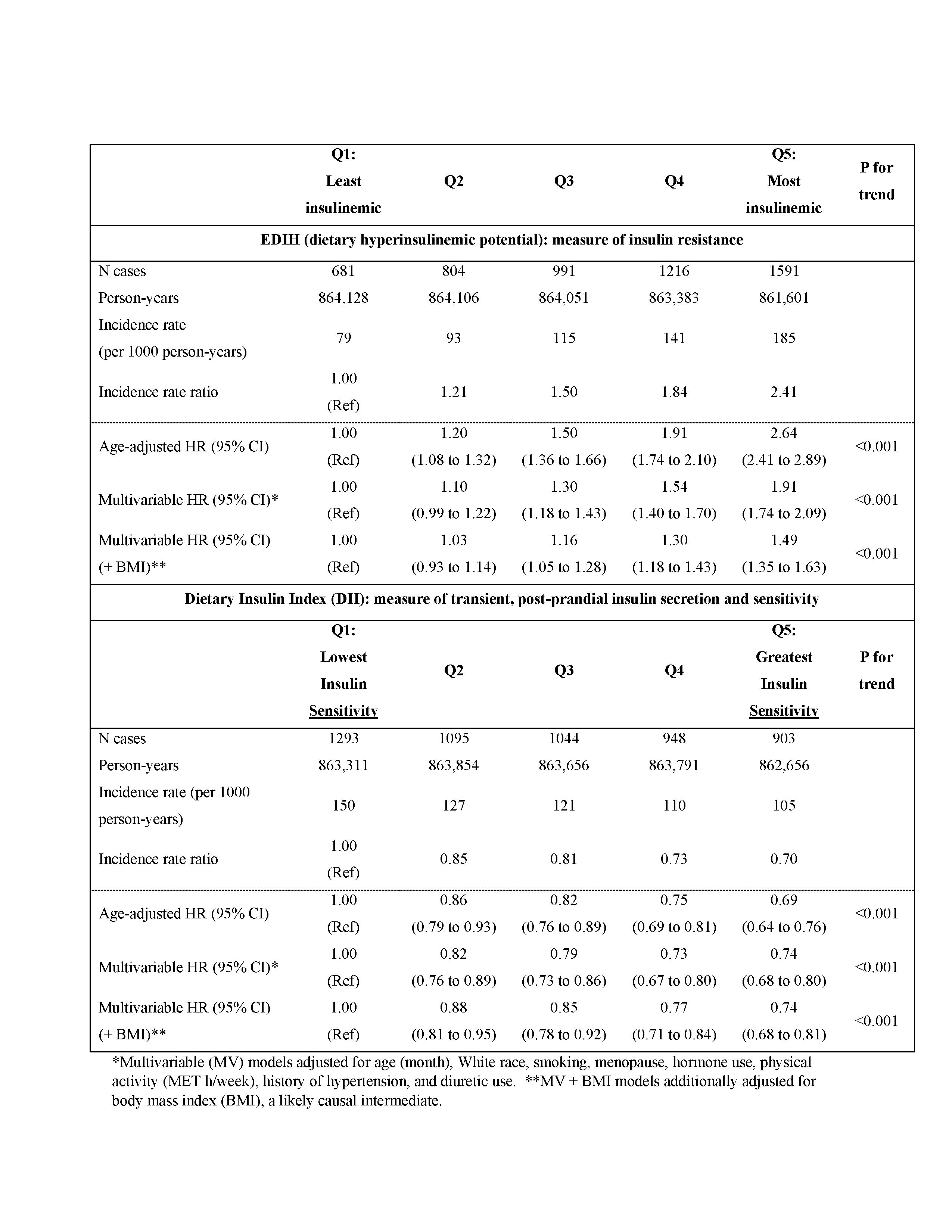 ---
Disclosures: N. McCormick, None; C. Yokose, None; N. Lu, None; A. Joshi, None; H. Choi, None.
To cite this abstract in AMA style:
McCormick N, Yokose C, Lu N, Joshi A, Choi H. Hyperinsulinemic Diet and Increased Risk of Female Gout: 2 Prospective Cohort Studies of US Women over 30 Years [abstract].
Arthritis Rheumatol.
2021; 73 (suppl 10). https://acrabstracts.org/abstract/hyperinsulinemic-diet-and-increased-risk-of-female-gout-2-prospective-cohort-studies-of-us-women-over-30-years/. Accessed January 24, 2022.
« Back to ACR Convergence 2021
ACR Meeting Abstracts - https://acrabstracts.org/abstract/hyperinsulinemic-diet-and-increased-risk-of-female-gout-2-prospective-cohort-studies-of-us-women-over-30-years/