Session Information
Session Type: Abstract Session
Session Time: 10:00AM-10:50AM
Background/Purpose: The natural history of reactive arthritis (ReA) remains poorly understood. Certain patients with ReA will go on to develop a chronic course while others will have a self-limited course. The goal of this study is to identify prognostic factors for chronicity of disease.
Methods: ReA patients were identified via two methods; from a Spondyloarthritis clinic database and from an urgent Rheumatology clinic, both located within the University Health Network in Toronto, Canada. Baseline data at presentation, including history, physical exam, X-rays and clinical laboratory results were collected. Patients whose arthritis resolved and were discharged from clinic were defined as self-limited ReA, whereas patients with persisting arthritis with long term follow-up in the clinic were defined as chronic ReA.
Results: A total of 57 patients with ReA were identified. Of these patients, 23 were classified as self-limited ReA (mean disease duration 2.5 years +/- 4.0) and 34 were classified as chronic ReA (disease duration 14.2 years +/- 10.7), p < 0.01. The most striking difference was the presence of HLA-B27: 82.4% in the chronic group vs45.0% in the self-limited (p= 0.004). The nature of the antecedent infection was not a prognostic marker. There was a difference in the presence of inflammatory back pain at disease onset (59.4% vs 30.0% p= 0.04) and in CRP (15.0 mg/L vs 1.5, p = 0.04) in the chronic vs self-limited group, respectively. In multivariate analysis, the presence uveitis trended towards an increased risk of chronic ReA (OR 6.71 (95% CI 0.44-102.12) as did male gender (OR 3.22 (95% CI 0.59- 16.67), but neither reached statistical significance. A subgroup analysis of chronic ReA patients revealed an increased incidence of both uveitis and SI joint involvement over time; 25.8% patients presented with uveitis; however over time, 53.9% developed uveitis. Similarly, 38.9% of chronic ReA patients initially presented with sacroiliitis vs. 56.3% over time.
Conclusion: HLA-B27 is the predominant risk factor for chronicity in ReA, as it is for ankylosing spondylitis (AS). In contrast, the type of antecedent infection is not a prognostic factor for the course of ReA. This suggests that host immune response orchestrated by HLA-B27, rather than a particular antigenic specificity, determines outcome in ReA by setting stage for chronic inflammation. This may have direct relevance to deciphering the inciting events in AS.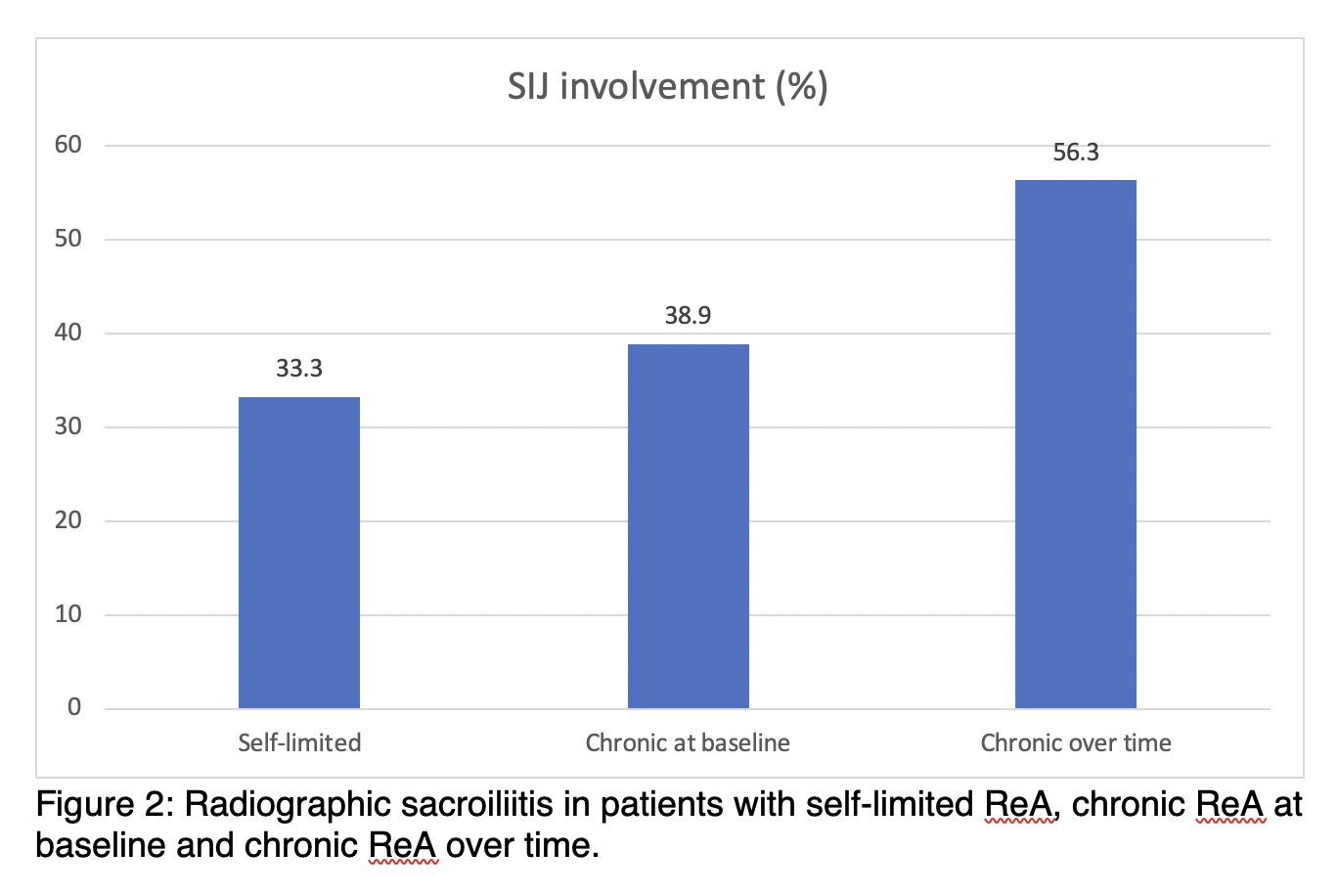 ---
Disclosure: S. Wojcik, None; D. Morris, None; G. Fitzgerald, None; S. Ramkissoon, None; N. Haroon, Amgen, 1, Eli Lilly, 1, Novartis, 1, Janssen, 1, UCB, 1; R. Inman, Abbvie, 5, Amgen, 5, Janssen, 5, Lilly, 5, Novartis, 5.
To cite this abstract in AMA style:
Wojcik S, Morris D, Fitzgerald G, Ramkissoon S, Haroon N, Inman R. HLA-B27 and Host Immune Response: Lessons from Reactive Arthritis [abstract].
Arthritis Rheumatol.
2020; 72 (suppl 10). https://acrabstracts.org/abstract/hla-b27-and-host-immune-response-lessons-from-reactive-arthritis/. Accessed January 24, 2022.
« Back to ACR Convergence 2020
ACR Meeting Abstracts - https://acrabstracts.org/abstract/hla-b27-and-host-immune-response-lessons-from-reactive-arthritis/