Session Information
Session Type: ACR Poster Session A
Session Time: 9:00AM-11:00AM
Background/Purpose:     The mucosal-associated invariant T (MAIT) cells recently have been implicated in autoimmune diseases. Murine model experiments also suggest that MAIT cells are capable of inducing or exacerbating arthritis. However, their gut origin, effector phenotype and lineage towards IL-23/IL-17 cytokine signatures make them more relevant for spondyloarthritis rather than RA.   More so these cells are predominantly CD8+; thus altogether this subpopulation of T cells likely to have all the potentials to have a contributing role in the pathogenesis of psoriatic arthritis (PsA). Here we have explored relevance and functional significance of the MAIT cell in PsA.
Methods: We collected PBMC and synovial fluid mononuclear cells (SFMC) from age/sex matched active untreated PsA patients (n=10) and normal individuals (n=10). We used two methods to culture and enrich the MAIT cells: (i) the established method for enrichment of IL-17+ T cell by culturing these cells with rIL-23 for 6 days and (ii) the standard protocol for MAIT cell culture with PMA/Inomycin. Hi-D FACS studies were done to identify the activated memory effector CD11a+CD45RO+IL-17+ T cells. MAIT cells were identified as CD3+Vα7.2TCR+CD161high. The percentages of each cell population and the mean fluorescence intensity (MFI) were analyzed using FlowJo software. 
Results: MAIT cells were identified in PBMC and SFMC. In both PsA and controls CD3+IL+17   MAIT cells were identified in PBMC (<2%). Where as in SFMC it varied between 4%-8% (5.182 ± 0.251%, SD). However we have made several important observations- (i) Among the IL-17 producing T cells only the MAIT cells were predominantly CD8+ (~ 90%), (ii) IL-23R was strongly expressed (~ 20%), and IL-23R was functionally active (iii) rIL-23 induced significant proliferation of the IL-17+ MAIT cells (Fig 1).
Conclusion: MAIT cells produce multiple inflammatory cytokines (IL-17, IFNγ, and TNFα) thus relevant for several T cell mediated autoimmune diseases. However Tc17 CD8+ /MAIT cells obviously are more relevant for PsA because of its MHC class-1 association. Moreover our observation that these cells express functionally active IL-23R brings a new dimension that once these cells migrates to joint tissue IL-23 can independently regulate these critical Tc17 CD8+ MAIT cells and thus these cells likely to become a part of the IL-23/IL-17 cytokine network; and there may not be a need for the MR1 associated presentation of bacterially derived vitamin B metabolites to active these MAIT cells .
Fig 1- A representative FACS plot of rIL-23 induced marked proliferation of the CD3+Vα7.2TCR+CD161highIL-17+ T cells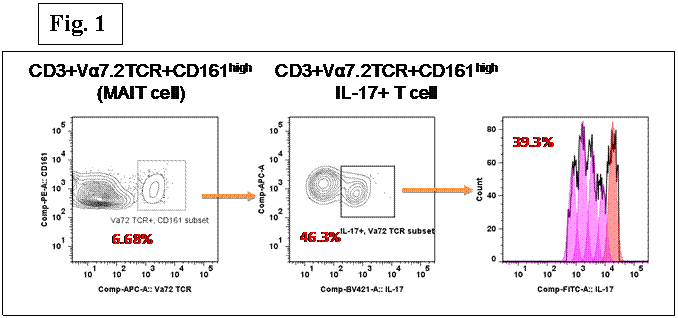 ---
Disclosure: S. P. Raychaudhuri, None; S. K. Raychaudhuri, None.
To cite this abstract in AMA style:
Raychaudhuri SP, Raychaudhuri SK. Functionally Active MAIT Cells in Psoriatic Arthritis: A New Member of the IL-23/IL-17 Cytokine Network [abstract].
Arthritis Rheumatol.
2017; 69 (suppl 10). https://acrabstracts.org/abstract/functionally-active-mait-cells-in-psoriatic-arthritis-a-new-member-of-the-il-23il-17-cytokine-network/. Accessed January 27, 2023.
« Back to 2017 ACR/ARHP Annual Meeting
ACR Meeting Abstracts - https://acrabstracts.org/abstract/functionally-active-mait-cells-in-psoriatic-arthritis-a-new-member-of-the-il-23il-17-cytokine-network/