Session Information
Session Type: ACR Poster Session C
Session Time: 9:00AM-11:00AM
Background/Purpose: Osteoarthritis (OA) is a disease managed rather than cured, with a focus on alleviating its pain. Recent studies show that fucoidans, one of the main therapeutic components of brown algae, are promising candidates to address the symptoms of OA. A wide spectrum of biological activities has been registered in these polysaccharides, however these properties vary between fucoidans from different species. In this study we evaluated the protective effect of different fucoidans on catabolic pathways activated in articular cells.
Methods: Chondrocytes and synoviocytes were isolated from OA patients. Primary cultured cells were treated with fucoidans from Fucus vesiculosus (FF), Undaria pinnatifida (FU) and Macrocystis pyrifera (FM) at 5, 30 and 100 μg/ml. To activate inflammatory pathways, cells were stimulated with IL-1β (5 ng/ml), subsequently iNOS and COX-2 expression were assayed by western blot and NO and PGE2 production measured by griess test and EIA respectively. Mitochondrial dysfunction were induced in chondrocytes by mitochondrial inhibitor Antimicin A (AA; 0,5 μM/ml), after which generation of cellular and mitochondrial ROS were monitored by DCE and MitoSOX fluorescence probes respectively, and mitochondrial depolarization was detected by TMRM assay. Finally, pro-fibrotic pathways were activated in synoviocytes by TGFβ, then gene expression of extracellular matrix proteins, collagen I and fibronectin, were evaluated by RT-qPCR, cellular proliferation was measured by MTT assay, and expression of fibrotic maker, alpha smooth muscle actin (α-sma), was analyzed by immunocytochemistry.
Results: The production of NO induced by IL-1β in chondrocytes was attenuated by the three different fucoidans at the lowest dose (5 μg/ml). Likewise, iNOS expression was significant reduced by FF5 (p<0.05). Similar results were detected in synoviocytes. IL-1β-induced Cox-2 expression in chondrocytes were downregulated by FF and FM, however FU failed to modulate its levels. In relation, fucoidans attenuated PGE2 production elicited by IL-1β, achieving significant reductions with FM5. We also observed all fucoidans, especially FF5, protected chondrocytes against mitochondrial depolarization induced by AA (p<0.05). Subsequently, ROS production was also downregulated by fucoidans. Finally, we activated pro-fibrotic pathways in the synoviocytes by TGFβ. Although fucoidans failed to modulate cellular proliferation triggered by TGFβ, these polysaccharides downregulated the gene expression of collagen1 and fibronectin as well as α-sma protein expression.
Conclusion: Our results indicate a protective effect of fucoidans against inflammatory and oxidative pathways activated in chondrocytes and synoviocytes. However, we detected that these beneficial activities vary between fucoidans from different species and further studies are warranted.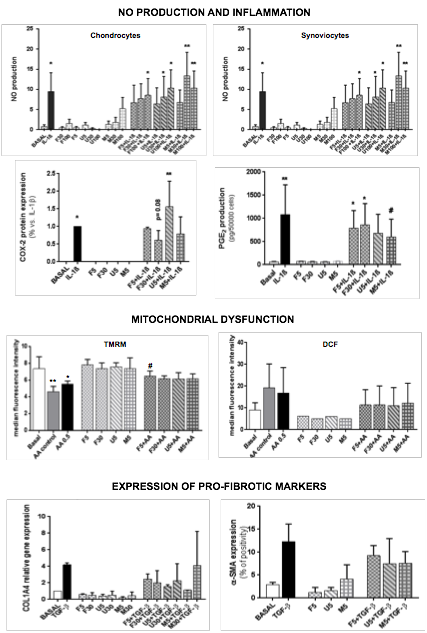 ---
Disclosure: M. J. Lamas Vázquez, None; R. Meijide-Failde, None; F. J. Blanco, None; H. Domínguez, None; C. Vaamonde-Garcia, None.
To cite this abstract in AMA style:
Lamas Vázquez MJ, Meijide-Failde R, Blanco FJ, Domínguez H, Vaamonde-Garcia C. Effect of Different Fucoidans on Pathological Pathways Activated in Osteoarthritic Chondrocytes and Synoviocytes [abstract].
Arthritis Rheumatol.
2018; 70 (suppl 10). https://acrabstracts.org/abstract/effect-of-different-fucoidans-on-pathological-pathways-activated-in-osteoarthritic-chondrocytes-and-synoviocytes/. Accessed July 15, 2020.
« Back to 2018 ACR/ARHP Annual Meeting
ACR Meeting Abstracts - https://acrabstracts.org/abstract/effect-of-different-fucoidans-on-pathological-pathways-activated-in-osteoarthritic-chondrocytes-and-synoviocytes/