Session Information
Session Type: Patient Perspectives
Session Time: 3:30PM-3:45PM
Background/Purpose: Since 5-year-old, I have had unexplained symptoms. At the age of 13, my whole body became inflamed. The pain was so intense that I could move just one finger. I could not drink or speak. I found a way to keep from crying because it hurt so much that my parents would pat me on the head. I imagined myself as a log and stopped moving. My world was in my brain. Fortunately, Dr. Tomisaku Kawasaki and other experts in immune diseases helped me to live. I was diagnosed with polyarteritis nodosa around 2000, at the age of 26.
The impact on my personality of living through adolescence without knowing the true nature of my symptoms was immeasurable. Because I felt so close to death, I felt emotionally distant from others. My mind was a mixture of isolation, sadness, confusion, anger, and guilt for having that anger. I found it difficult to understand what was going on inside, even with my family and friends. I became interested in the human mind and became a psychologist. While practicing psychotherapy in psychiatric, school, and pediatric settings, I was confronted with my habit of suppressing emotions and my tendency to deny my symptoms. I tried to sort out my internal issues through the "language" used by psychologists. However, the more I learned about the language used by psychologists, the more I realized that there were limits to explaining the mind through words.
Intervention: Yalom(1980) says, "Denial is a powerful and ubiquitous defense". For me, living with symptoms, coping with denial, repression, and dissociation was not something that needed to be "treated" but something that was "necessary". In Japan, there are very few opportunities to talk about one's disease. However, I was convinced that the most useful psychological support for a patient with rheumatic disease was the help of fellow patients.
Maintenance: In 2013, I started a support group for patients with rheumatic disease. The purpose of the group was to share experiences and exchange information, to better understand the disease, and to think about facilitating social life. After the corona outbreak, the group moved online and continued. The members who participated in the meeting gradually became staff members to support the participants. Currently, in addition to "the Rheumatic Disease Support Group", "the SLE Support Group", "Vasculitis Support Group", and "Support Group for Parents of Children with Rheumatic Disease" are conducted by these staff members.
Quality of Life: The members are gaining more control over their treatment. Knowing about the prognosis of the disease has led to mental stability. Some members who had lost their sense of self are reaffirming their own value and moving toward self-actualization. A member who lost her eyesight due to the effects of steroids became a swimmer. Some of the members who are inspired by these powerful people turn their introverted viewpoints outward and open themselves up to the hope of self-realization.
Japan is a country where harmony is valued and cooperative behavior is praised, so it is difficult to focus on individual suffering. The fact that members of a support group for people with invisible illnesses have shared their difficulties with the public has caused a stir in the support of people with other kinds of difficulties in Japan.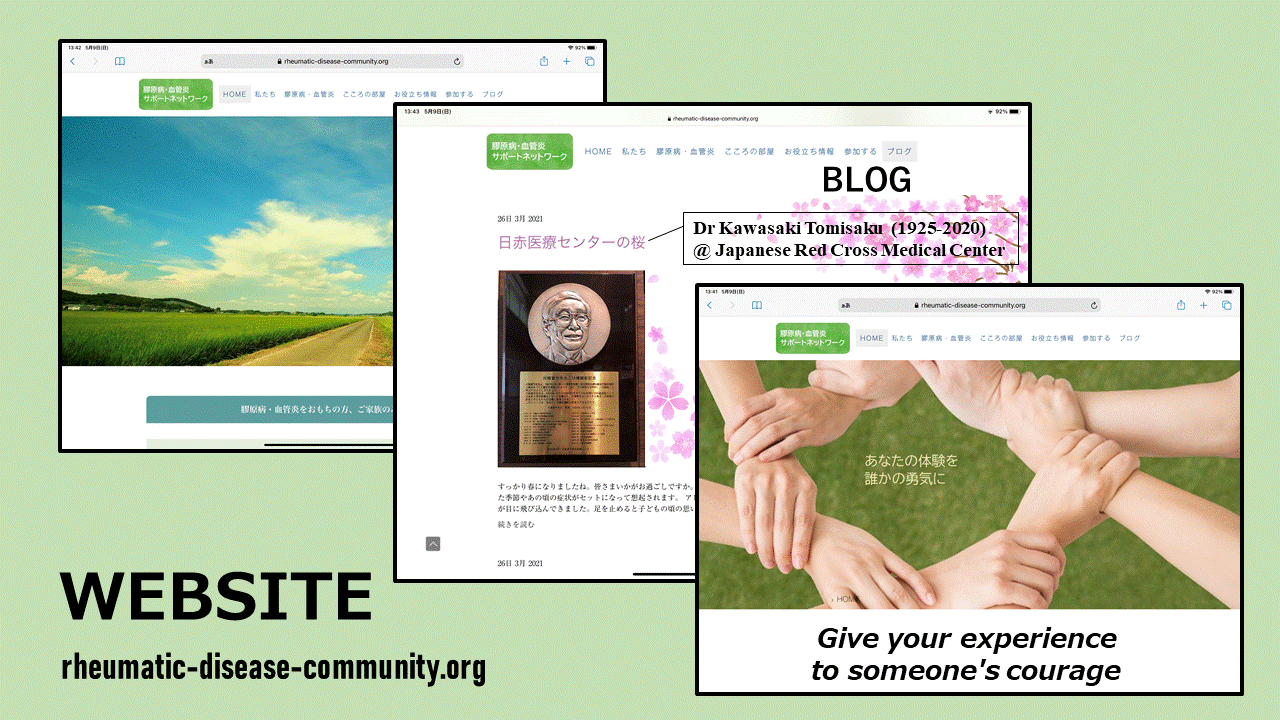 Information dissemination via website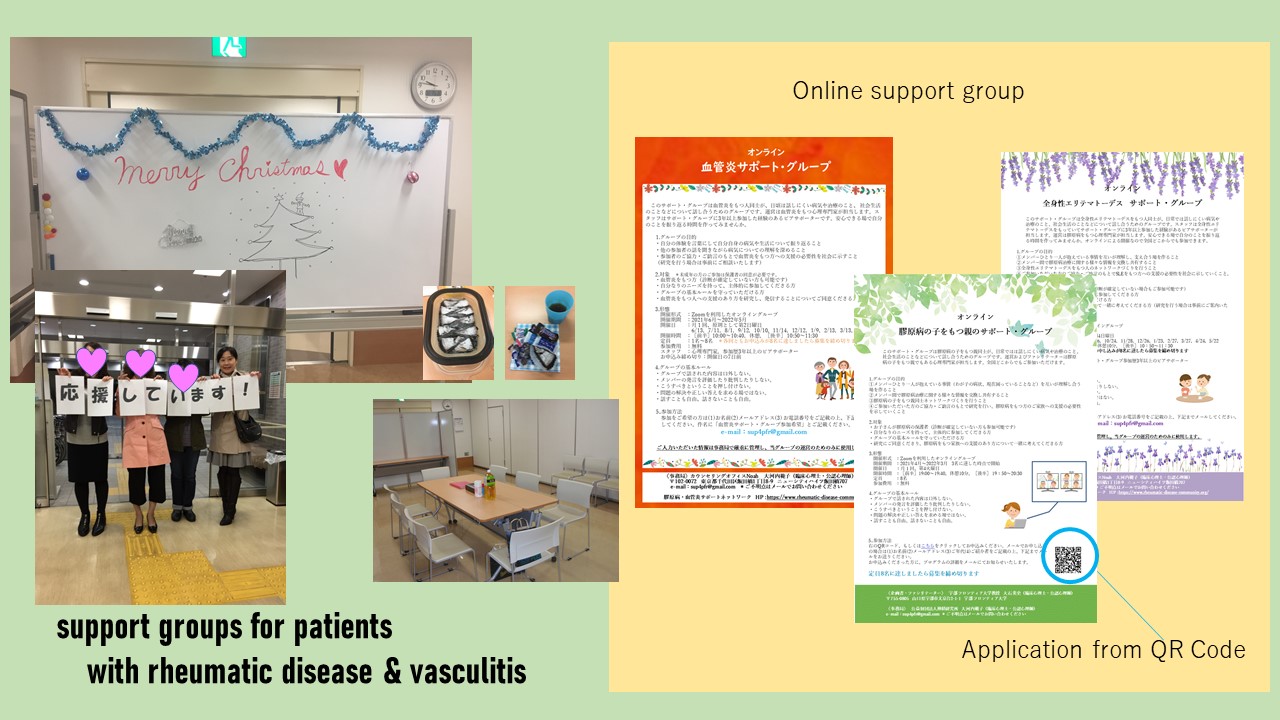 Support groups based on illness and living environment
---
Disclosures: N. Okochi, None; E. Oishi, None; M. Ishiguro, None.
To cite this abstract in AMA style:
Okochi N, Oishi E, Ishiguro M. Discovering 'I' Through Interaction with Support Group Members: A Place of Empathy That Transcends the Limitations of Words [abstract].
Arthritis Rheumatol.
2021; 73 (suppl 9). https://acrabstracts.org/abstract/discovering-i-through-interaction-with-support-group-members-a-place-of-empathy-that-transcends-the-limitations-of-words/. Accessed September 26, 2022.
« Back to ACR Convergence 2021
ACR Meeting Abstracts - https://acrabstracts.org/abstract/discovering-i-through-interaction-with-support-group-members-a-place-of-empathy-that-transcends-the-limitations-of-words/