Session Information
Session Type: ARHP Concurrent Abstract Session
Session Time: 4:30PM-6:00PM
Background/Purpose: Nurses and rheumatology extenders can rapidly identify rheumatoid arthritis (RA) patients who flare, with high predictive value for which individual is at high risk for crippling deformity. Published literature has shown that an elevated dermal temperature Òwarm jointÓ can identify RA patients who most need disease modifying therapy (DMARD).(1) Nurses or rheumatologic extenders in clinic can assess in less than a minute which specific patient will develop radiographic damage by documenting a single dermal temperature of 97 F or greater over the left wrist.
Methods: All 297 sero-positive RA patients were on DMARD therapy in good control or remission at least 6 months. Hand/wrist xrays were obtained annually. In each case where there was a significant worsening of skeletal damage, the clinic visit record showed a dermal temperature over 97 F in the left wrist (used as the default joint for dermal assessment). None of the 297 RA patients were permitted prednisone or narcotics; stable doses of anti-inflammatory medications were permitted. Annual xray analysis was performed by a single reader, blinded and in random sequence. The minimal meaningful change in mean total Sharp score (mTSS) was ≥ 5 U.
Results: Over a three year period, there was demonstrable radiographic damage in 15 RA patients (5%) of the 297 RA patients in this trial. All 297 remained on stable DMARD therapy for the three years with control of RA disease, except for the 15 RA patients with a dermal temperature over 97F; 12 women and 3 men. There were no differences in baseline characteristics between the stable RA patients and the 15 who flared. The 15 patients flared while on stable DMARDs. Subsequent to recording a dermal temperature at least 97 F or over in the left wrist, the damage was clear on the following annual xray. The DMARD therapy in the 297 patients included methotrexate(MTX) alone (32%), MTX / TNF (35%), MTX/ abatacept (10%), MTX/ rituximab (15%), MTX/ JAK (5%), or any biologic alone without MTX (3%). The flares with subsequent xray damage occurred randomly on each of the DMARD treatment regimens.
Conclusion: Triage performed by a nurse or rheumatology extender may rapidly identify which patients most need a change in DMARD therapy. If the dermal temperature is 97F or higher, this predicts that a specific RA patient will have radiologic damage in the next years. Dermal temperature can be a prognostic indicator to guide therapy and avoid permanent joint damage.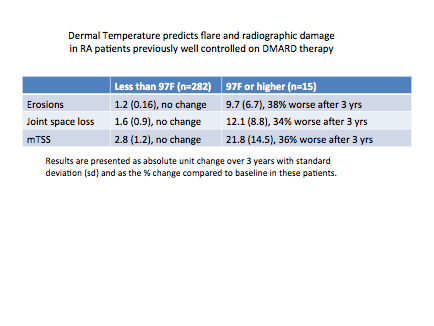 ---
Disclosure: J. Ball, None; M. Greenwald, None.
To cite this abstract in AMA style:
Ball J, Greenwald M. Dermal Temperature Is an Excelent Prognostic Indicator to Guide RA Therapy [abstract].
Arthritis Rheumatol.
2016; 68 (suppl 10). https://acrabstracts.org/abstract/dermal-temperature-is-an-excelent-prognostic-indicator-to-guide-ra-therapy/. Accessed August 3, 2021.
« Back to 2016 ACR/ARHP Annual Meeting
ACR Meeting Abstracts - https://acrabstracts.org/abstract/dermal-temperature-is-an-excelent-prognostic-indicator-to-guide-ra-therapy/