Session Information
Session Type: ACR Poster Session C
Session Time: 9:00AM-11:00AM
Background/Purpose:
Rheumatoid arthritis (RA) and inflammatory subtypes of osteoarthritis (iOA) are degenerative joint diseases with an inflammatory component allowing for potential anti-inflammatory treatment benefit. A number of different signaling pathways have been associated with the inflammation-driven degradation of the extracellular matrix (ECM), and targeted in drug development with varying clinical results.
A better understanding of the signaling pathways and how their modulation affect ECM remodeling may therefore help in selecting novel anti-inflammatory treatments for iOA and RA.
The aim of this study was to investigate the differential effect of the anti-inflammatory inhibitors SB203580 (p38 inhibitor) and Tofacitinib (Jak inhibitor) on cartilage turnover driven by two different cytokines, IL-1α and TNF-α.
Methods:
Full depth cartilage ex vivo cultures were cultured for 3 weeks stimulated with either OSM [10 ng/ml] and TNF-α[2 ng/ml] [O+T] or IL-1α [10 ng/mL] alone, together with SB203580 or Tofacitinib at 3 µM, 1 µM and 0.3 µM. Untreated explants (w/o) were included as negative control. The cartilage ECM turnover was assessed by measuring the tissue fingerprint biomarkers C2M and AGNx1 in the conditioned medium with ELISA.
Results:
Aggrecanase mediated degradation of aggrecan was measured by AGNx1. The JAK inhibitor Tofacitinib significantly inhibited the release of AGNx1 in a dose dependent manner in both O+T and IL-1α stimulated cartilage, while the p38 inhibitor SB203580 had no effect. The degradation of type II collagen was measured by the MMP-mediated degradation of type II collagen (C2M) (Fig 1). Tofacitinib significantly inhibited C2M release in O+T and IL-1α stimulated cultures (Fig. 1d). SB203580 significantly inhibited C2M in O+T stimulated conditions in a dose dependent manner (Fig 1c). In contrast, SB203580 failed to inhibit C2M release in IL-1α stimulated conditions (Fig. 1c).
Conclusion:
The two inhibitors tested here had a positive effect on the degradation of type II collagen; however, for the p38 inhibitor only in a TNF-α driven setting. Furthermore, only the JAK inhibitor was able to inhibit aggrecan degradation, while the p38 inhibitor failed to do so in both TNF-α and IL-1α stimulated conditions. These findings suggest that anti-inflammatory effects tested ex vivo are dependent on type of cytokine activation, and, thus, indicate that signaling pathways driving inflammatory joint diseases needs to be given consideration when assessing the effect of potential anti-inflammatory treatments.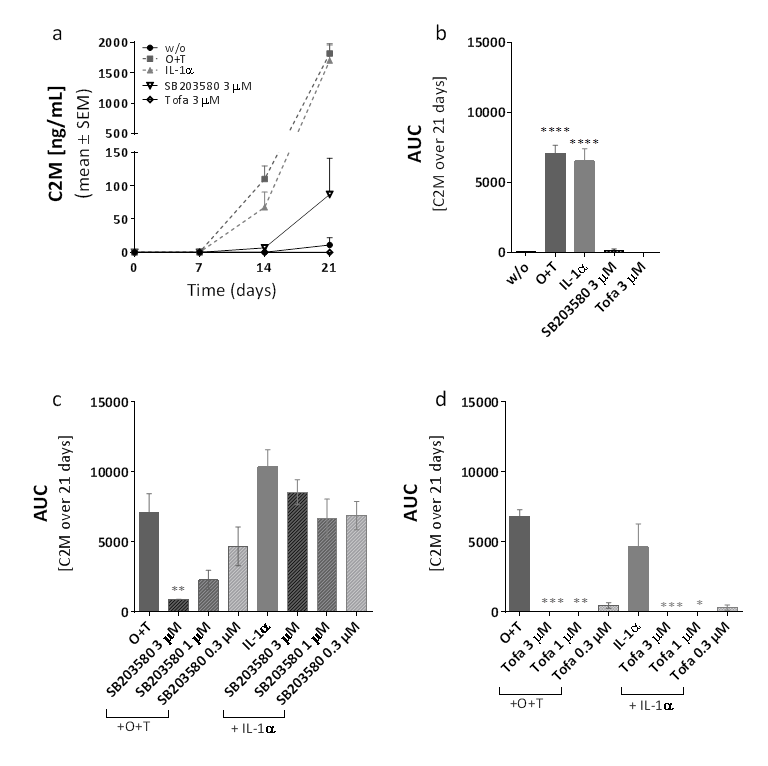 ---
Disclosure: C. S. Thudium, Nordic Bioscience A/S, 3; C. F. Kjelgaard-Petersen, None; B. Christensen, Nordic Bioscience A/S, 3; M. A. Karsdal, Nordic Bioscience A/S, 1,Nordic Bioscience A/S, 3; A. C. Bay-Jensen, Nordic Bioscience A/, 1,Nordic Bioscience A/S, 3,D-BOARD, 2.
To cite this abstract in AMA style:
Thudium CS, Kjelgaard-Petersen CF, Christensen B, Karsdal MA, Bay-Jensen AC. Cytokine Dependent Effects of Anti-Inflammatory Inhibitors Targeting JAK and p38 on Cartilage Turnover [abstract].
Arthritis Rheumatol.
2016; 68 (suppl 10). https://acrabstracts.org/abstract/cytokine-dependent-effects-of-anti-inflammatory-inhibitors-targeting-jak-and-p38-on-cartilage-turnover/. Accessed October 20, 2020.
« Back to 2016 ACR/ARHP Annual Meeting
ACR Meeting Abstracts - https://acrabstracts.org/abstract/cytokine-dependent-effects-of-anti-inflammatory-inhibitors-targeting-jak-and-p38-on-cartilage-turnover/