Session Information
Session Type: Abstract Submissions (ACR)
Background/Purpose:
Osteoarthritis (OA) affects more than 15% of the population, and is the major cause of disability in people over 60. There are no therapies that halt OA progression, and available symptom-modifying treatments have limited efficacy. Knowledge of OA pain-pathways is lacking, because most pre-clinical OA-pain studies use models that do not mimic human OA pathophysiology. To determine whether there are OA-pain-specific molecular mechanisms, we directly compared post-traumatic (pt)OA and inflammatory-arthritis (IA) pain pathways and how these change with time and pathology.
Methods:
Forty-two male 10 wk C57BL6 mice had unilateral ptOA or sham surgery, IA or sham-IA induced. At day 0, 3, 7, 14, 28, 56, 84 and 112 mice were tested for mechanical allodynia, hind-limb weight-bearing and stride length. At each time knee joints were histologically scored for synovitis, cartilage erosion, subchondral bone (SCB) vascular invasion and sclerosis. Expression of µ-opioid-receptor (MOR), inflammatory neuropeptides (Tac1, CGRP), neuropathic marker (ATF3), and nociceptors (TRPV1, TRPV2, TRPV4, TRPA1) were quantified in ipsi- and contra-lateral lumbar dorsal-root-ganglia (DRG).
Results:
IA had significantly greater synovitis and SCB vascular invasion and this corresponded to greater and persistent decrease in hind limb weight bearing, at day 3, 7, 14 and 28, and early phase (day 3-14) mechanical allodynia. In contrast, ptOA was characterized by greater SCB sclerosis and cartilage erosion at day 3, 7, 14 and 28, and osteophyte formation; with reduced stride length and late phase (day 112) mechanical allodynia, the predominant pain outcomes. Changes in DRG gene expression were similar 1-2 weeks after arthritis induction, with minor temporal differences between ptOA and IA. Increased TRPA1, CGRP and MOR were unique to late stage ptOA.
Conclusion:
Our findings suggest there are temporal and model-related differences in the type of pain observed, and its mechanisms. This supports a link between particular tissue pathologies and pain, and suggests OA-specific pain mechanisms that may be therapeutic targets.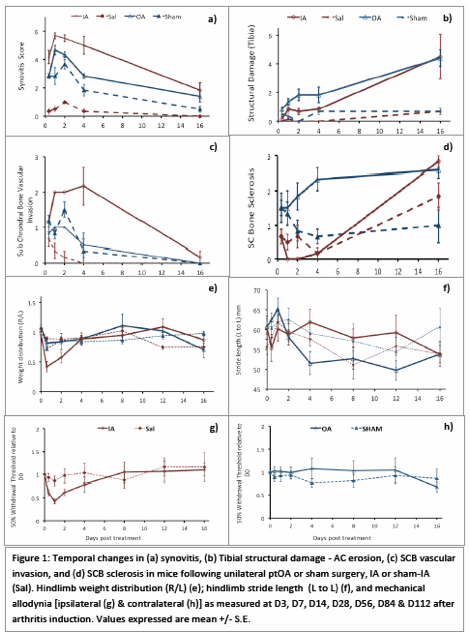 ---
Disclosure:
S. Zaki,
None;
M. M. Smith,
None;
S. Smith,
None;
M. Connor,
None;
C. B. Little,
None.
« Back to 2013 ACR/ARHP Annual Meeting
ACR Meeting Abstracts - https://acrabstracts.org/abstract/contrasting-pathophysiology-and-behavioural-responses-associated-with-osteoarthritis-and-an-inflammatory-arthropathy/