Session Information
Session Type: Poster Session C
Session Time: 9:00AM-11:00AM
Background/Purpose: Recently, pulmonary alveolar proteinosis (PAP) and recurrent macrophage activation syndrome (MAS) have been reported in rare patients (pts) with systemic juvenile idiopathic arthritis (SJIA) like disease. The pathomechanisms of lung disease remain elusive. We aimed to characterize genetic and immunological biomarkers IL-18PAP-MAS pts. We sought to understand pathophysiology by comparison of blood and lung biopsy markers to other inflammatory diseases.
Methods: Eight patients with IL-18PAP-MAS were enrolled in an IRB approved protocol (NCT02974595). Serum (n=8), whole blood RNA (n=8) bronchoalveolar lavage (BAL, n=2) samples and lung biopsies (n=3) from IL-18PAP-MAS pts were compared to samples from pts with NLRC4-MAS (n=4), Interferon (IFN) mediated diseases (n=10), including pts with STING associated vasculopathy with onset in infancy (SAVI, n=7), neonatal onset multisystem inflammatory disease (NOMID, n=4), sarcoidosis (n=10) and healthy controls (HC, n=3). Cytokines were measured by Luminex assay in serum and BAL, CXCL9 and CXCL10 transcript levels were quantified by Nanostring. Lung biopsies were scored for inflammatory features, including cell infiltrate, lymphoid aggregates, type 2 pneumocyte hyperplasia and cholesterol crystals and damage (emphysema, consolidation, vascular damage, fibrosis, neovascularization, thrombosis). Radiographs were scored by one radiologist.
Results: Of 8 pts with IL-18PAP-MAS and nail clubbing, 2 pts (25%) met the ILAR SJIA criteria. All patients had high elevation of serum IL-18 levels similar to patients with NLRC4-MAS. CXCL9 and CXCL9/CXCL10 ratio (IFN gamma response markers) were higher in IL-18PAP-MAS compared to interferonopathy and controls (Fig.1A). BAL fluid from IL-18PAP-MAS pts had higher expression of IL-18 and free IL-18, which were solely detected in IL18 PAP-MAS in contrast to SAVI and sarcoidosis (Fig.1B). Histologic features showed innate immune cells including high expression of neutrophils, histiocytes and alveolar macrophages with fewer lymphocytes and B cell infiltrates compared to SAVI, and low numbers of parenchymal and peribronchial lymphoid aggregates (Fig.2A). Cholesterol clefts and mucous plugging were cardinal features in IL18 PAP-MAS (Fig.2B). Distinctive radiological features suggestive of active inflammation included consolidation most prominent in the lower lobes, intralobular septal thickening, and pulmonary nodules, with higher inflammatory vs damage scores in contrast to SAVI (Fig. 3A, B).
Conclusion: IL-18PAP-MAS/SJIA like lung disease is a recently characterized, not yet genetically defined clinical syndrome. Histological pulmonary features of IL18 PAP-MAS differ from lung manifestations of SAVI and sarcoidosis, which includes recruitment of innate immune cells, predominantly neutrophils and alveolar macrophages. BAL fluid shows high expression of total and free IL-18 compartmentalized in the BAL of IL-18 PAP-MAS but not in SAVI and sarcoidosis pts suggesting a role of free IL-18 in the distinct pathogenesis of PAP in IL-18PAP-MAS.
Funding: This work was supported by the NIH IRP of NIAID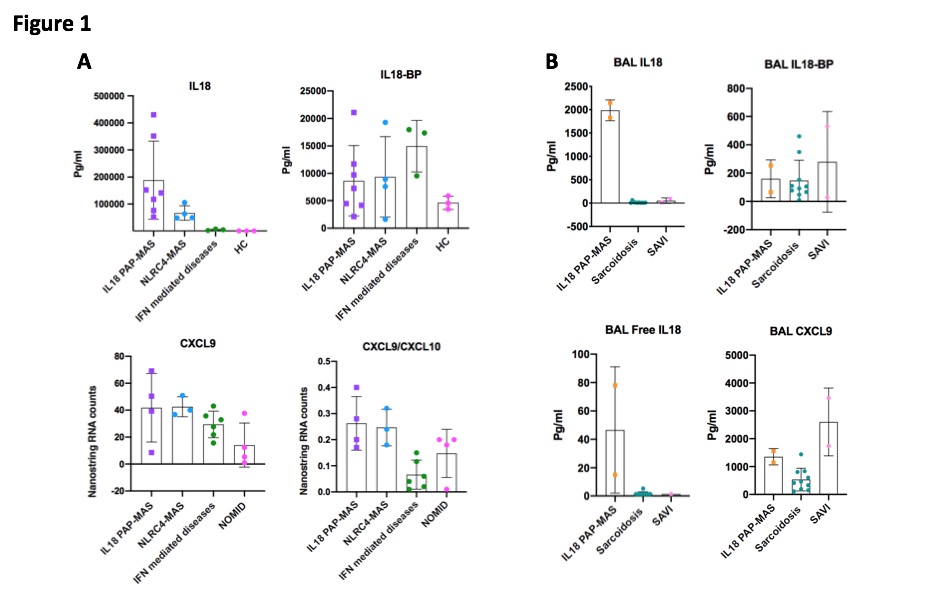 Figure 1. Assessment of total IL18, IL18-BP, CXCL9 and CXCL9/CXCL10 ratio (Higher ratio likely indicate IFN gamma response). A. Serum (upper panel) and whole blood RNA (lower panel) and B. BAL (bronchoalveolar lavage).
Figure 2: A. Cellular infiltrates in lung biopsies of IL-18PAP-MAS vs. SAVI and normal controls. B. Comparison of histological features in IL-18PAP-MAS and SAVI. * LA: Lymphocyte aggregate.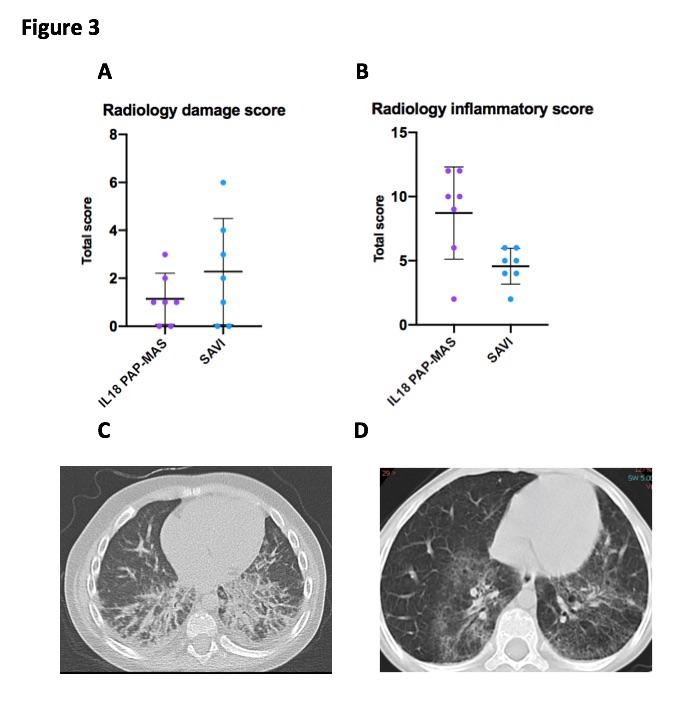 Figure 3: A, B. Radiological characteristics with damage (A) and inflammatory (B) score in IL18 PAP-MAS and SAVI. C, D. Severe bilateral infiltrates predominantly in the lower lobes and volume loss in IL-18PAP-MAS (A) and ground-glass opacities with emphysematous changes in SAVI (B)
---
Disclosure: A. Alsaleem, None; A. de Jesus, None; S. Torreggiani, None; C. Lee, None; L. Folio, None; H. Do, None; A. Oler, None; C. Kim, None; S. Levine, None; A. Suffredini, None; C. Gabay, None; J. Fontana, None; S. Canna, AB2Bio, Ltd, 2; R. Goldbach-Mansky, None.
To cite this abstract in AMA style:
Alsaleem A, de Jesus A, Torreggiani S, Lee C, Folio L, Do H, Oler A, Kim C, Levine S, Suffredini A, Gabay C, Fontana J, Canna S, Goldbach-Mansky R. Comparison of Immunological Biomarkers and Lung Histology in Patients with Elevated IL18 – Pulmonary Alveolar Proteinosis and Recurrent Macrophage Activation Syndrome (IL-18PAP-MAS) and Other Inflammatory Lung Diseases [abstract].
Arthritis Rheumatol.
2020; 72 (suppl 10). https://acrabstracts.org/abstract/comparison-of-immunological-biomarkers-and-lung-histology-in-patients-with-elevated-il18-pulmonary-alveolar-proteinosis-and-recurrent-macrophage-activation-syndrome-il-18pap-mas-and-other-inflamma/. Accessed January 25, 2022.
« Back to ACR Convergence 2020
ACR Meeting Abstracts - https://acrabstracts.org/abstract/comparison-of-immunological-biomarkers-and-lung-histology-in-patients-with-elevated-il18-pulmonary-alveolar-proteinosis-and-recurrent-macrophage-activation-syndrome-il-18pap-mas-and-other-inflamma/