Session Information
Session Type: Poster Session A
Session Time: 8:30AM-10:30AM
Background/Purpose: Hypertrophic pachymeningitis (HP) is an infrequent manifestation in autoimmune and non-autoimmune conditions. The differences in clinical characteristics and outcomes of ANCA-associated and non-immune-mediated HP have not been thoroughly explored.
We aimed to explore the clinical characteristics and outcomes of patients with ANCA-associated HP (ANCA-HP) in comparison to non-immuno-mediated HP (NIM-HP) from a single center.
Methods: We performed a retrospective single center study. We included patients with a diagnosis of HP that were followed from 2003 to 2020 in a referral center. HP was defined as focal or diffuse thickening with or without enhancement visualized on magnetic resonance imaging of the brain or spine. ANCA-associated-vasculitis were diagnosed according with the 1990 American College of Rheumatology Classification Criteria, 2012 Chapel Hill Consensus nomenclature and/or the European Medicines Agency Consensus algorithm for the classification of vasculitis. The underlying disease in NIM-HP patients was diagnosed by using international accepted criteria as appropriate. NIM-HP were further subclassified in infectious HP and neoplastic HP. We performed a comparison between the ANCA-HP and the NIM-HP group using Student t-test or Mann-Whitney U test for continuous variables, and Chi-square or Fisher's exact test for categorical variables.
Results: We included 52 patients with HP. Nineteen (36.5%) were ANCA-HP and 33 (63.5%) NIM-HP. All ANCA-HP patients had diagnosis of granulomatosis with polyangiitis; 11 (57.9%) were PR3-ANCA positive, 3 (15.8%) MPO-ANCA positive, 2 (10.5%) double positive, 2 (10.5%) C-ANCA positive, and 1 (5.2%) P-ANCA positive. Thirty-three were NIM-HP (63.5%); of them, 10 (19.2%) were infectious HP and 23 (44.2%) neoplastic HP (Table 1). Forty-nine (94.2%) patients had cranial, 2 (3.8) spinal, and 1 (1.9%) cranial/spinal HP. In 24 (46.2%) patients HP presented after, in 10 (19.2%) before, and in 18 (34.6%) concomitant to the underlying disease diagnosis. Forty (76.9%) patients had associated comorbidities.
The clinical presentation, laboratory findings and outcomes of our cohort are shown in Table 2. Patients with ANCA-HP presented more frequently with headache, papilledema, ataxia, and cranial neuropathy (especially VII, VIII, IX, X and XII nerves), extra-neurological involvement, leukocytosis, and less frequently with altered mental status and hypoglycorrhachia. Furthermore, ANCA-HP presented more commonly remission ever, however, relapses were more frequent. In both groups, at a median follow-up time of 40 (IQR 17.5-72) months, 6 (11.5%) patients with neoplastic HP died.
Conclusion: ANCA-HP and NIM-HP had specific differences in clinical presentation and laboratory findings that may allow clinicians to suspect one cause over the other in clinical practice. The disparities in outcomes reflect the relapsing-remitting nature of ANCA-associated vasculitis.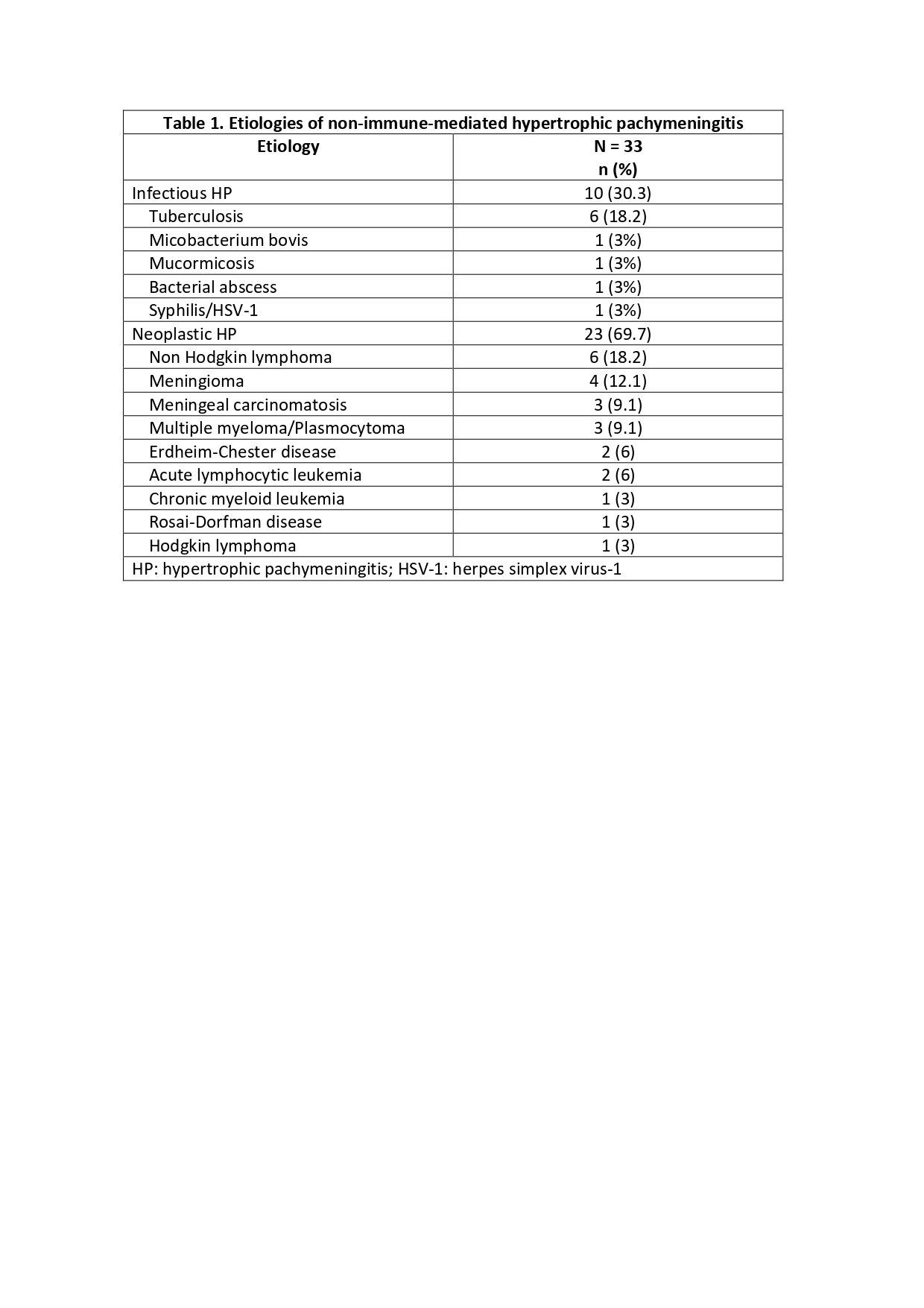 ---
Disclosures: E. Martin-Nares, None; L. Cano Cruz, None; A. Hinojosa-Azaola, None.
To cite this abstract in AMA style:
Martin-Nares E, Cano Cruz L, Hinojosa-Azaola A. Clinical Characteristics and Outcomes of ANCA-Associated and Non Immune-Mediated Hypertrophic Pachymeningitis: A Comparative Study [abstract].
Arthritis Rheumatol.
2021; 73 (suppl 9). https://acrabstracts.org/abstract/clinical-characteristics-and-outcomes-of-anca-associated-and-non-immune-mediated-hypertrophic-pachymeningitis-a-comparative-study/. Accessed January 28, 2023.
« Back to ACR Convergence 2021
ACR Meeting Abstracts - https://acrabstracts.org/abstract/clinical-characteristics-and-outcomes-of-anca-associated-and-non-immune-mediated-hypertrophic-pachymeningitis-a-comparative-study/