Session Information
Session Type: Poster Session B
Session Time: 8:30AM-10:30AM
Background/Purpose: IgG4-related Disease (IgG4-rD) is a fibroinflammatory disease with highly variable manifestations that can be difficult to diagnose. Response to treatment with prednisone and/or rituximab is generally favorable. Unfortunately, it has not been well studied in African American patients, a population already affected by wider healthcare disparities. Better understanding how IgG4-rD may present and respond to treatment in African American patients is therefore of particular importance, especially in light of the meaningful phenotypic differences already described among other sub-populations including self-identifying Asians and women. Our aim is to describe manifestations and course of disease in a retrospective cohort of African American patients with biopsy-proven or highly suspected IgG4-rD.
Methods: The EMR systems for two academic centers in Washington, DC were queried for self-identifying African American patients with IgG4-rD by ICD-9 and ICD-10 codes applied from 2010 to present. IgG4-rD diagnosis (as documented by a treating rheumatologist) was then confirmed by manual chart review. Clinical data relevant to presentation, course, and management of disease were reviewed and recorded.
Results: 122 patients met initial screening criteria, 11 of whom (4 male) were confirmed to carry a diagnosis of IgG4-rD by manual chart review. 8 of these 11 patients met 2019 ACR classification criteria for IgG4-rD. The most commonly involved organs were lymph nodes (8) and orbits (5), and the mean number of organs involved was 2.8 +/- 1.3 (Figure 1). All 11 patients underwent tissue biopsy; common findings included lymphoplasmacytic infiltrate (5), >50/hpf IgG4-positive plasma cells (5), storiform fibrosis (2), no typical features (2), and obliterative phlebitis (1). Mean age at diagnosis was 51.5 +/- 11.3 years. Median time from symptom onset to diagnosis was 821 days (mean 1130 +/- 1149 days). 8 patients have achieved disease remission to date; mean time from diagnosis to remission was 222 +/- 97 days. Treatments included systemic steroids (10), rituximab (7), surgery (6), mycophenolate mofetil (1), and azathioprine (1). Serum IgG4 level was measured at or before the time of diagnosis in 8 patients (mean 304 +/- 220 mg/dL). A subsequent serum IgG4 was measured in 5 patients, all of whom had levels in the normal range by 1 year after diagnosis.
Conclusion: Presentation of IgG4-rD in this case series of African American patients was notable for prominent involvement of lymph nodes (73%), more than in previous analyses of largely Caucasian and Asian cohorts (estimated at 25-45%) [1,2]. Response to prednisone and/or rituximab was robust. The long median time from symptom onset to diagnosis of over 2 years may reflect underlying healthcare disparities but comparison data in other populations is lacking. This study was limited by small sample size. Inclusion of larger numbers of African American patients in future IgG4-rD research is needed.
1. Fong W et al. IgG4-related disease: features and treatment response in a multi-ethnic cohort in Singapore. 2018.
2. Wallace ZS et al. IgG4-Related Disease: Clinical and Laboratory Features in One Hundred Twenty-Five Patients. 2015.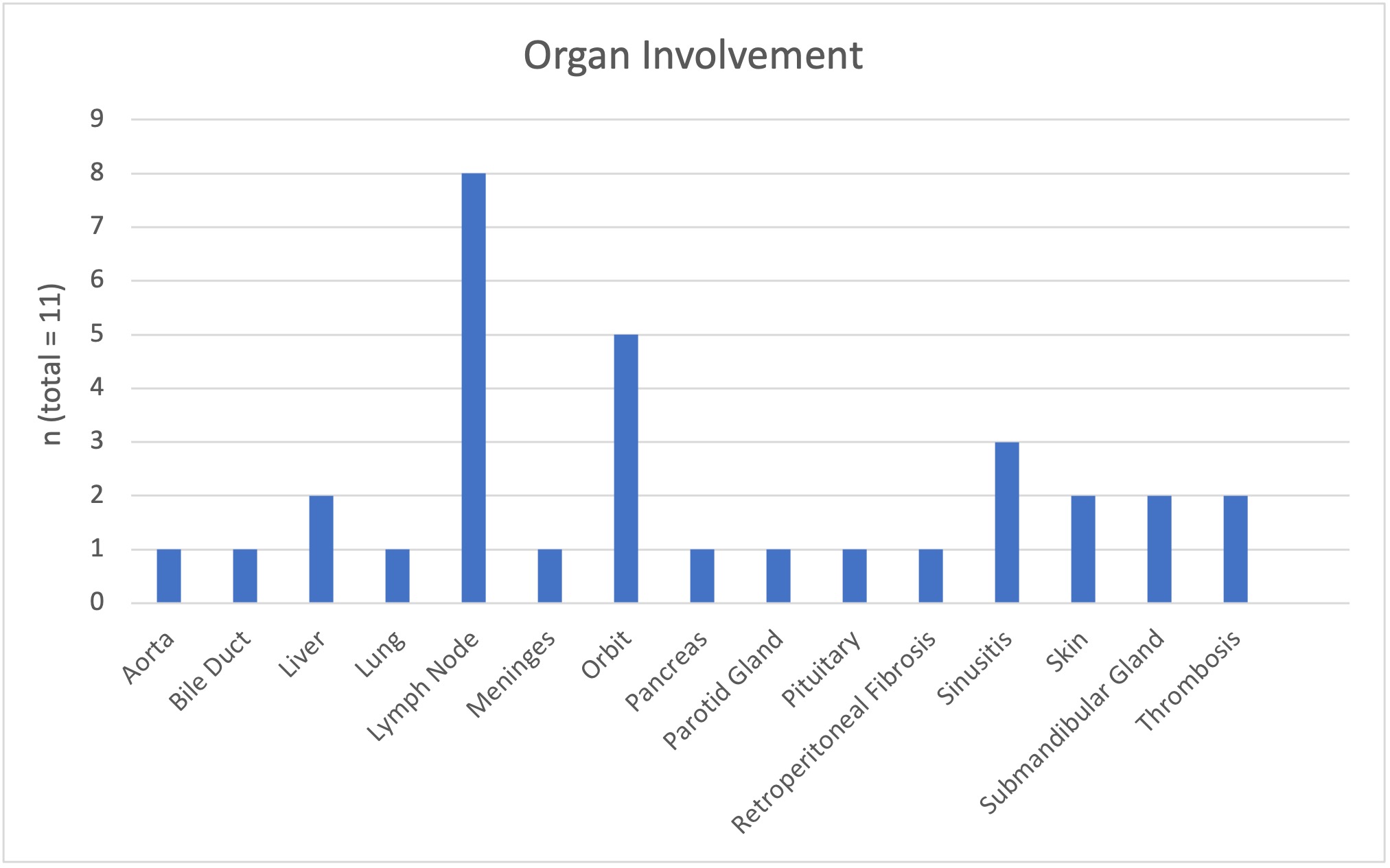 ---
Disclosures: J. Thaler, None; S. Dia, None; F. Constantinescu, None.
To cite this abstract in AMA style:
Thaler J, Dia S, Constantinescu F. Case Series of IgG4-related Disease in African American Patients at Two Large Academic Centers [abstract].
Arthritis Rheumatol.
2021; 73 (suppl 9). https://acrabstracts.org/abstract/case-series-of-igg4-related-disease-in-african-american-patients-at-two-large-academic-centers/. Accessed February 3, 2023.
« Back to ACR Convergence 2021
ACR Meeting Abstracts - https://acrabstracts.org/abstract/case-series-of-igg4-related-disease-in-african-american-patients-at-two-large-academic-centers/