Session Information
Session Type: Poster Session C
Session Time: 9:00AM-11:00AM
Background/Purpose: Immunoglobulin-A vasculitis (IgAV) and IgA nephropathy (IgAN) are inflammatory conditions that share pathophysiological mechanisms1,2. Similar features are also described between IgAV nephritis (IgAVN) and IgAN3. However, whether IgAV is an extension of IgAN or a different disease entity is still inconclusive3. The complement system plays a crucial role in the development of immune-mediated disorders, being specifically associated with renal pathology and clinical phenotypes in patients with IgAV4. In this regard, C5 signalling blockage is described as a novel strategy to modulate inflammatory diseases, such as different types of vasculitis5.
Methods: The main objective of this study was to determine the role of C5 as a potential genetic biomarker for discriminating between IgAV and IgAN. For that purpose, 9 tag genetic variants within C5 (rs10760128, rs74971050, rs4310279, rs7868761, rs10818495, rs2159777, rs10156396, rs3815467 and rs16910280) were genotyped in the largest series of Caucasian patients diagnosed with IgAV ever assessed for genetic studies (n=407) and in 98 Caucasian patients diagnosed with IgAN. 35.4% of our patients were IgAVN.
Results: Similar genotype distribution were observed in IgAV patients compared to those with IgAN, when C5variants were analyzed independently (Table 1). In addition, no statistically significant allele differences were disclosed between patients with IgAV patients and those with IgAN (Table 1). Moreover, when we compared patients with IgAVN and patients with IgAN, we did not observe genotype nor allele statistical differences (Table 1). Similar results were disclosed when haplotype frequencies of C5 were compared between patients with IgAV and those with IgAN, as well as between patients with IgAVNand patients with IgAN (data not shown).
Conclusion: Our results reveal a similar C5genetic distribution in IgAV, IgAVN and IgAN, indicating that this gene may not be used as a genetic biomarkerfor discriminating between these entities.
References: [1] N Engl J Med 2013;368:2402-14; [2] Autoimmun Rev 2018;17:301-15; [3] Front Immunol 2022;13:921864; [4] Front Immunol 2019;10:2166.
This research was funded by European Union FEDER funds and "Fondo de Investigaciones Sani-tarias" from "Instituto de Salud Carlos III" (ISCIII, Health Ministry, Spain), grant number PI18/00042 and PI21/00042. JCBL is a recipient of a PFIS programme fellowship from the ISCIII, co-funded by the European Social Fund (`Investing in your future´), grant number FI22/00020. MSM-G is supported by funds of IDIVAL, grant number TRANSVAL22/01.VP-C is supported by funds of "Fondo de Investigaciones Sanitarias" from ISCIII, grant number PI18/00042. RL-M is a recipient of a Miguel Servet type II program fellowship from the ISCIII, co-funded by ESF ("Investing in your future"), grant number CPII21/00004.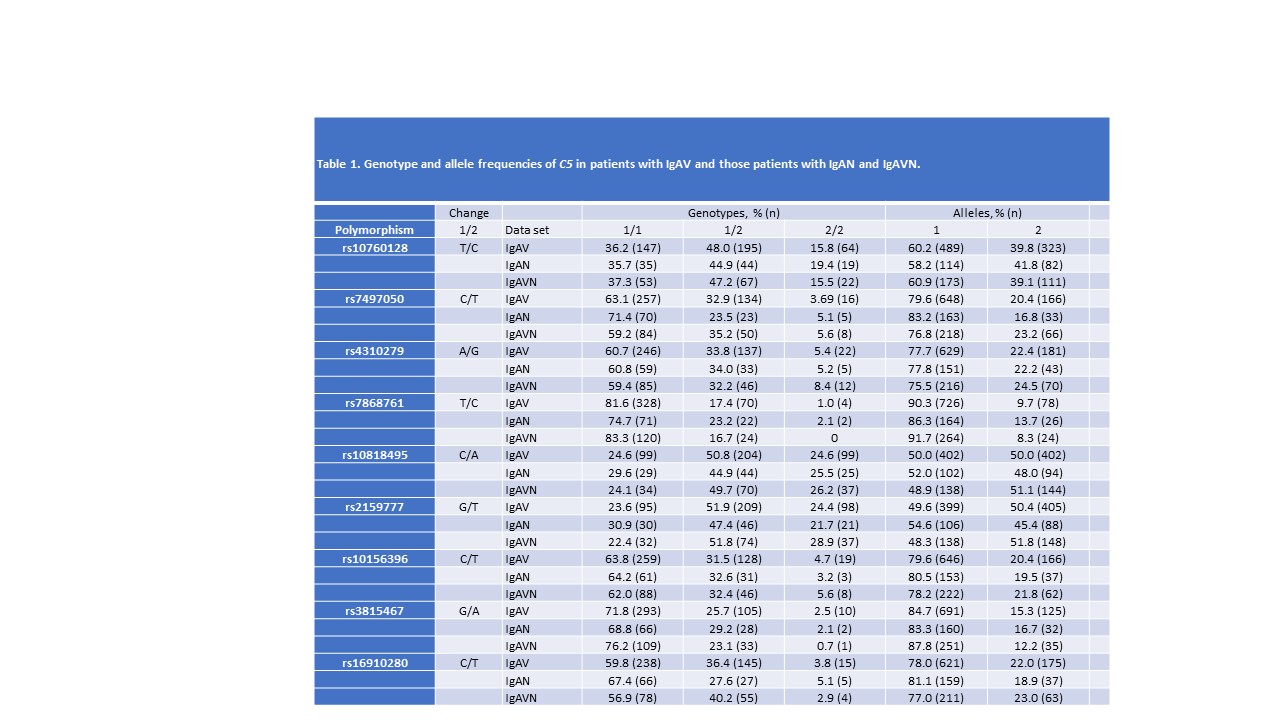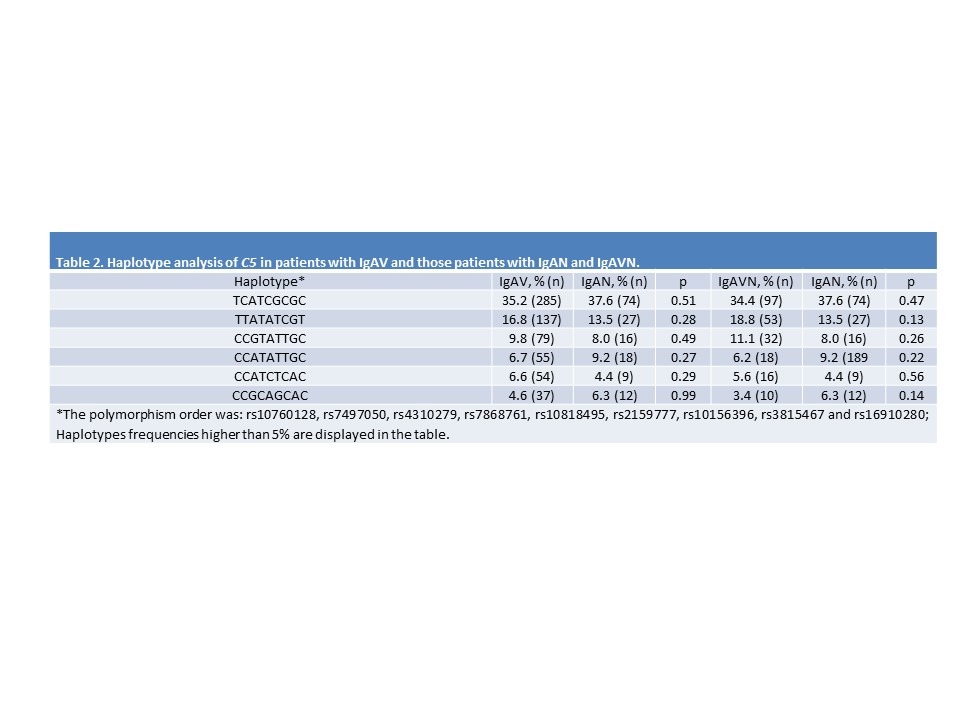 ---
Disclosures: J. BATISTA LIZ: None; V. Calvo Río: None; M. Sebastián Mora-Gil: None; B. Sevilla-Pérez: None; M. Teresa Leonardo: None; A. Peñalba: None; M. Cabero: None; J. Narvaez: None; l. martin penagos: None; E. Rodrigo: None; L. Belmar-Vega: None; C. Gomez-Fernandez: None; L. Caminal-Montero: None; P. Collado: None; A. Fernandez-Nebro: None; g. Díaz-Cordovés: None; M. Nikitsina: None; E. Vicente Rabaneda: None; s. Cigarrán: None; j. Calviño: None; c. cobelo: None; M. León Luque: None; E. Rubio: None; J. Blanco-Madrigal: None; E. Galindez-Agirregoikoa: None; S. Castañeda: None; R. Blanco: AbbVie, 5, 6, Amgen, 6, AstraZeneca, 2, BMS, 6, Eli Lilly, 6, Galapagos, 2, 6, Janssen, 2, 6, MSD, 6, Novartis, 2, 6, Pfizer, 2, 6, Roche, 5, 6, Sanofi, 6; V. Pulito-Cueto: None; R. López-Mejías: None.
To cite this abstract in AMA style:
BATISTA LIZ J, Calvo Río V, Sebastián Mora-Gil M, Sevilla-Pérez B, Teresa Leonardo M, Peñalba A, Cabero M, Narvaez J, martin penagos l, Rodrigo E, Belmar-Vega L, Gomez-Fernandez C, Caminal-Montero L, Collado P, Fernandez-Nebro A, Díaz-Cordovés g, Nikitsina M, Vicente Rabaneda E, Cigarrán s, Calviño j, cobelo c, León Luque M, Rubio E, Blanco-Madrigal J, Galindez-Agirregoikoa E, Castañeda S, Blanco R, Pulito-Cueto V, López-Mejías R. C5 as a Genetic Marker for Discriminating Between IgA Vasculitis and IgA Nephropathy? [abstract].
Arthritis Rheumatol.
2023; 75 (suppl 9). https://acrabstracts.org/abstract/c5-as-a-genetic-marker-for-discriminating-between-iga-vasculitis-and-iga-nephropathy/. Accessed .
« Back to ACR Convergence 2023
ACR Meeting Abstracts - https://acrabstracts.org/abstract/c5-as-a-genetic-marker-for-discriminating-between-iga-vasculitis-and-iga-nephropathy/