Session Information
Session Type: ACR Poster Session A
Session Time: 9:00AM-11:00AM
Background/Purpose: Nitric oxide (NO), a proinflammatory mediator responsible for various physiological processes, plays a central role in the pathogenesis of rheumatoid arthritis (RA). As a heme-based sensor for NO, a transcription factor neuronal PAS domain protein 2 (NPAS2) forms a heterodimer with clock gene BMAL1. Using RA fibroblast-like synoviocytes (-FLS), we previously reported the interaction of clock genes and Bcl-2-interacting killer (BIK) which was known to be an inducer of mitochondrial apoptosis, and the promoter site of BIK has the NPAS2/BMAL1 heterodimer binding enhanced box sites (E-box sites). In this study, we evaluated the role of NPAS2 in RA synovium in views of relationship between NO and BIK.
Methods: The synovium were obtained during total knee replacement surgery from patients. Immunohistochemistry was performed to determine NPAS2 expression in synovial tissue. Cell proliferation was assessed with WST-8 assay in RA-FLS, using varying concentrations of the NO donor, S-Nitroso-N-acetyl-DL-penicillamine (SNAP) (0-20 nM). To evaluate the relationship between NPAS2 and BIK, NPAS2-siRNA was used to measure BIK mRNA expression in the absence and presence (5, 20 nM) of SNAP in RA-FLS. Moreover, we cloned the three BIK promoters (see Figure1), made luciferase assay model, and measured the luciferase activity in the absence and presence of SNAP in RA-FLS.
Results: NPAS2 expression was observed in RA synovium. Cell proliferation was significantly increased by SNAP. In the presence of SNAP, BIK mRNA expression was significantly reduced in the control-siRNA group, but not in the NPAS2-siRNA group (Figure 2, *; P < 0.05). In the presence of SNAP, the luciferase activity was significantly reduced in the Bik-E2-promoter group, but not in the Bik-E0-promoter group (Figure 3, *; P < 0.05).
Conclusion: NPAS2 enhance Bik expression, and NO inhibited Bik expression by NPAS2. These results suggests that NO may inhibit NPAS2 to bind E-box of Bik promoter. We propose a novel action of NO that inhibits mitochondrial apoptosis of RA-FLS by preventing the binding between NPAS2 and BIK. Therefore, we suggested that the inhibition of NO and NPAS2 may clinically be potential of anti-hyperproliferation and anti-bone destruction in RA synovium.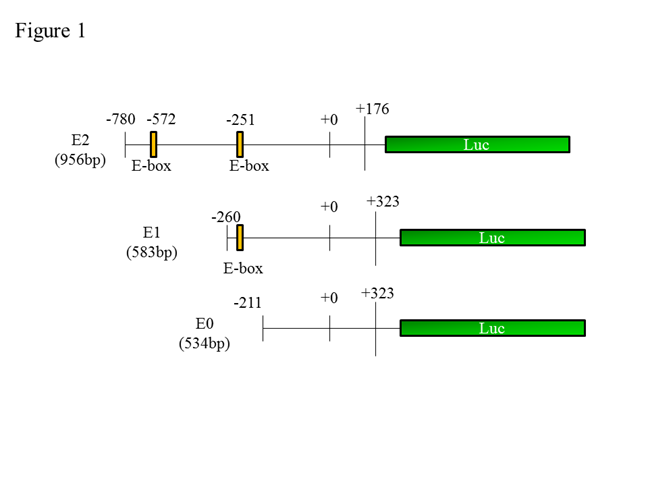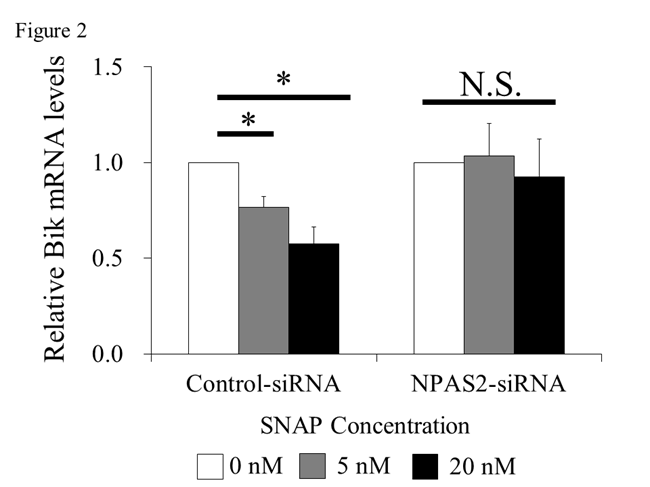 ---
Disclosure: T. Ueha, None; Y. Sakai, None; K. Suzuki, None; K. Fukuda, None; T. Maeda, None; H. Nishimoto, None; S. Hayashi, None; Y. Miura, None; R. Kuroda, None; A. Hashiramoto, None.
To cite this abstract in AMA style:
Ueha T, Sakai Y, Suzuki K, Fukuda K, Maeda T, Nishimoto H, Hayashi S, Miura Y, Kuroda R, Hashiramoto A. Bik Plays an Important Role of Cell Proliferation Caused By Nitric Oxide in Rheumatoid Arthritis Synovium [abstract].
Arthritis Rheumatol.
2017; 69 (suppl 10). https://acrabstracts.org/abstract/bik-plays-an-important-role-of-cell-proliferation-caused-by-nitric-oxide-in-rheumatoid-arthritis-synovium/. Accessed April 1, 2023.
« Back to 2017 ACR/ARHP Annual Meeting
ACR Meeting Abstracts - https://acrabstracts.org/abstract/bik-plays-an-important-role-of-cell-proliferation-caused-by-nitric-oxide-in-rheumatoid-arthritis-synovium/