Session Information
Session Type: ACR Abstract Session
Session Time: 4:30PM-6:00PM
Background/Purpose: Idiopathic inflammatory myopathies (IIM) represent a group of disorders causing chronic inflammation and significant damage to skeletal muscle due to an unchecked autoimmune response.  Two mouse models of IIM have recently provided new insights into the pathogenesis of the disease.  The synaptotagmin VII null (Syt VII-/-) mouse is characterized by defects in membrane resealing and presents with a mild form of myositis at 2 months of age.  A more robust model of IIM combines knock-out of Syt VII with a FoxP3 mutation resulting in a mouse with impaired membrane resealing and regulatory T-cell deficiency.  Tripartite motif (TRIM) proteins are another family that has a critical role in membrane repair.  Here, we explore the presence of a pathogenic mechanism involving sarcolemma repair that is responsible for initiation and/or propagation of muscle inflammation.   
Methods: Autoantibodies directed to TRIM family protein members were examined by immunoblotting and/or ELISA.  Membrane repair was monitored ex vivo using an established assay where the membrane of individual muscle fibers of intact skeletal muscle bundles were injured using an infrared multi-photon laser. Confocal live cell imaging was used to record entry of FM4-64 dye, which only fluoresces once it enters the cell. To examine membrane fragility, mouse skeletal muscle was collected from wild type mice or RAG1-/- mice adoptively transferred with lymph node preparations from either Syt VII-/-/FoxP3-/Y mice or FoxP3-/Y.  Tissue was analyzed by immunohistochemistry for evidence of inflammation and tissue injury.
Results: We have established by direct ELISA that auto-antibodies against TRIM72, a critical protein involved in sarcolemmal membrane repair, is elevated in IIM patient sera.  We show, for the first time, that a deficiency in T-regulatory cells is not sufficient to induce sarcolemma fragility, however, purified antibodies against critical proteins that facilitate the sarcolemma repair process are sufficient to reduce membrane repair capacity. We also demonstrate that sarcolemma integrity is reduced in distal skeletal muscle in the absence of inflammation in our novel murine model of IIM. Moreover, we find that exogenous delivery of IIM (dermatomyositis, inclusion body myositis and polymyositis) patient serum containing antibodies to TRIM72 can compromise sarcolemma resealing in healthy skeletal muscle in an ex vivo laser injury assay (see figure).
Conclusion: These findings represent a novel mechanism in IIM whereby decreased sarcolemma integrity induces a vicious cycle of aberrant antigen presentation that directly contributes to the pathophysiology of idiopathic immune myopathies.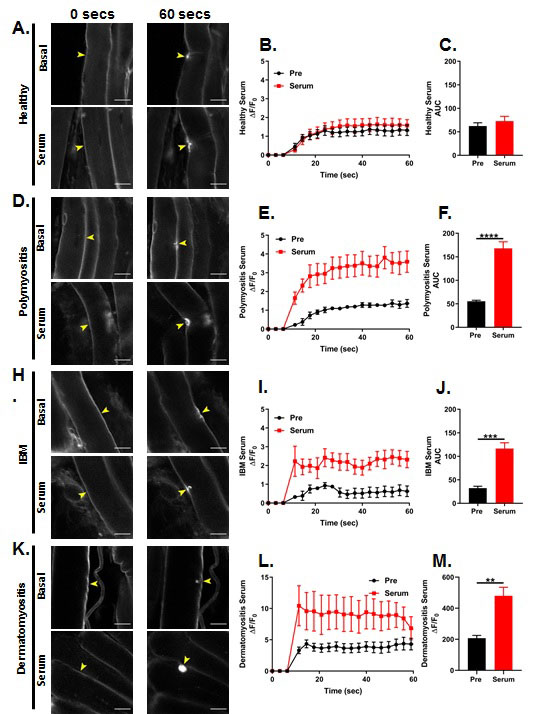 ---
Disclosure: K. McElhanon, None; A. Capati, None; N. Young, None; B. Paleo, None; E. Beck, None; Z. Sahenk, None; R. Aggarwal, Bristol Myers-Squibb, 2, 5, Pfizer, 2, Genentech, 2, Momenta, 2, Mallinckrodt, 2, 5, Octapharma, 5, CSL Behring, 5, AstraZeneca, 5, Corbus, 5, Kezar, 5; C. Oddis, None; N. Weisleder, None; W. Jarjour, None.
To cite this abstract in AMA style:
McElhanon K, Capati A, Young N, Paleo B, Beck E, Sahenk Z, Aggarwal R, Oddis C, Weisleder N, Jarjour W. Auto-antibodies Targeting Components of Sarcolemma Repair: A Pathogenic Mechanism in Human Inflammatory Myopathies [abstract].
Arthritis Rheumatol.
2019; 71 (suppl 10). https://acrabstracts.org/abstract/auto-antibodies-targeting-components-of-sarcolemma-repair-a-pathogenic-mechanism-in-human-inflammatory-myopathies/. Accessed December 1, 2022.
« Back to 2019 ACR/ARP Annual Meeting
ACR Meeting Abstracts - https://acrabstracts.org/abstract/auto-antibodies-targeting-components-of-sarcolemma-repair-a-pathogenic-mechanism-in-human-inflammatory-myopathies/