Session Information
Session Type: Poster Session D
Session Time: 8:30AM-10:30AM
Background/Purpose: Virtual Care (VC) is the delivery of health care services and information by electronic methods (video, smartphones, email, text) and may support arthritis patients in seeing their health care providers in a timely and convenient way. Arthritis Consumer Experts (ACE) conducted an online survey as little is known about arthritis patients' views and preferences on VC.
Methods: ACE conducted a 23-question online survey (Jan. 20-Feb. 9, 2021) of people with a physician-diagnosed arthritis in English and French. Respondents answered questions on their experiences with in-person and VC services from a health care provider pre-March 2020 and between March 2020-January 2021, their preferences and satisfaction with those services, and the importance of VC availability in the future. Data were analysed in aggregate (including incomplete survey responses). McNemar's test of agreement between time points was performed to compare pre-COVID to during COVID to (anticipated) post-COVID. Chi-square tests (exact tests where possible) were used to test for associations.
Results: 253 responses were analyzed. Demographics: 79% were women; 50% had disease less than 10 yrs; 47% rheumatoid arthritis; 19% osteoarthritis; 13% lupus; 8% psoriatic arthritis; 4% ankylosing spondylitis; 66% lived in urban communities; 5.1% identified as Black, Indigenous or a person of colour (BIPOC). Use of VC: 59% of respondents reported accessing VC pre-pandemic increasing to 88% during the pandemic. 85% were satisfied with sharing health concerns and getting advice using VC. Challenges accessing VC: 32% of respondents reported they were unable to receive arthritis specific VC at a time they felt they needed it during the pandemic. 75% reported it was either very important, important or somewhat important to continue having access to VC when the pandemic ends. 16% faced certain difficulties using VC. Inequities in VC: 12% of respondents who identified as non-BIPOC versus 46% of respondents who identified as BIPOC reported difficulties using VC. 7% of white respondents compared to 39% of BIPOC respondents reported feeling uncomfortable or not knowing how to use the VC technology used by their health care provider. Timeliness of VC: 15% of respondents reported they were unable to get any arthritis healthcare services in-person since March 2020 while 5% were not able to get any arthritis healthcare services virtually.
Conclusion: This community-led survey shows overall patient satisfaction with VC before and during the COVID-19 pandemic. 66% of respondents reported their preference for both in-person and VC services, with a preference of in-person for more complex examinations such as joint counts, and VC to augment care (between in-person visits or to support patient self-care). BIPOC with arthritis were more likely to experience factors that made it difficult to use VC and less likely to be very satisfied with their experiences. BIPOC were more likely to report "I don't feel comfortable" or "know how to use the VC technology being used by my health care provider (38.5% for BIPOC vs 6.7% for white patients; p value < 0.01)". The underrepresentation of BIPOC respondents in this survey suggests their lack of inclusion in arthritis patient organization networks.
Respondent Demographics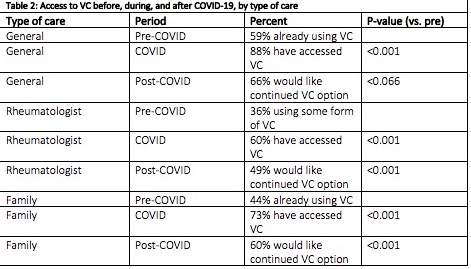 Access to VC before, during and after COVID_19, by type of care
Difficulties, satisfaction and access inequities to VC
---
Disclosures: M. Joshi, None; A. Chan, None; A. Lima, None; K. Lendvoy, None; E. Sayre, None; C. Koehn, None.
To cite this abstract in AMA style:
Joshi M, Chan A, Lima A, Lendvoy K, Sayre E, Koehn C. Arthritis Patient Perspectives on Virtual Care for People Living with Arthritis During the COVID-19 Pandemic and for the Future [abstract].
Arthritis Rheumatol.
2021; 73 (suppl 9). https://acrabstracts.org/abstract/arthritis-patient-perspectives-on-virtual-care-for-people-living-with-arthritis-during-the-covid-19-pandemic-and-for-the-future/. Accessed November 30, 2022.
« Back to ACR Convergence 2021
ACR Meeting Abstracts - https://acrabstracts.org/abstract/arthritis-patient-perspectives-on-virtual-care-for-people-living-with-arthritis-during-the-covid-19-pandemic-and-for-the-future/