Session Information
Session Type: Poster Session (Tuesday)
Session Time: 9:00AM-11:00AM
Background/Purpose: Anti-polygalacturonic acid antibody (PGA-Ab) is a new rheumatoid arthritis (RA)-related autoantibody first identified by our group. The sensitivity and specificity of PGA-Ab is even higher than anti-cyclic peptide containing citrulline (anti-CCP) and rheumatoid factor (RF). However, the pathogenesis of PGA-Ab has never been investigated.
Methods: Rabbits were immunized with PGA for PGA-Ab production followed by joint structure analysis by HE staining and micro-CT. Bone resorption index of RA patients were detected to analyze the comparation of PGA-Ab with bone loss. Osteoclasts were induced in vitro from peripheral blood mononuclear cells (PBMC) by M-CSF and RANKL with or without PGA-Ab treatment followed by RNA-Sequence for transcriptome analysis and then confirmed by real time quantitative PCR or western blot. Potential receptors were also identified by immunoprecipitation and protein spectrum sequencing (IP-MS).
Results: After PGA immunization, severe joint inflammation and damage were shown in PGA-Ab positive animals, including increasing synovium thickness, neutrophils and lymphocytes infiltration and reducing bone mineral density of femoral trabecula. Cathepsin k (CSK) and Tartrate Resistant (ACP5) in PGA-Ab positive RA patients were significantly higher than in PGA-Ab negative RA patients. In vitro culture, PGA-Ab treatment increased mature osteoclast numbers, CSK or metalloproteinases (MMPs) releasing and NFAT1c and AP-1 activation. Rho-GTPase signaling pathway-related protein RhoA, RhoD-GTP and ARP2 expression were also increased and PGA-Ab treatment increased wound healing, indicating increased cell migration and motility induced by PGA-Ab. Integrin beta5 (ITGB5) were identified as receptor of PGA-Ab on osteoclasts. Knockdown of ITGB5 eliminated the binding of PGA-Ab with osteoclasts and reduced PGA-Ab-induced osteoclastogenesis significantly.
Conclusion: PGA-Ab is a new RA-related autoantibody, which has pathogenic effect on arthritis bone erosion by inducing osteoclast differentiation through receptor integrin beta 5 via Rho-GTPase signaling pathway.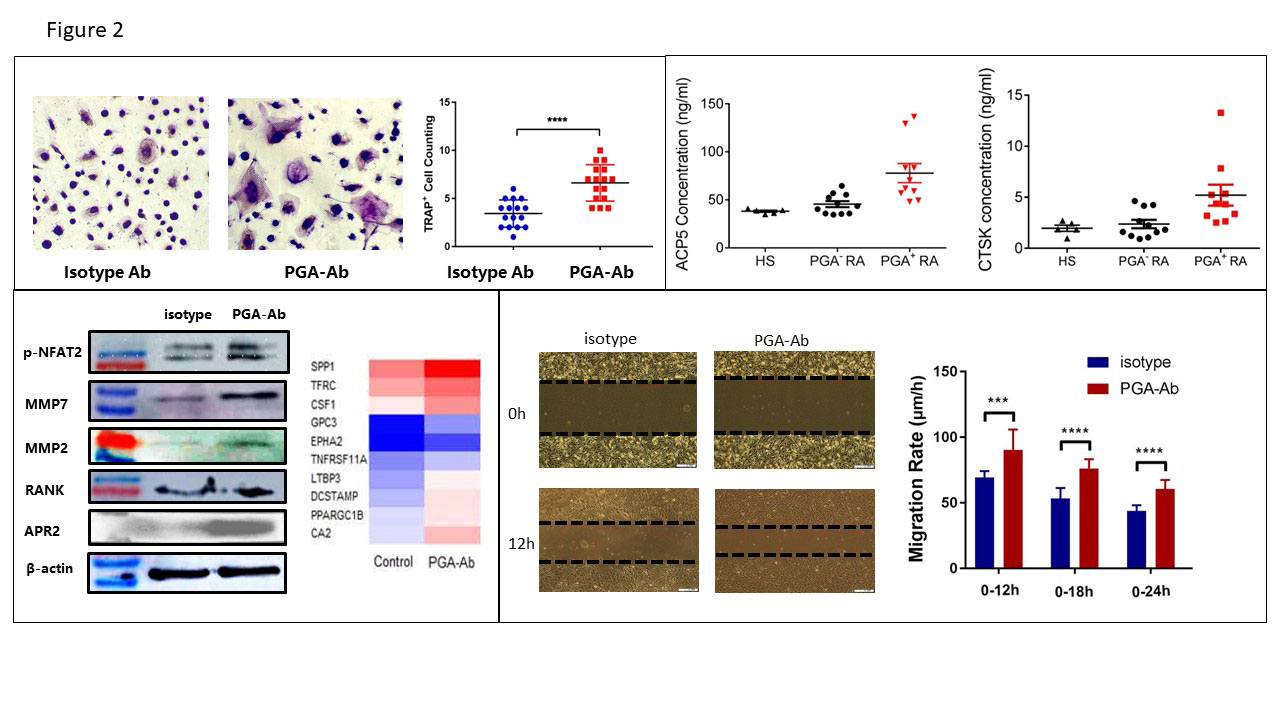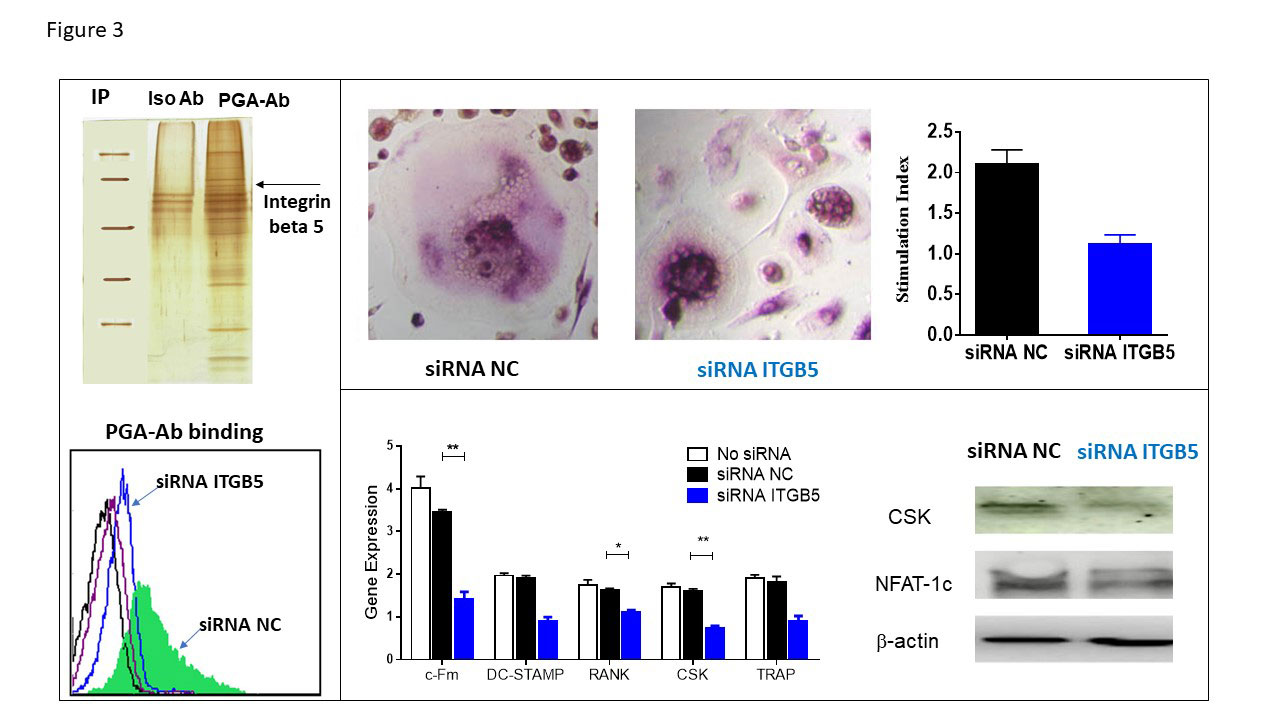 ---
Disclosure: J. XIE, None; H. DAI, None.
To cite this abstract in AMA style:
XIE J, DAI H. Anti-Polygalacturonic Acid Antibody (PGA-Ab) Induced Bone Destruction in Rheumatoid Arthritis by Promoting Osteoclastogenesis via Integrin Beta 5 [abstract].
Arthritis Rheumatol.
2019; 71 (suppl 10). https://acrabstracts.org/abstract/anti-polygalacturonic-acid-antibody-pga-ab-induced-bone-destruction-in-rheumatoid-arthritis-by-promoting-osteoclastogenesis-via-integrin-beta-5/. Accessed November 30, 2020.
« Back to 2019 ACR/ARP Annual Meeting
ACR Meeting Abstracts - https://acrabstracts.org/abstract/anti-polygalacturonic-acid-antibody-pga-ab-induced-bone-destruction-in-rheumatoid-arthritis-by-promoting-osteoclastogenesis-via-integrin-beta-5/