Session Information
The 2020 Pediatric Rheumatology Symposium, originally scheduled for April 29 – May 2, was postponed due to COVID-19; therefore, abstracts were not presented as scheduled.
Session Type: ACR Abstract Session
Session Time: 6:00PM-7:00PM
Background/Purpose: The current demand for pediatric rheumatologists in the United States exceeds supply by 33%, a figure projected to worsen to 61% by 20301. This is exemplified by the fact that up to 40% of pediatric rheumatology fellowship slots have gone unfilled in the last five years2. Evidence supports that early exposure increases a learner's interest to pursue rheumatology3,4 but little has been done to determine long term effects of early rheumatology exposure on medical student preference. This study aimed to 1) follow up the effects of early exposure on medical student career preference from a prior study3 and 2) serve as a pilot for understanding the reasons why medical students do or do not continue to express interest in pediatric rheumatology.
Methods: Thirty-six University of Cincinnati medical students in their third or fourth year participated in a rheumatology elective at Cincinnati Children's Hospital Medical Center (CCHMC) between July 2018 and November 2019. Immediately following their Rheumatology elective the medical students completed a survey regarding their experience. 64% of those completing the survey noted an increased interest in pursuing pediatric rheumatology as a result of the Rheumatology elective. A cross sectional study of participants was conducted in December 2019 via a follow-up survey asking about the Rheumatology experience and influences of that experience on career choice.
Results: 13/34 (38%) of learners responded, and the demographics may be seen in Table 1. The majority (11/13, 85%) of respondents participated in the rheumatology elective their third year of medical school, with 2/11 (18%) returning for a second elective as a fourth year medical student. They cited the patient/physician relationship, disease pathology, research opportunity, and mentorship guidance as reasons why they returned. 13/13 (100%) of learners indicated they are not interested in becoming a pediatric rheumatologist, with 11/13 (85%) reporting they desired to pursue another specialty (either in pediatrics or adult medicine) and 2/13 (15%) indicating a preference for general pediatrics at this time.
Conclusion: Preliminary studies in pediatric rheumatology have indicated that early exposure may increase interest in pursuing pediatric rheumatology3,4. However, as a follow up to our initial study3, we found that that that interest might not be maintained over time, with 13/13 (100%) of follow up survey responses indicating lack of desire to pursue pediatric rheumatology. It is unclear how or why their interest changed. Further evaluation such as qualitative interviews with students might help provide further insights regarding career discernments as it relates to pediatric rheumatology. Additional next steps might include evaluating the effects of mentorship and research opportunities on choosing a career in pediatric rheumatology, as a number of learners noted these as positive attributes of the field.

Demographic table of survey respondents.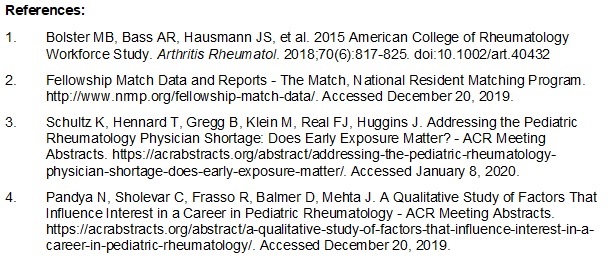 References cite in the body of the abstract.
---
Disclosure: K. Schultz, None; T. Hennard, None; B. Gregg, None; M. Klein, None; F. Real, None; J. Huggins, None.
To cite this abstract in AMA style:
Schultz K, Hennard T, Gregg B, Klein M, Real F, Huggins J. Addressing the Pediatric Rheumatology Workforce Shortage: Is Early Exposure Enough? [abstract].
Arthritis Rheumatol.
2020; 72 (suppl 4). https://acrabstracts.org/abstract/addressing-the-pediatric-rheumatology-workforce-shortage-is-early-exposure-enough/. Accessed December 3, 2022.
« Back to 2020 Pediatric Rheumatology Symposium
ACR Meeting Abstracts - https://acrabstracts.org/abstract/addressing-the-pediatric-rheumatology-workforce-shortage-is-early-exposure-enough/