Session Information
Session Type: Poster Session B
Session Time: 9:00AM-10:30AM
Background/Purpose: Interleukin-12 (IL-12) and interleukin-23 (IL-23) are two essential cytokins involved in the immune-mediated inflammatory disorders of psoriasis. Anti-IL-12/IL-23 therapy has been developed for the treatment of psoriasis. Ebdarokimab is a fully human monoclonal antibody (mAb) targeting IL-12/IL-23 pathway. It specifically binds to the P40 subunit of both IL-12 and IL-23, resulting in inhibition of the signaling of IL-12 and IL-23 cytokines.This study was to evaluate the safety, tolerability, pharmacokinetics (PK), efficacy and immunogenicity of Ebdarokimab in moderate to severe plaque psoriasis patients.
Methods: A total of 24 psoriasis patients (male and female) with age ranging from 18 to 65 years were planned to be enrolled. All patients were diagnosed moderate to severe plaque psoriasis over 6 months.
Psoriasis area and severity index (PASI) and Physician Global Assessment (PGA) scores were recorded for efficacy assessment. Serum samples were collected at pre-selected timepoints for analysis of PK parameters and antidrug antibody (ADA). Safety assessment were performed up to 16 weeks or early termination visit. See Figure 1 for detailed study design.
Results: Overall, 24 patients were recruited. There were 18 patients treated with Ebdarokimab and 6 patients treated with placebo. 100 % (18/18) subjects received Ebdarokimab treatment and 83.3 % (5/6) subjects received placebo experienced at least one treatment-emergent adverse event (TEAE). The majority of TEAEs were mild and moderate in severity. No serious adverse event (SAE) was reported throughout the study. No TEAEs that led to study discontinuation and death were reported. The incidence of treatment-related TEAEs in Ebdarokimab group was 94.4 % (17/18) compared with 83.3% (5/6) in placebo group. The most common treatment-related TEAEs in the Ebdarokimab groups were upper respiratory tract infection, increased blood triglycerides and headache.
At week 12 (Day 85), 100% (6/6), 100% (6/6) and 83.3% (5/6) patients reached PASI 75 in Ebdarokimab 45mg,135mg and 270mg treatment groups, which was significantly higher than placebo group (16.7%,1/6). There were 33.3% (2/6), 83.3% (5/6) and 66.7% (4/6) patients achieving PASI 90 in patients treated with Ebdarokimab 45mg,135mg and 270mg, whereas placebo group was 16.7 % (1/6). The response to Ebdarokimab treatment sustained till week 16, and there was no significant correlation with the dose. Similar trend was observed in PASI score and PGA score, which began to decline from day 15 and reached maximum at week 16.
There were 3 patients who were detected ADA positive. Positive ADA was detected in 1 patient in Ebdarokimab 135 mg group on Day 113 (week 16) with titer of 1:20. Two patients treated with Ebdarokimab 270 mg were positive on Day 85~113 (week 12~16) with titer ranging of 1:20~1:160. The treatment-emergent positive of ADA was 16.7% (3/18) in Ebdarokimab groups.See figure 2 for detailed PK results.
Conclusion: Ebdarokimab administered as a multiple dose with dose of 45mg-270 mg via SC injection were safe and well tolerated in moderate to severe plaque psoriasis patients.Large-scale clinical trials in patients with psoriasis are warranted to further evaluate the safety and efficacy of Ebdarokimab.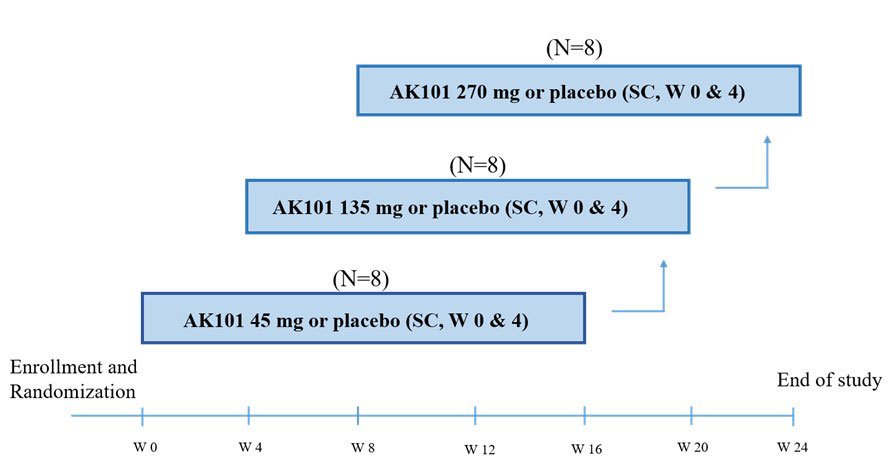 ---
Disclosures: R. Chen, None; Y. Xia, None; B. Li, None; X. Ni, None; G. Wang, None; C. Zhang, None; B. Chen, None; L. Wang, None; H. Jin, None.
To cite this abstract in AMA style:
Chen R, Xia Y, Li B, Ni X, Wang G, Zhang C, Chen B, Wang L, Jin H. A Phase I Clinical Study to Evaluate the Safety, Tolerance, Pharmacokinetics and Immunogenicity of Ebdarokimab in Patients with Moderate to Severe Plaque Psoriasis [abstract].
Arthritis Rheumatol.
2022; 74 (suppl 9). https://acrabstracts.org/abstract/a-phase-i-clinical-study-to-evaluate-the-safety-tolerance-pharmacokinetics-and-immunogenicity-of-ebdarokimab-in-patients-with-moderate-to-severe-plaque-psoriasis/. Accessed January 29, 2023.
« Back to ACR Convergence 2022
ACR Meeting Abstracts - https://acrabstracts.org/abstract/a-phase-i-clinical-study-to-evaluate-the-safety-tolerance-pharmacokinetics-and-immunogenicity-of-ebdarokimab-in-patients-with-moderate-to-severe-plaque-psoriasis/