Session Information
Session Type: ACR Concurrent Abstract Session
Session Time: 4:30PM-6:00PM
Background/Purpose: The pathogenesis and prediction of RA-associated interstitial lung disease (ILD), an extra-articular manifestation with high morbidity and mortality, is poorly understood.  We explored the associations of serum levels of inflammatory mediators with radiographic ILD in RA.
Methods: RA patients participating in a study of subclinical cardiovascular disease underwent computed tomography (CT) of the chest with interpretation by a pulmonary radiologist for CT-ILD features.  A panel of 28 cytokines, chemokines, proteases, and other immune mediators was measured from serum using various optimized methods at the time of CT scanning.  Generalized linear models were constructed to model the serum biomarkers associated with CT-ILD.  A weighted biomarker score was constructed for each patient based on the biomarker level and its MV regression coefficient and modeled on CT-ILD, adjusting for pertinent confounders.
Results: A total of 156 RA patients [60% female, mean age 59 years, median RA duration=8 years, 76% seropositive for RF or anti-CCP, median DAS28=3.6] had both CT scanning and serum biomarkers measured.  Any CT-ILD was found in 47 (30%) with a pattern of ground glass opacification (GGO) in 18 (44% of those with ILD) and reticulation, traction bronchiectasis, or honeycombing (R/TB/HC) in 23 (56% of those with ILD).  In multivariable (MV) modeling, serum IL-10 and MMP-3 were significantly positively associated with any CT-ILD, while IL-6R was significantly inversely associated, even after adjusting for relevant confounders (listed in Fig).  The association of the weighted biomarker score based on these 3 factors with ILD was not linear, as there was a markedly stronger association among patients with a score above the median (adjOR=3.99; p=0.003), translating to an adjusted prevalence of ILD of 40% for those with a higher biomarker score vs. only 14% among those with a lower score (Fig A).  The association of the biomarker score was stronger for predicting R/TB/HC than GGO (Fig B), and was only significant among those with a history of smoking (Fig C).  The area under the receiver operator curve (AUC-ROC) for predicting any CT-ILD with the biomarker score alone was 0.654 (95%CI 0.573-0.734) which increased to 0.834 with the additional covariates added to the model.  The AUC-ROC for the biomarker score alone for predicting CT-ILD among ever smokers was 0.726 (95%CI 0.632-0.819).  Interestingly, those with a higher biomarker score did not differ from those with a lower score on demographics or RA disease activity, severity, or treatment characteristics.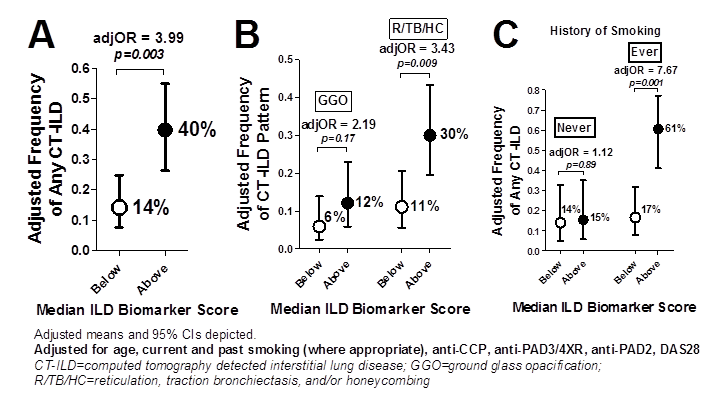 Conclusion: Both IL-10 and MMP-3 have been implicated in lung fibrosis in non-RA diseases.  These findings suggest further evaluation of IL-10, MMP-3, and IL-6R levels are merited to determine if these biomarkers have utility in predicting ILD in some patients with RA, particularly among those with a history of smoking.
---
Disclosure: J. T. Giles, None; C. Johnson, None; E. J. Bernstein, None; E. Darrah, None; F. Andrade, None; S. K. Danoff, None.
To cite this abstract in AMA style:
Giles JT, Johnson C, Bernstein EJ, Darrah E, Andrade F, Danoff SK. A Pattern of Higher Serum Levels of IL-10 and MMP-3, Along with Lower IL-6R, Identify RA Patients with Interstitial Lung Disease [abstract].
Arthritis Rheumatol.
2017; 69 (suppl 10). https://acrabstracts.org/abstract/a-pattern-of-higher-serum-levels-of-il-10-and-mmp-3-along-with-lower-il-6r-identify-ra-patients-with-interstitial-lung-disease/. Accessed September 24, 2023.
« Back to 2017 ACR/ARHP Annual Meeting
ACR Meeting Abstracts - https://acrabstracts.org/abstract/a-pattern-of-higher-serum-levels-of-il-10-and-mmp-3-along-with-lower-il-6r-identify-ra-patients-with-interstitial-lung-disease/