Session Information
The 2020 Pediatric Rheumatology Symposium, originally scheduled for April 29 – May 2, was postponed due to COVID-19; therefore, abstracts were not presented as scheduled.
Session Type: ACR Abstract Session
Session Time: 4:15PM-5:15PM
Background/Purpose: Clinical care for pediatric systemic lupus erythematosus (pSLE) is complex, requiring close attention to medical, developmental and psychosocial issues. Moreover, pSLE patients tend to have a more severe disease course compared to adult onset SLE (1) . Recent evidence suggests improved outcomes for adult SLE patients treated at an SLE specific clinic, compared to routine care (2). Comer Children's Hospital Pediatric Lupus clinic began providing care in a multidisciplinary setting including pediatric rheumatology, pediatric nephrology, pharmacy, social work and nursing in January 2019.
Methods: Patients up to age 21 with an existing diagnosis of pSLE were invited to participate in the pediatric lupus clinic. In the first year, 48 unique patients completed 102 lupus clinic visits. Patient characteristics of those participating in the lupus clinic were compared to pSLE patients who continued to receive usual care (table I). Patient satisfaction surveys were administered to all patients at the baseline and subsequent visits. Selected quality of care measures (percent of patients with documented measurement of serum lipids and glycohemoglobin) were reviewed; lupus clinic patient data was assessed and compared to his/her historical data prior to the start of the lupus clinic. Provider satisfaction was assessed via survey.
Results: Lupus clinic patients, compared to pSLE patients receiving usual care, appeared to have more severe lupus at baseline, as they tended to take more medications, had more lupus nephritis,and were more likely to have been hospitalized over the previous year (Table 1). Patient surveys revealed high levels of satisfaction, with the majority of patients expressing agreement with affirmation statements. (Fig 1). Providers also expressed high levels of satisfaction, but did report more concerns about logistics and organization compared to patients. Nearly all providers surveyed reported that lupus clinic participation had improved their quality of care. Preliminary quality of care assessments showed dramatic improvements in screening rates for metabolic comorbidities (Fig 2).
Conclusion: Patients and providers demonstrated willingness high satisfaction with the multidisciplinary pediatric lupus clinic model. The pediatric lupus clinic provided care to a group of pSLE patients with generally more severe disease than those who received usual care.   Early quality data also showed significant improvements in select parameters. Clinical data collection is ongoing, and includes more robust quality measures, and assessment of adherence, disease activity and functional status.  We look forward to refining our lupus care delivery model based on this data.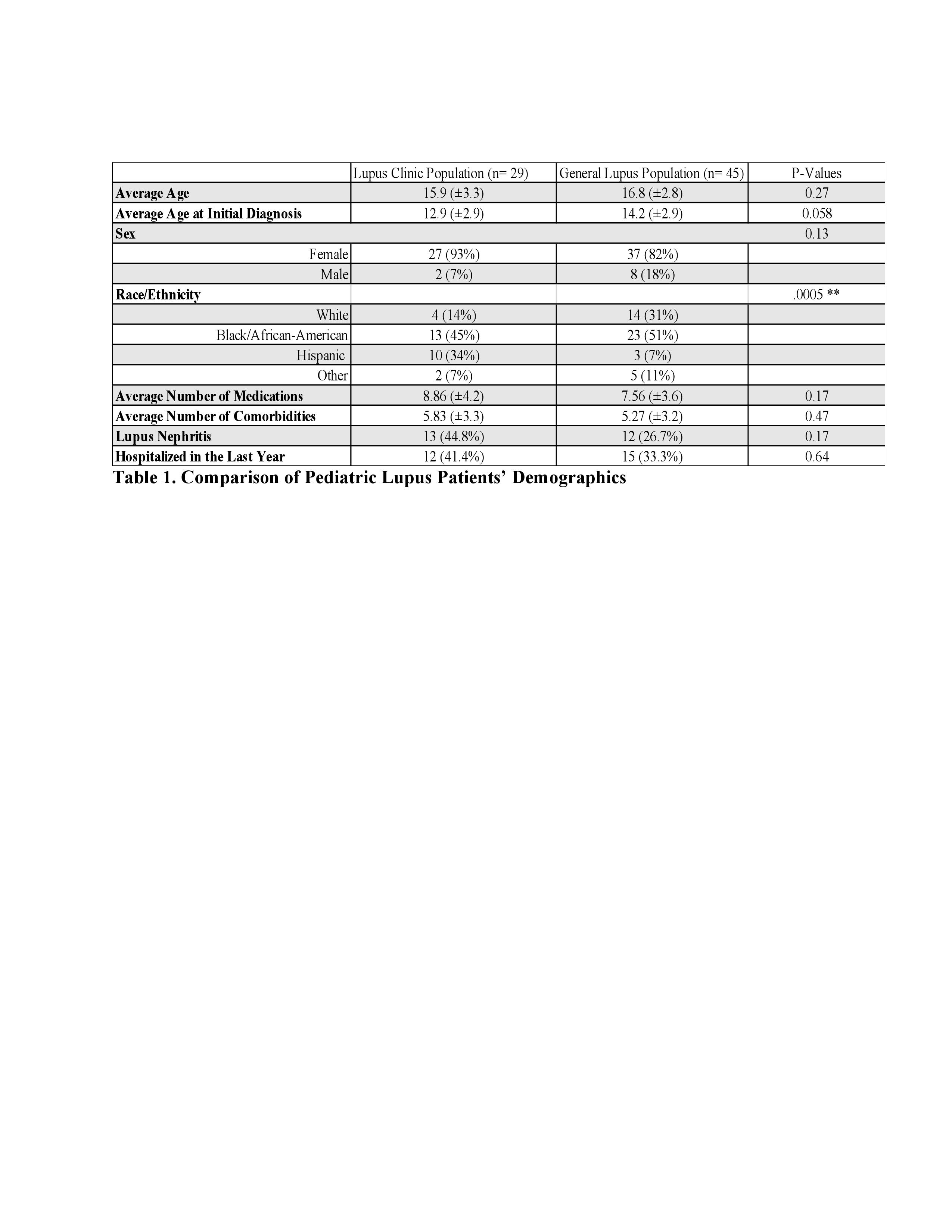 Table 1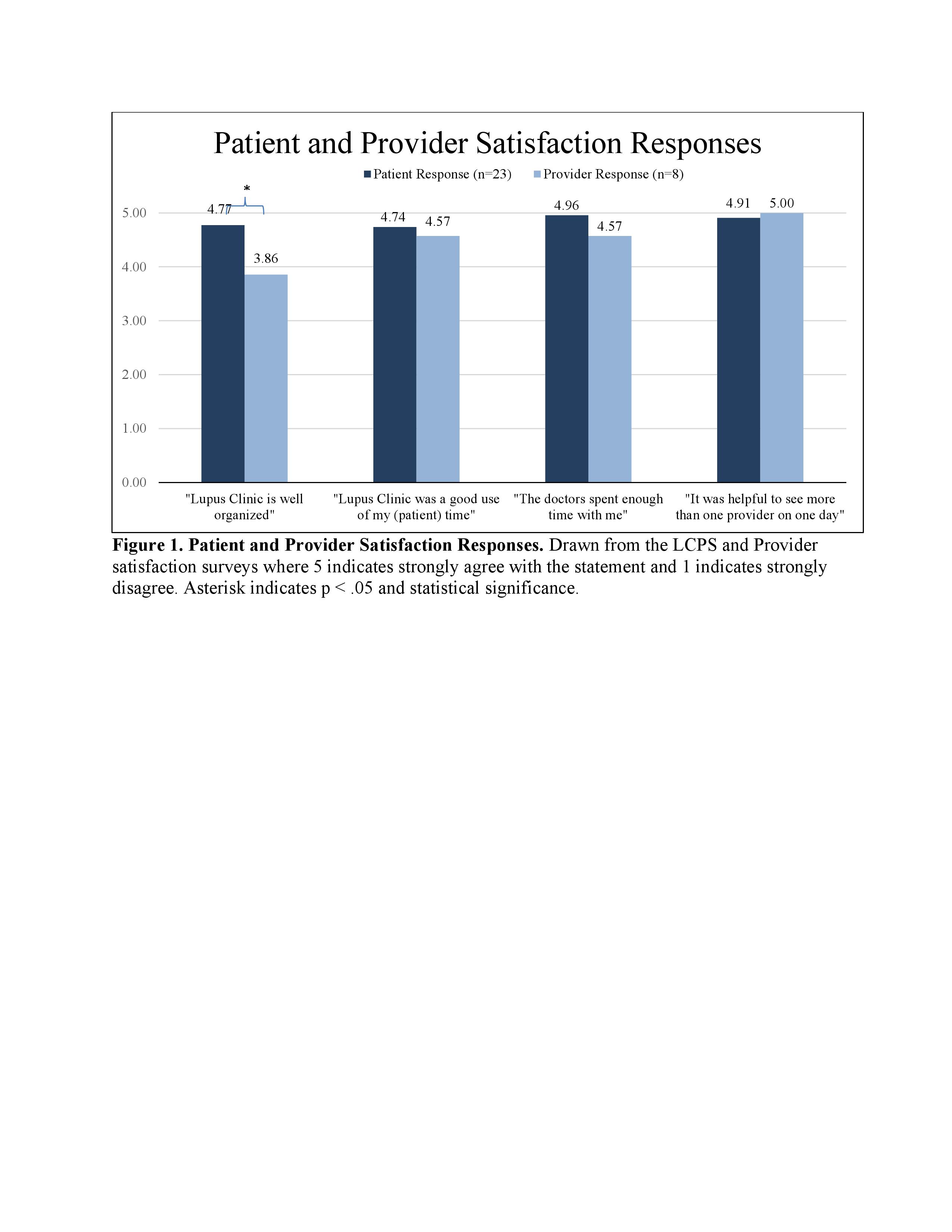 Figure 1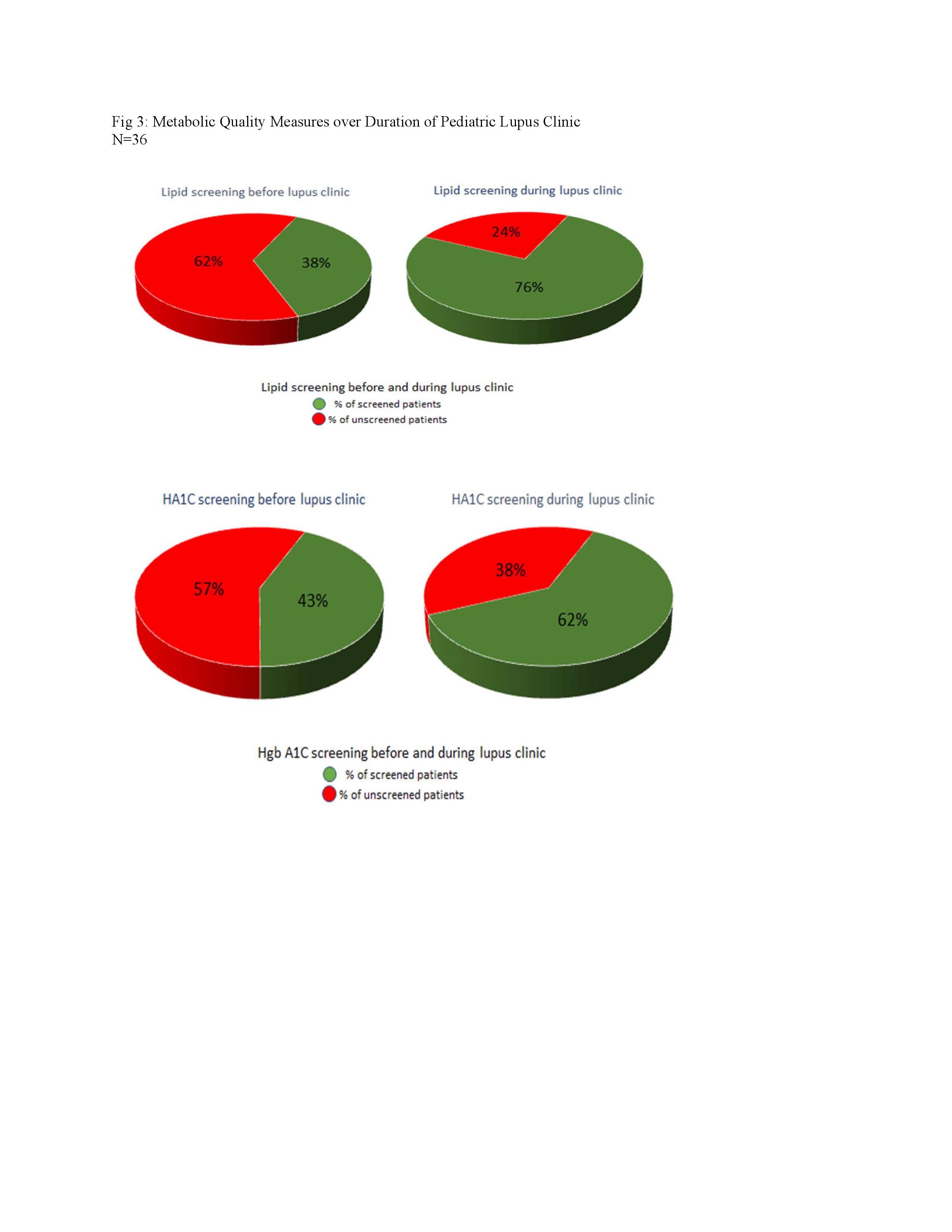 Figure 2
---
Disclosure: L. Santangelo, None; G. Cameron, None; C. Clardy, None; C. Edens, None; S. Hashmat, None; T. Moussa, None; R. Semo Oz, None; L. Wagner-Weiner, None; S. Wychocki, None; C. Zic, Sandoz, 1, Mallinckrodt, 1; M. Tesher, None.
To cite this abstract in AMA style:
Santangelo L, Cameron G, Clardy C, Edens C, Hashmat S, Moussa T, Semo Oz R, Wagner-Weiner L, Wychocki S, Zic C, Tesher M. A New Multidisciplinary Pediatric SLE Clinic in a Large Urban Care Center: Feasibility, Patient Satisfaction, and Quality After One Year [abstract].
Arthritis Rheumatol.
2020; 72 (suppl 4). https://acrabstracts.org/abstract/a-new-multidisciplinary-pediatric-sle-clinic-in-a-large-urban-care-center-feasibility-patient-satisfaction-and-quality-after-one-year/. Accessed November 30, 2022.
« Back to 2020 Pediatric Rheumatology Symposium
ACR Meeting Abstracts - https://acrabstracts.org/abstract/a-new-multidisciplinary-pediatric-sle-clinic-in-a-large-urban-care-center-feasibility-patient-satisfaction-and-quality-after-one-year/