Session Information
Session Type: Poster Session A
Session Time: 8:30AM-10:30AM
Background/Purpose: Features of autoimmune conditions may coexist in individual patients, which may represent an overlapping single disease with features of both (i.e., 'rhupus'), or the presence of two distinct diseases. Rheumatoid arthritis (RA) and systemic lupus erythematosus (SLE) share some genetic etiologies and distinguishing between lupus arthropathy and RA features poses clinical challenges. Given the potential for drug-induced or exacerbation of SLE with some of the available biologic treatment options, understanding the benefit-risk scenarios in the context of real-world phenotypes is important.
Methods: The OM1 SLE Registry (OM1, Inc; Boston, MA) follows more than 46,900 SLE patients in the U.S. managed by rheumatologists longitudinally with deep clinical data, including laboratory, patient-reported and disease activity information, and linked administrative claims starting from 2013. Index date was set by the first registry encounter with an SLE diagnosis code and ≥18 months of baseline available. Potential RA comorbidity was defined as at least 2 outpatient RA diagnosis codes ≥365 days apart or inpatient RA codes. Other comorbidities were defined by the presence of at least 2 outpatient diagnosis codes ≥30 days apart or one inpatient diagnosis code prior to index. Obesity was defined as BMI ≥30 kg/m2. Medications were identified by prescriptions, administrations and/or fills. RAPID3 (Routine Assessment of Patient Index Data 3) at index date was also explored.
Results: The study included 44,186 patients (92% female) from the OM1 SLE Registry, 2096 (4.7%) of whom met RA code criteria (Table 1). Over 46% of SLE-RA cohort patients had ≥1 RA diagnosis codes in at least 3 calendar years during follow-up. The SLE-RA cohort was older (56 versus 51 years), with a higher proportion of white and non-hispanic patients than the SLE patients overall. Mean patient-reported joint-related disease activity was moderate (mean RAPID-3 = 4) across all patients. Autoimmune (e.g., Sjögren's) and other comorbidities were more common in the SLE-RA cohort (Table 2). Recent treatment with systemic steroids, methotrexate, leflunomide and biologic DMARDs was more commonly seen in SLE-RA patients (Table 2).
Conclusion: RA diagnoses in patients within the SLE Registry was higher than expected based on the literature. Classification for this study was based upon clinical diagnosis in routine practice by a rheumatologist and ACR diagnostic criteria may or may not have been applied. Further research is needed to better understand the chronologic path of these conditions (or their features) and implications for treatment.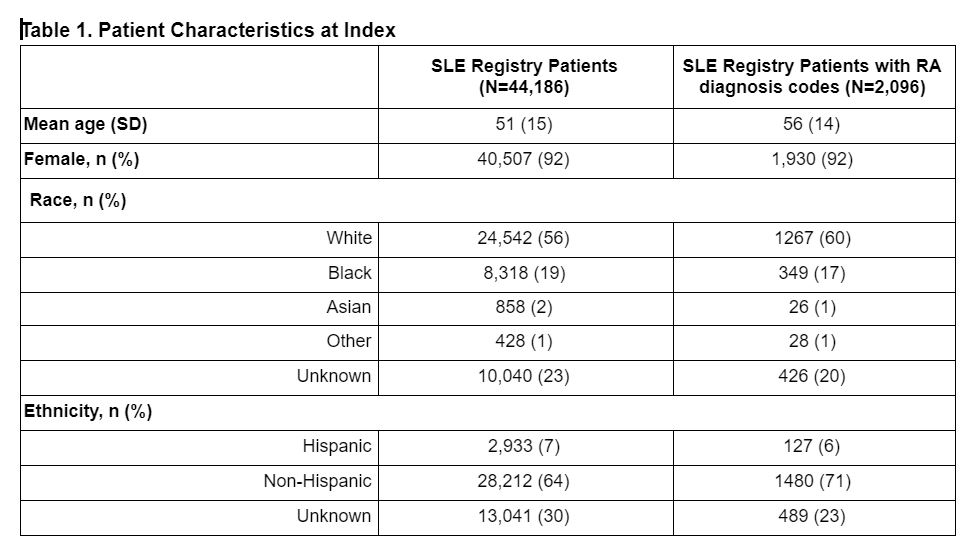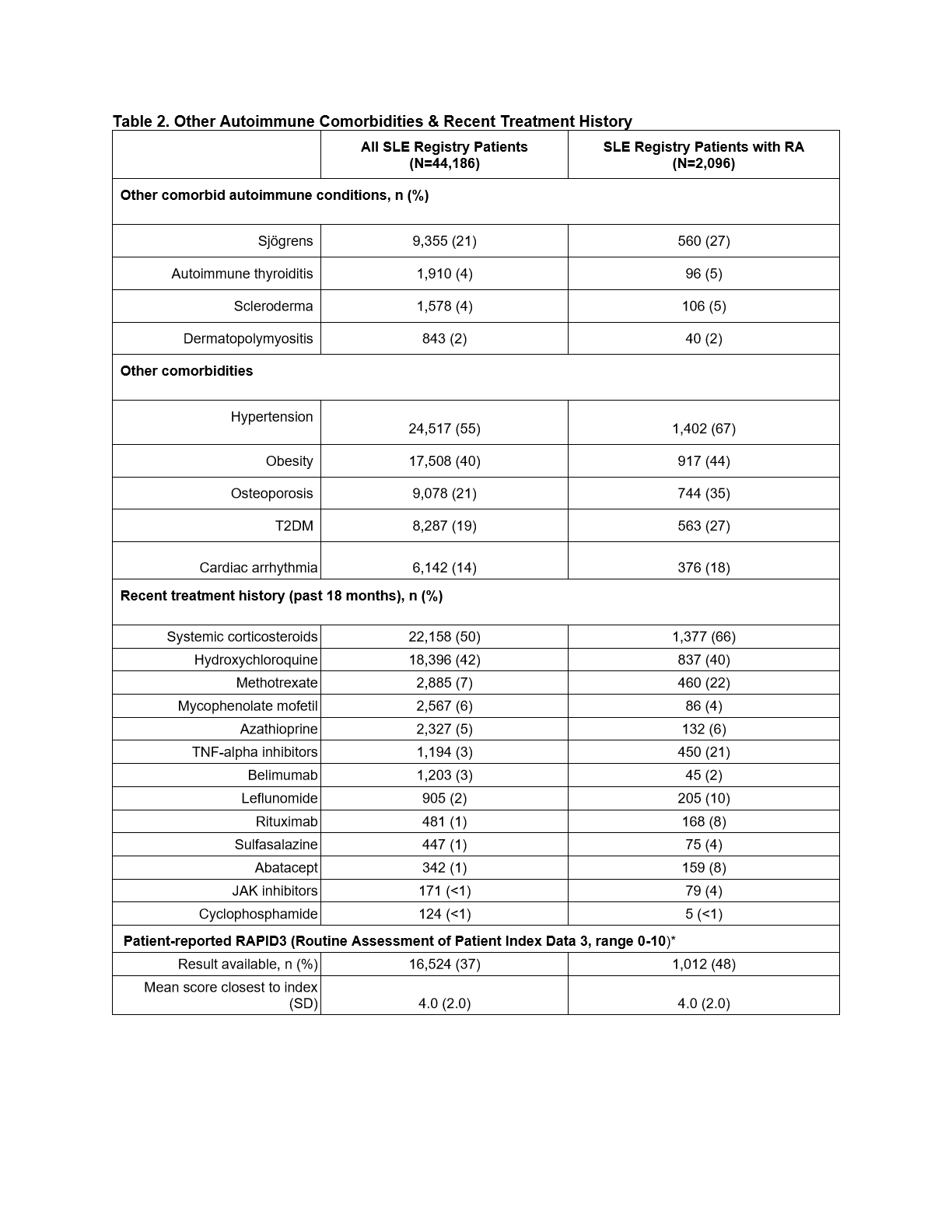 ---
Disclosures: K. Starzyk, None; G. Curhan, None; J. Brault, None.
To cite this abstract in AMA style:
Starzyk K, Curhan G, Brault J. A Cross-Sectional Study of Rheumatoid Arthritis Diagnoses in Patients with Systemic Lupus Erythematosus [abstract].
Arthritis Rheumatol.
2021; 73 (suppl 9). https://acrabstracts.org/abstract/a-cross-sectional-study-of-rheumatoid-arthritis-diagnoses-in-patients-with-systemic-lupus-erythematosus/. Accessed June 2, 2023.
« Back to ACR Convergence 2021
ACR Meeting Abstracts - https://acrabstracts.org/abstract/a-cross-sectional-study-of-rheumatoid-arthritis-diagnoses-in-patients-with-systemic-lupus-erythematosus/