Session Information
The 2020 Pediatric Rheumatology Symposium, originally scheduled for April 29 – May 2, was postponed due to COVID-19; therefore, abstracts were not presented as scheduled.
Session Type: ACR Abstract Session
Session Time: 4:15PM-5:15PM
Background/Purpose: Telemedicine has the potential for improving access to care, particularly for pediatric patients with complex needs in remote or rural locations. Previous studies have assessed telemedicine as a tool for healthcare providers from a number of angles, yet we know that it is underutilized. In a recently published study, it was noted that only 11.8% of surveyed pediatricians utilize telemedicine in provider to patient role (Kane 2018). There are many suggestions as to why providers are slow to adopt, including perceived clinical and communication barriers.  Patients with chronic illness may also have their own reservations regarding telehealth visits, depending on their illness.  For example, both patients and physicians may  consider follow-up  juvenile idiopathic arthritis (JIA) an exam-intensive illness whereas systemic lupus erythematosus (SLE)  may be considered more history and laboratory driven. This study is a small randomized control trial in which we examine the differences in video visits in two different pediatric rheumatology patient subgroups–those patients with JIA and those patients with SLE. we are specifically interested in examining how the exam component differs, the communication component, and lastly, the satisfaction of care.
Methods: This is a randomized pilot study presently being conducted in pediatric rheumatology clinics. The first part of the study, which has been completed, utilizes modified Delphi methodology to establish the necessary clinical components for a follow-up exam for patients with JIA and those with SLE. This framework for clinical visits will be used to inform how clinical practice varies between an in-person clinic visit versus video visit. For the actual pilot component of the study, twenty patients, ten with JIA and ten with SLE, will be consented by phone and will be randomized  to have their next regularly scheduled follow-up in clinic or via video visit. In person clinic and video visits will be conducted by attending physicians and attended by independent observers  who will use the focus-group derived clinical assessments for JIA and SLE to assess the clinical components addressed in the in-person exam as well as the video visit. Following each visit, patients/guardians will complete surveys including the Makoul Communication Assessment Tool, a VSQ-9 that assesses patient satisfaction, and estimated financial/time cost for the visit. To understand the video visit process and to elucidate the patient's perspective, patient interviews will be conducted by phone following each video visit.
Results: The first part of the study, consensus regarding necessary clinical components, is attached in the supplemental figure. In summary, there are clear differences between the necessary exam components for either patients with juvenile idiopathic arthritis and systemic lupus erythematosus. Additionally, supplemental information such as labs and imaging are not necessary at the time of visit though may be helpful.
Conclusion: This study is still in progress, but we hope to elucidate potential clinical differences, limitations, and strengths of the utilization of telemedicine as a tool in management of pediatric rheumatologic disease.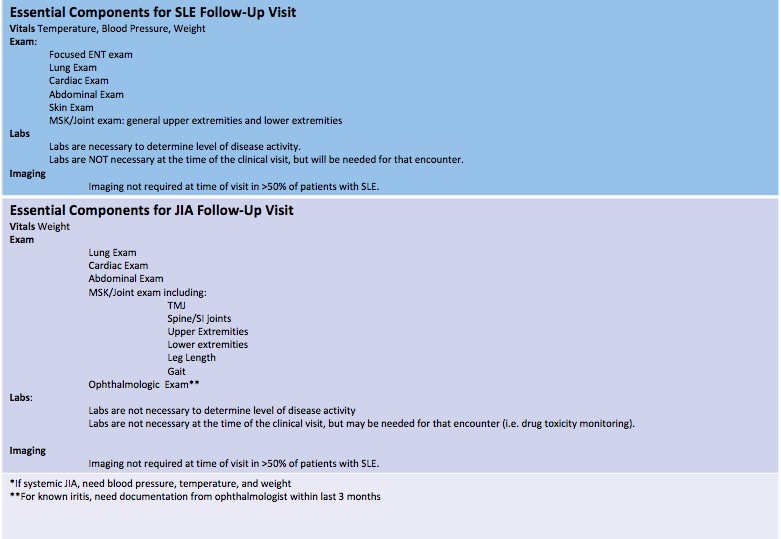 Necessary clinical components for pediatric rheumatology visits
---
Disclosure: R. Pooni, None; T. Lee, None.
To cite this abstract in AMA style:
Pooni R, Lee T. Utilization of Telemedicine in Pediatric Rheumatologic Care [abstract].
Arthritis Rheumatol.
2020; 72 (suppl 4). https://acrabstracts.org/abstract/utilization-of-telemedicine-in-pediatric-rheumatologic-care/. Accessed September 30, 2022.
« Back to 2020 Pediatric Rheumatology Symposium
ACR Meeting Abstracts - https://acrabstracts.org/abstract/utilization-of-telemedicine-in-pediatric-rheumatologic-care/